Concretely Ambivalent
Overall, the Voulez vous is a wonderfully crafted piece. It'll wow your partner in the bedroom and can go great with a pair of jeans, if you dare!
Published:
Pros:
Beautiful
Straps/Garter Straps
Comfortable
Cons:
Not hardcore shaping
Plastic boning
May be too racy for public
The Voulez vous corset is... interesting. It has its ups and downs.
Well, let's start with the basics. How does it look, Mwar?
The Voulez vous corset is pretty, I have to give it that. It also has a lot going on, but the decoration and style is tasteful and flattering overall. It is has a thin, semi-sheer, luminescent, silver lining on the inside (my picture doesn't give it justice, I tried). On top of that is the black lace in a vine and floral pattern that also has a small oval stitching filling in between the bigger patterns. It has 4 plastic bones on each side that are symmetric. The bones are covered and accentuated in a black fabric that has a sheen to it. On the top and bottom of the corset is a ridging.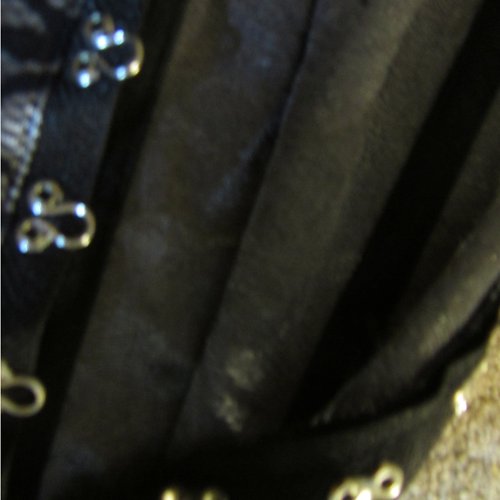 The borders are made of a thicker black material. It feels similar to a thick thread or thin cord. The back of the corset laces up with thin, and slight slippery, black lace. There is no privacy panel. The front of the corset has a series of eyes and hooks. The front doesn't hook in a way that the seems meet flush. Thus, you'll see some skin here as well since it also doesn't have a privacy panel. The eye and hook detailing is quite nice and well made.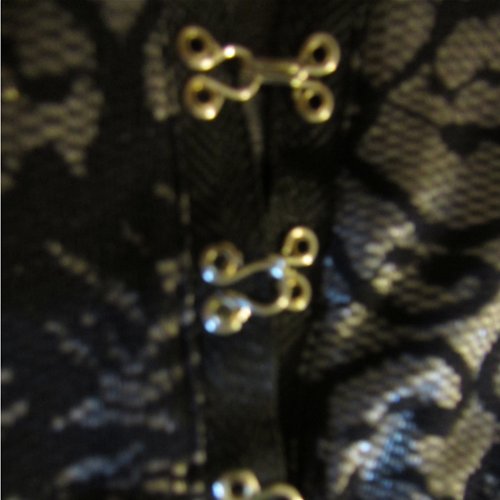 The corset itself doesn't really have form. Some corsets are just stiff or thick. Other than the bones, the fabric on the Voulez vous corset is very thin and soft. It does make it comfortable, but it comes with some cons (which I will discuss). Oh, the bottom of the corset comes with removable black garter straps, which is always a plus.
How did it fit? Was it true to size? Does it shape and do what corsets do?
I was torn between the medium and large corset. The medium says it is for cup sizes B and C, with a weight up to 140 pounds. I'm a 34 D close to 140 pounds, but I have a small waist compared to my hips. The large would have been to big on the other measurements, So I decided on a medium.
I could fit in a small. I think I'm in between medium and small because I really only need a bit more tightness on the medium, so I'll be keeping it. The main thing is that this corset is big and is larger than standard size dictates. If in doubt, go for the smaller size.
Now, this corset is not as substantial. This will give you some shape, but it's not going to completely suck you in or keep you stiffly in a shape. The bones give structure, but the material has a lot of give. The corset is more of a tight top than it is a corset. It might not suck in all the places you want it to and may get unwanted bunching visible. This is especially apparent if you sit or slouch in a certain way.
Still, it is comfortable and comes with removable straps! I didn't feel as secure going strapless and would probably rock this with the black straps. It does not detract from the corset. The design is beautiful.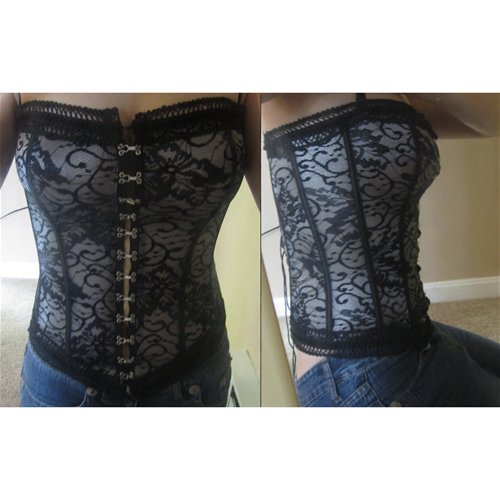 How would I wear this? Could I rock it in public?
It depends on how brave you are. I initially felt exposed. I don't mind my back exposed where the laces are, but having those tiny gaps going down my front middle was new. I can see my belly button a bit through the eye and hooks. At a certain angle, you could also see a bit of cleavage and middle side boob. The fabric is also sheer. You can see your hand under it.
However, I couldn't see my nipples though it. In fact, when worn, it doesn't look as sheer as it appears. It could be because of strategically placed black lace in those areas (it matches up for me, anyways). If you're dying to wear this in public, you can throw on pasties to make sure your nipples aren't apparent. I would also try not to get wet to stay safe.
For me, this will be a great work outfit while I bartend. The straps keep me in place and the bar is dimly lit, so it'll work. If confident, this corset is amazing in jeans. I think this corset does look better in person than the product page. If anything, it will rock your partner's world in the bedroom!
Experience
Okay. How do I take care of this?

Now, I'm the queen of trying to put things in the wash, but even I hand wash this one. I just love how it looks too much to ruin it. Hand wash with gentle soap and dry away from the sun. This corset is made of 5 percent spandex and 95 percent polyester.

Cool! Anything else you want to share?

My partner wasn't too crazy about this corset and how it appeared on the product page, but I still liked it. So, of course, I ordered it. When I got it, I tried it on. Once I got over the disappointment of it not being a "true" corset, I loved how it was more comfortable and a great item to wear for going out at night or working. I had it one when my partner came home and he was very surprised. He said it looked better on me than on the product page (swoon). He very much likes it.
This content is the opinion of the submitting contributor and is not endorsed by EdenFantasys.com

Thank you for viewing
Voulez vous corset
review page!