Crotchless? Not my pair!
I was so excited to receive my crotchless tanga panty in the mail. When I received them, I love the lace look and how the panties laced up in the front. The satin ribbon helps the panties fit better. You can tighten them up for a snugger fit or loosen them to give some extra room. Overall, these panties are sexy and fun to wear. I'm actually glad that they aren't crotchless.
Published:
Pros:
-Lightweight
-Sexy
-Stretchy
Cons:
-Runs small
-Not a true crotchless panty
The Stretch lace crotchless lace up panty by Leg Avenue is a very pretty panty, it's made from 89% Nylon and 11% spandex. I love the lace and how the front laces up and I also like how it can fit a variety of individuals. The lace pattern are pretty flowers of large and small sizes. The panty will work for both genders, and anyone who can fit this size.
The panty is only available in the color black, on Eden Fantasys. The only sizes that are available are 1X and 2X. The 1X does run small. I would say that the panty actually fits like a XL and it would fit a size 7-9 the best. It could fit smaller or larger, depending on the size chart that I have linked down below.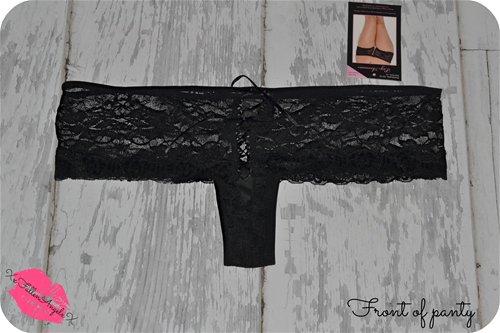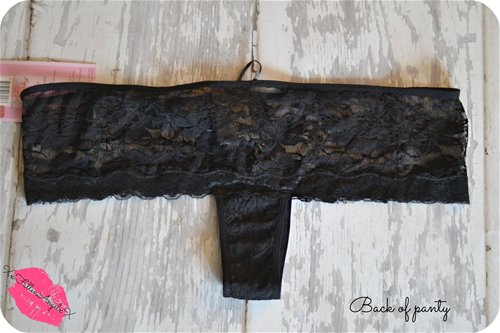 Although the panty is beautiful, something has me confused. I thought that I was buying a pair of crotchless panties, but these aren't really crotchless. In fact, the panty has a full cotton crotch lining, that absolutely has no holes or slits. The tag on the panty even says crotchless. Am I the only one missing something here?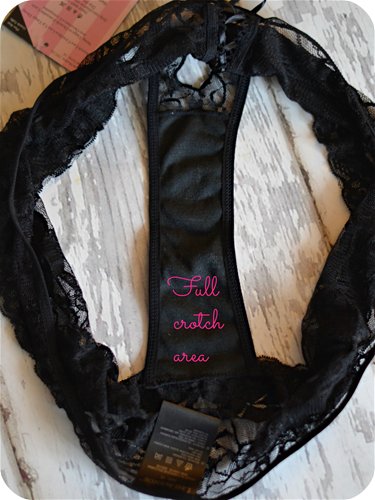 These would work to play in but they will not work for intercourse. There is no hole, slit or opening where the vagina area is. The only hole that is anywhere near this area sits high up on my pubic mound. I even pulled the panties down a bit, and the hole was no where near my opening. The area that I'm talking about is the bottom of the lace up area. When I have the panties laced up, it's a very narrow area. I'm not sure how anything would go in there except a finger or two, without getting rubbed raw. In order for the hole at the bottom to be large, I had to completely unlace the ribbon almost all the way. The hole still sat the my pubic mound.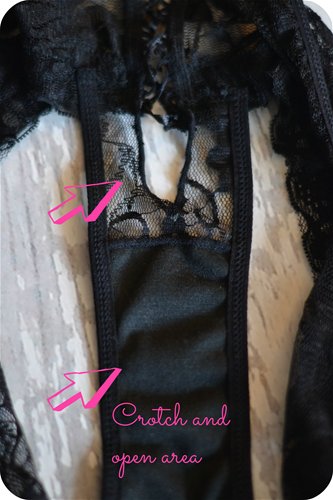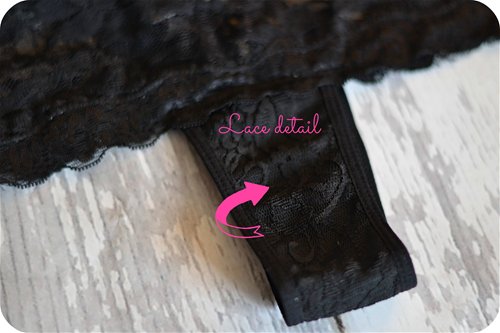 I just wanted to point that out so people would know that these aren't a 'true' crotchless panty, so these may work for some of the people who were uninterested after they thought they were fully crotchless. I'll admit that I like them better with the full cotton crotch. There are absolutely nothing that hangs down, besides the lace up ribbon. That is my favorite part of the panty. The panty laces up from the top of the waist, down to the top of the pubic mound. If you do have hair in that area, be careful, not to get it wrapped in with the ribbon.
Measurements
Waist measured across unstretched: 17"
Waist measured across stretched: 20"
Top front to top back unstretched: 19 1/2"
Top front to top back stretched: 21 1/2"
Length of total crotch area: 7 1/4"
Width of crotch panel: 2"
Width of cotton crotch: 2"
Length of cotton crotch: 7"
Satin ribon Size: 1/8" ribbon
Leg opening unstretched: 26" in circumference
Leg opening stretched: 30" in circumference
These panties stretch both vertically and horizontally easily.
My sizes:
Breast/Bra Size- 38 DDD or F
Waist- 36.5"
Hips- 42"
Height- 5'2"
Usual panty size- 7
Material
The panty is made from a nylon and spandex mix. The main portion of the panty is a lace material. There is a ribbon that is used to lace up the panty. The ribbon looks to be satin and the color is black. The size of the ribbon is 1/8". The panty has a cotton lining above the lace, in the crotch area.
Fit
I really like the fit of these panties. They fit like a cheeky boyshort. These seem to work in my favor since they do run smaller than expected. The bottom of the panty sits right above where my cheeks end. This cut of panty is super sexy on the body. The style can also work for any size and shapes. That's the good thing about them. Women or men would look great and feel comfortable wearing these. The lace isn't itchy and the waist portion doesn't dig into my hips or legs. I like the delicate feel of the lace. They fit so well that I've worn them under my everyday clothing. They work well with jeans, skirts and sweat pants. They don't bunch up and they do not show through thin clothing.
I did read where a reviewer said the hole in the crotch was plenty wide and stretches enough. I looked a little closer at her photos and there was no opening on the cotton crotch, at all, just like mine. That really had me stumped. Isn't the opening supposed to be in the crotch area?
Experience
(Continued)
I really like the panties, and now that I have them, I'm glad that they aren't crotchless. I'm able to wear them everywhere and not worry about my crotch being exposed.
The lace is sheer and the skin shows underneath the panty.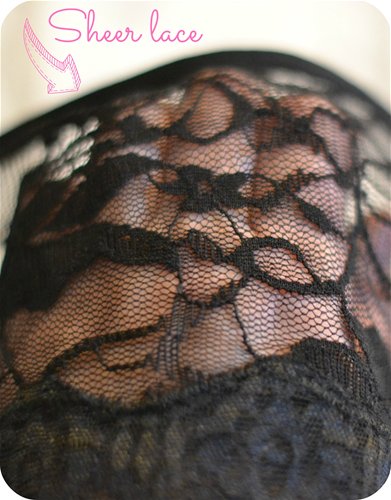 Leg Avenue's sizing chart:
You can find Leg Avenue's sizing chart
here.
Packaging
The pair of panties arrived in a clear package that felt very thin. The package seemed durable, and I received it with no rips. The package sealed on one end. The panties also had a tag attached to them that told the size and had a photo of a model wearing the panty. The tag was attached by a plastic tab that most new clothing is sold with.
The back of the panties have a very itchy tag that almost feels like paper, when being worn. I left the tag in for review purposes, but after that, I'm going to cut it out. The tag is black and has sizing information, material information, and washing information. The tag is 2" X 1 3/8".
Travel
The panty is perfect to travel with. The panty is very lightweight, at 0.1 lb. and the panty doesn't take up any room. I fold it into a small square and place in my lingerie drawer.
Care/Washing
To wash the panty, I filled up my sink about 2 inches deep of water and then I poured in about a cap full of the lingerie wash. I swirled it around with my hand for a few minutes and then when it became a little sudsy, I put the panties in the sink and let them soak. Once they soaked for a bit, I just used my hands to wash them and get out any chemicals. I rinsed them in cool water and hung them on a plastic hanger to dry, in my bathroom. I wouldn't put these in a dryer because some lace fabrics can be ruined, and the satin ribbon may come out, and get frayed. I try to be as gentle as I can with these, because they are thin, and they have a thin satin ribbon laced up in them.
The tag states to hand wash in cold water, with only non-chlorine bleach when needed, and drip dry. Do not iron.
Rating
I really like the panty and I'm glad to have it in my collection. I give it 5 stars for the look, style, and comfort.
Follow-up commentary
1 month after original review
These are still a very sexy pair of panties. I don't wear them for everyday wear because they are just too sexy! I keep them for the bedroom!
This content is the opinion of the submitting contributor and is not endorsed by EdenFantasys.com

Thank you for viewing
Stretch lace crotchless lace up tanga thong
– crotchless panty review page!