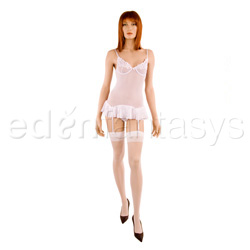 Pleated chemise and thong
Gartered chemise and panty set by DreamGirl
Cute AND sexy? Yes, it's possible.
DreamGirl did good when they made this set. It's beautiful, comfortable to wear, and looks great when put on. Fitting most occasions, the Pleated Chemise and Thong set looks sexy and cute, all at the same time.
Published:
Pros:
Aesthetically pleasing, not itchy, comfortable, cute, sexy, etc.
Cons:
Seam on breast part, thigh-highs made of low quality.
For a low-priced honeymoon set, or maybe even another set to add to a collection, the Pleated Chemise and Thong Garter Chemise and Panty Set is extremely cute, with the ability of also being sexy and sultry. It's a classy, elegant, lingerie set that gives a nice amount of skin and a beautiful shape. It's comfortable to wear, and gets two thumbs up.
Made of a stretchy (but not itchy)
lycra
material, the chemise portion of this set hugs the entire body; stopping low on the hips, where the pleated skirt is then connected. The skirt is made of a soft
chiffon
, which is not stretchy at all and fans out from the body, giving a nice illusion of an a-line. From under the skirt you can see quite a bit of tush, depending on your body type and height. This look fits really well on people with smaller upper bodies and larger hips. Curvy bodies can also look great in this set.
For the low-riding thong, it's actually cut big. My little girl has fairly large hips, and this thong fit her perfectly (we ordered a size small). That being said, I would suggest measuring yourself low on your hips before buying. It's also not anything of real worth, like most sets that come with underwear. It matches, fits, and works for what it's made for. Nothing too extraordinary or special, though it is a nice pair of panties that could easily be worn for long periods of time or under clothes.
The thigh-highs that come with the set should really not even be included; they're quite unnecessary in the form they're in. Yes the set has garters on it, but the thigh-highs are made of a very thin and low quality material that can snag easily. My partner suggests that you be very careful with them, because any sort of a jagged nail or grab could easily make them tomorrow's garbage. I'd suggest being careful, but personally I wouldn't bother. I'm not able to bother being nice-nice because of lingerie, and this set certainly gets me too excited for that. They're cute without them, or (if you have another pair of thigh-highs that you like) with a more high quality pair of thigh-highs that can withstand rougher play.
We did have one main complaint though, and this is prevalent for people with smaller breasts: if you are smaller than a b-cup, you may want to be cautious and wary about buying this set. The seams that run down the middle of the breast can be unflattering for people who have smaller breasts, and can look quite unnecessary as well as really odd. My little girl is a 30B, and while it fit her well around her back, it was still a little big in the breast part and the seams were purposeless. Aside from that though, the underwire for the bra portion is great. It's thin and doesn't poke out in any way, so you don't have to worry about your breasts being stuck constantly while wearing this.
I decided to save the best for last, since this set deserves to end on a good note. With the embroidery and satin bows, this set's embellishment makes it perfect. I'm not sure that it would look right without it. It really does complete the beauty of this set. There are four roses (two in the front, two in the back) along the seam where the skirt meets the chemise. They're sewn on beautifully, and look great where they're placed. My partner really loved the satin bow. It's so cute to see on the small of a person's back, especially if you're behind them.
All in all this set is very lovely, though I personally don't find it to be worth almost forty dollars. It's a good buy but I think that in comparison to other sets of similar price, it falls short. If you're planning to buy it and tend to be rough in bed, don't count on the thigh-highs (unless you enjoy that ripped look). Buy it for the beautiful chemise and panties.
Note: I'd suggest hand-washing the chemise, because of the two main materials that might be problematic in the wash; the chiffon and the satin. Then afterward, hang out to dry. The same goes for the stockings. They will easily make fabric beads in the wash. The panties can be regularly washed in the machine.
This product was provided free of charge to the reviewer. This review is in compliance with the FTC guidelines.

Thank you for viewing
Pleated chemise and thong
– gartered chemise and panty set review page!