Cute...And Then It Broke
This looked alright, but ended up breaking after only being able to wear it twice. The seams had frays and some quality control issues. The seam under my bust felt very tight and the underwear didn't fit at all. Overall, unless your a size 0-4 and don't mind a single or double use product, I wouldn't recommend buying this.
Published:
Pros:
Sparkle detail on bow
Adjustable halter top
Cons:
Broke in two uses
Not even close to one size fits all
Low quality seaming
This open cup piece caught my eye because I like open cups and the beading detail was something I didn't have in my wardrobe. My husband likes to have easy access and I figured it would be a double win. Sadly, there's more than a few disappointments to be found here.
The piece comes in a box that shows the model wearing the piece on the front and back of the package. It has the material information as well as washing instructions. This care instructions are also on the tag in case you opt not to keep the box.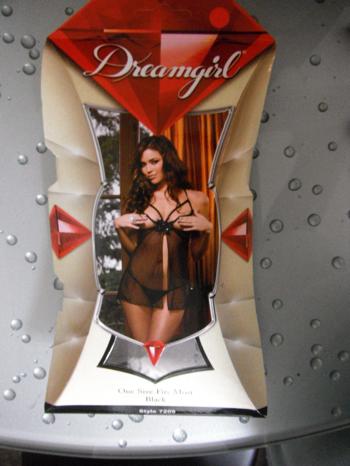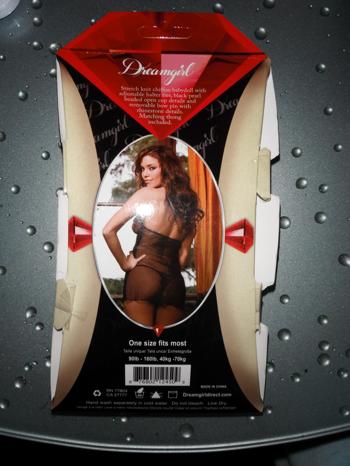 This outfit is made of 100% polyester. It has a few different things going on. There's the mesh material that the main outfit is made of, the plastic beads, and then a slightly harder feeling mesh for the bow. The mesh of the main piece falls somewhere between soft and scratchy. It's not overly scratchy, but it did bother my skin slightly after wearing it for a while. It has some stretch to it but not a lot. The seams have very little stretch to them. If I grab an inch of seam and stretch it, I can stretch it to about 1.5 inches. The plastic beads are nothing to write home about. I make plastic bead bracelets out of those .99 cent beads you get at the store and these look pretty much like those do.
This is a "one size fits all" piece. It includes the babydoll as well as a g-string. The babydoll is 18 inches long and 9.5 inches wide at the chest. The halter string is 29 inches long - you tie this yourself so it is adjustable. The longer bead string is 7.5 inches long. The g-string is 12 inches wide and 5.5 inches long. There is a liner on the inside that is 5.25 inches long.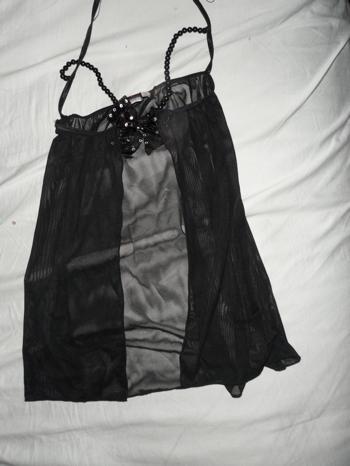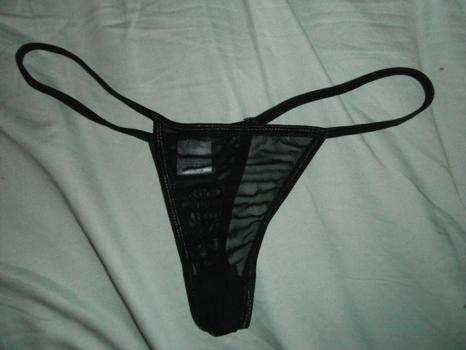 This has got to be one of the least "one size fits all" pieces I own. The seams just don't have enough stretch to accommodate much past the original measurements. I'm a size 4/6 depending on the designer, 34DD/36D, 28 waist, and 39 hip. The seam that goes underneath the bust was almost painfully tight on me. The underwear was unwearable completely. It dug into my hips and not only looked unattractive but just plain didn't fit. I'm going to hazard a bet that if you're above a size 4 that the underwear will be useless and if you're above a size 8 the babydoll itself might be. The bigger your bust is, the more likely it is that you won't be able to wear this.
There are two design details on this babydoll. The first is the gigantic bow in the middle of the bust. Now, I like bows and I like things that sparkle, so I don't inherently have an issue with the bow on the piece. What I do have an issue with is how it's attached - via saftey pin. This just seems like cheap construction to me. Could it not have been somehow attached to the outfit? I'm sure this is a heaven sent for those that hate bows, but since I liked the sparkles on them and wanted to keep it, I wish they would have attached it better.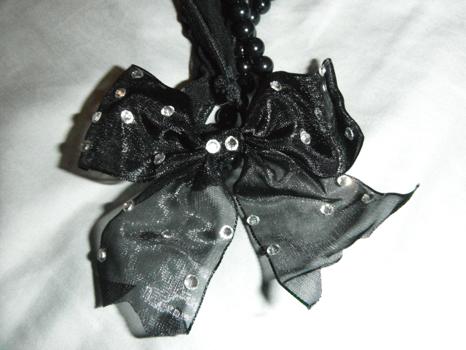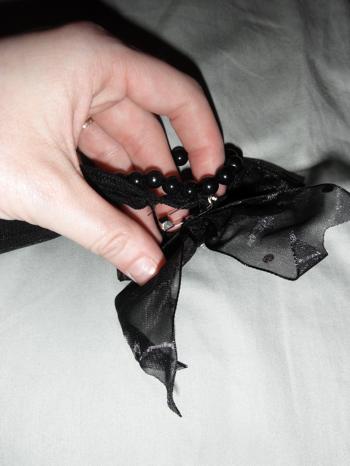 The second is the beading detail. This, according to the picture, is supposed to lay on top of the bust. I couldn't quite get it to fall that way so I used it to go around my breasts instead like an outline. It wasn't quite a perfect fit this way, but it was less irritating to me than the original way. So, what's my complaint about the beads? I got to wear this outfit twice - once with my husband and once for the pictures you will see below. When I went to take this off from the picture, the string that held the beads on bust and the beads went flying everywhere. So I got a whopping two uses out of this before it got laid to rest. That's nearly $10 per use and one of them was only for pictures. I'm beyond annoyed. Don't believe me? I present to you, a handful of beads.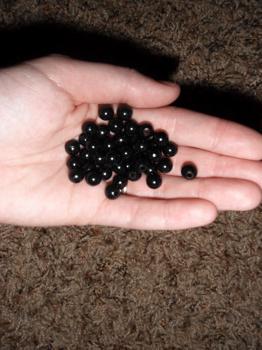 That's not the only quality control issue I have. The seams have a few frays randomly, some on the g-string and some on the babydoll. I could find these in various places mostly where two seams would meet. In some places, the seams were not fully sewn together. Meaning, there were little pieces of the material hanging off from where it was seamed off. This wasn't at every seam meeting, but more than half of them were like this.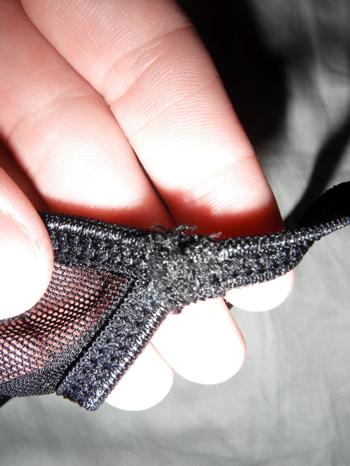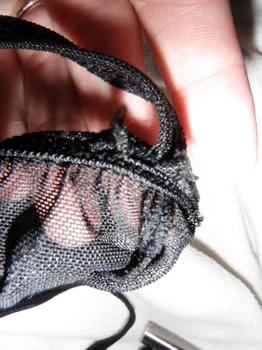 Experience
Suffice it to say, I'm a disappointed in this piece. I have things I've bought on eBay from China that had higher quality and that's not saying a lot. I mean, really, this broke in two uses. I can't even sufficiently speak to long term wear comfort because I only got the chance to wear this for maybe a total of forty five minutes between the two uses.
What I can say is that my husband and I agreed that this looked okay. It wasn't anything spectacular but it didn't look bad either. I liked that the babydoll itself was a bit longer and covered my hips, the area on my body I'm always looking to hide. I liked that it offered easy access to my breasts once I redid the way the beads were positioned. I didn't like that I felt like it was about a size and a half too small around my bust. I'll say it again because I'm annoyed - I didn't like that it broke in two uses.
Here's how I ended up positioning the beads instead of how you see the model wear them. I used them to frame all the way around my breasts instead of laying on top. I have another outfit that does this with ribbons so I stole the idea from that one. It doesn't fit perfectly, but it keeps the beads from getting in the way and annoying me.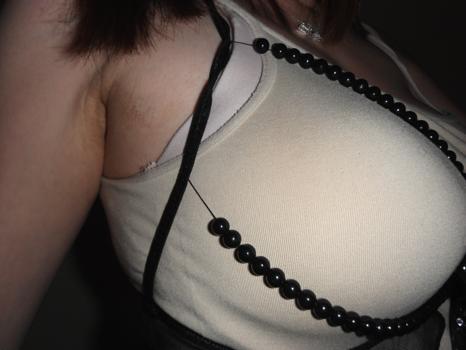 Here's the fit of the outfit. You can't see that it's too tight under my bust, but trust me, it is! The babydoll comes down where it fit just fine, but anywhere that had seaming touching my body felt tight. Like I said, this looks okay. It's nothing spectacular.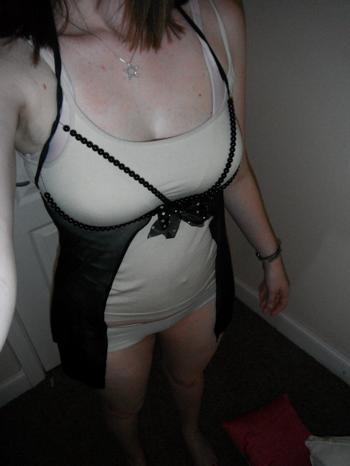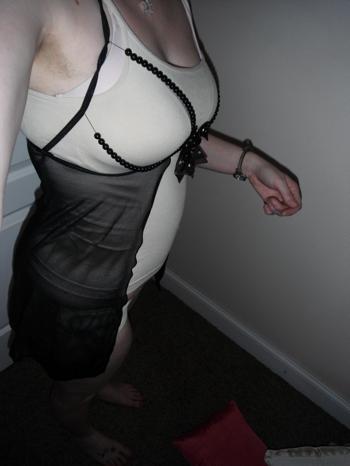 If it hadn't broken, I might have given this three stars (at most). Since it did, and quickly, I can only give it one. If it had even lasted a month, I might have given it two. The quality is just too low on this and I just can't recommend it. The major lie on "one size fits all" also brings the score down.
This content is the opinion of the submitting contributor and is not endorsed by EdenFantasys.com

Thank you for viewing
Black open cup babydoll
– babydoll and panty set review page!