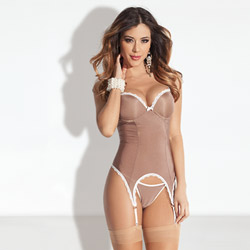 Bustier with hose
Bustier by Escante
Cute but Unbalanced
I found this bustier to be very pretty, and has a natural, classic look that I really like. The material is very soft and feels great against your skin, and any partner would love to feel it. However, I feel like the sizing is unbalanced for it, with some parts being too big and some parts being too small. For the price, I'm not sure that kind of hassle is worth it.
Published:
Pros:
Very simple, nice color-combination, and very soft material that feels really good.
Cons:
NOT one-size-fits-most bra-area in the size categories. Garter straps too long, not adjustable.
Let's start with the basics.
This simple bustier is soft brown nylon that feels great and looks very simple and chic. It has no boning, has attached garter straps, and the breast area is an actual underwire bra. It comes with a matching thong-- same material-- and simple tan-colored thigh-high hose. Apparently the company also has a similar piece in black, which might be nice, but I really like the color combination in this one.
This is a delicate little thing, so it should be hand-washed and line dried, which means it takes a little maintenance to keep clean and in good shape. I think the price is a little high for such a plain piece, but it's a good set, definitely.

First I'll talk about what I liked about this piece.
The biggest comment I noticed up front when I was shopping around was how plain this one is, but I kind of liked that. I think it's very sleek and classic, without looking overly sex-i-fied or porn-star-like. I think the simplicity of it is a big boost. I didn't think it'd go well with my skin tone, but I was willing to give it a shot all the same. I imagined wearing it under my work clothes and coming home for lunch ready to show it off to my boy, or wearing it under my date clothes, feeling sexy all night.
I love the material. It's so soft and smooth it feels really great on your skin and under your hands. I also love the white, just-barely-lacey, trim. I think it looks really good with the light brown color, and the matching thong looks good in the white and brown as well.
I wanted to like the way the garter straps hang down, but that's a bit of the bad stuff, so I'll hold off on it. Let's just say I love the way the garter straps look in the photo given.

Now, I have to get to the less good part; the sizing. I think the sizing of this piece is a little off. A lot off, actually. Some parts of it fit me great, and some parts don't fit at all.
I'll start with a warning; do not buy this bustier in Small if you have a Cup Size larger than B. I assume that goes for Medium too (as in, not over a C or D?), but I don't have that size, so I can't confirm that.
I am a small in just about everything. In fact, in some things I'm an XS. I'm not trying to brag, I just want to make it clear that I don't usually have trouble with small sizes; I'm a petite person. Having said that, I have a weird set of tits: I'm in that strange purgatory just over C-cup but far below D.
The fact that this bustier has an underwire bra as part of it means-- to me-- that it should have had a cup size listed in the sizing, or something of the sort. It doesn't, it is sold simply as S, M, or L. So, naturally I chose the size I thought would fit best. And for the most part it does. It fits quite nicely.
Except for my boobs. And the garter straps. I have to squeeze my C-cups into what's obvious a B-cup at the most. On the flip side, the fabric that attaches the garter straps to the abdomen are really, really long-- and they aren't adjustable at all. The tips of the garter straps go just above my knees! I'm not a short person either, and I don't have short legs, I'm pretty average. Especially for a size small.
So while the abdomen and shoulder straps fit perfectly, the breast area is far too small and the bottom straps are way too big!
I've never had a piece of clothing that was too big AND too small at the same time.
I had considered exchanging for a medium, of course, but the sizing feels so unbalanced that I'm pretty sure my boobs would fit into that one but the abdomen area and shoulder straps would be too loose, and at the rate they're going, the garter straps might make it down my calves.

What bothers me about this product is NOT that it doesn't fit. It's that it doesn't fit in several different ways! If the cup size were just too small, and everything else were fine, I'd have exchanged it for a larger size and probably been more or less satisfied. But with such an unbalanced array of size, I felt I was better off with the slightly too small, slightly too big, slightly just-right bit of lingerie it is.
Experience
I really wanted to like this piece. I've so far only found one lingerie set that fits me right and makes me feel nice and sexy. This bustier didn't do that at all, which is really a shame.
It's simple and soft and I like that. Unfortunately, the sizing just doesn't make sense to me. Maybe my order was just defective, and everyone else who got this fits in it perfectly. But then again maybe not.
I'm currently in the process of losing weight around my chest and stomach area. Maybe in two months I'll be able to report that I lost some boob-age, and it suddenly fits perfectly. But even if that's the case, the garter straps will still peek under my skirts every time.
My best recommendation for the product would be to make things adjustable. If there's underwire, make the bra adjustable a little, or at least give a sizing chart for cup sizes in each size category. For real women, a size Small does not equate A or B cup breasts, as a size Large does not automatically mean size D cups. And definitely make those garter straps adjustable!
This product was provided free of charge to the reviewer. This review is in compliance with the FTC guidelines.

Thank you for viewing
Bustier with hose
review page!