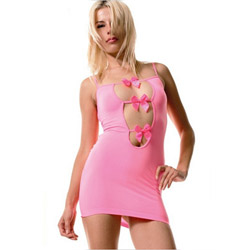 Reversible mini dress with bows
Mini dress
by Music legs
Cute, Clingy, and Skimpy
This is a brightly colored, slinky little dress. It's not really the sort of thing you could wear out and about or clubbing - it is definitely for the bedroom. The stretchy, skin-tight material can be a bit unforgiving but in general it's very cute and easy to wash.
Published:
Pros:
It is stretchy and comfortable. The pink is bright and the bows are cute.
Cons:
It offers no support whatsoever. It's "reversable" but the front looks too plain that way.
The manufacturer calls this item a "dress," but it's basically lingerie. I would call it more of a chemise. It's very clingy and stretchy and the fabric is very thin.
Design:
This dress has a row of 3 bows across an open front. I assume the side with the bows is the front because that's how it's displayed on the packaging and advertising photos. It's touted as "reversible." By reversible, they mean that you can turn it around so that the bows run up the back instead of the front. The back is plain. It offers absolutely nothing in the way of support when worn either way.
For reference, I am usually a dress size 4. My measurements are 34A-26-36, and I am 5'6" tall and about 123 lbs. I'm basically the high end of a Small/low end of a Medium on most manufacturers' charts. The fabric of this dress stretches a great deal, so I could realistically see it fitting someone who normally wears a Large. The packaging indicates that it should fit someone who is 5'-5'10" tall and 100-175 lbs.
When it comes to your figure, this dress is very unforgiving. Lingerie generally doesn't have a lot
of leeway, but it offers no support at all for your breasts, stomach, or backside while it is absolutely skin tight. It isn't difficult or fussy to put on, and it's easy to remove - if you even want to bother. The skirt is short enough to easily have intercourse while wearing it, and the open front and spaghetti straps give your partner easy access to your breasts and nipples. It's not uncomfortable to wear while having sex.
In the advertising photos, it looks like a powdery pink. On the product packaging, it looks more red. The actual fabric, however, is neon hot pink. It's pretty much day-glo. It would probably look pretty awesome under a black light, actually.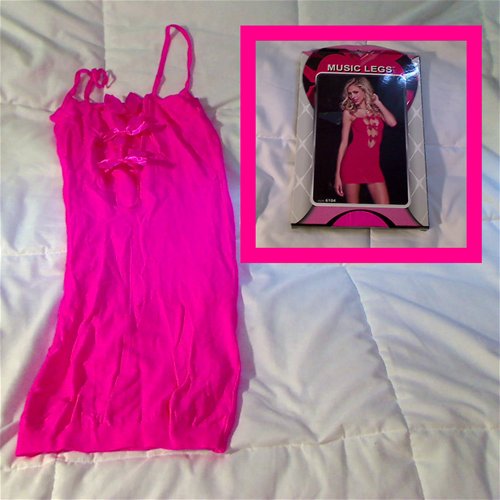 Packaging:
As you can see, the packaging is nothing impressive. It's not great gift packaging but it's easy to open and you can recycle it.
Care and Maintenance:
According to the tag, this garment is hand-wash only and meant to be drip dried. Don't throw this in the dryer - it's 100% nylon, so you know that won't end well. You'll end up with a misshapen lump, at best. It's not really all that difficult to wash, but if it gets stained then good luck getting it out. I did a patch test with water-based lube and it didn't spot or discolor. Do not use bleach on this garment. When I washed it by hand, it leeched a fair amount of dye, but not a ridiculous amount for a first washing. The color didn't appear to fade, but I still wouldn't say it's very colorfast. It does not take up very much space once rolled into a ball and wrinkles are not an issue with it, so it's pretty travel-friendly.
Experience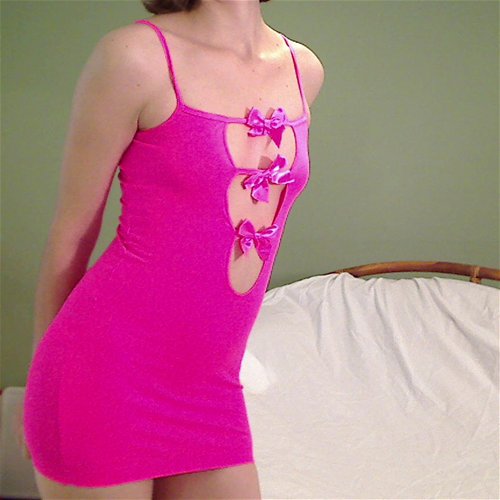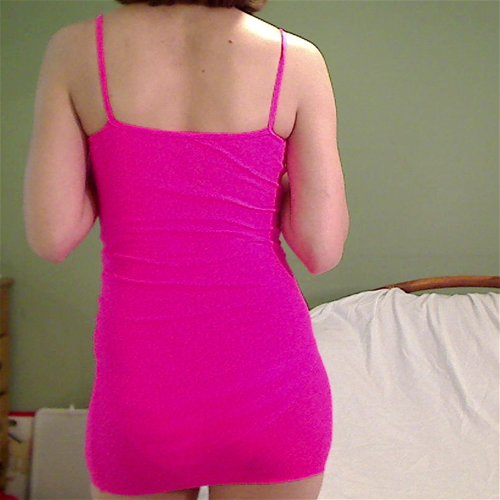 I seriously have no cleavage, so I don't know if the peek-a-boo effect of the bows running up the front really does my chest any favors. It still highlights the little cleavage that I do have, though. The fabric is so thin that my nipples are clearly visible, which certainly went over well. It would probably look better on somebody with a little bit more breast tissue. The back seems a little plain and doesn't make my butt look that great. It still looks pretty nice when I wear it with the bows facing the front, and was definitely appreciated by my male audience when worn this way.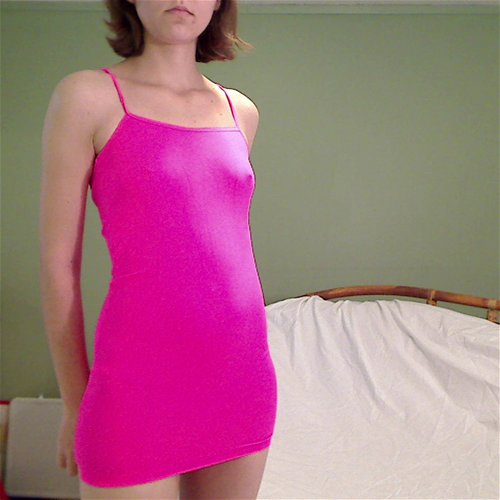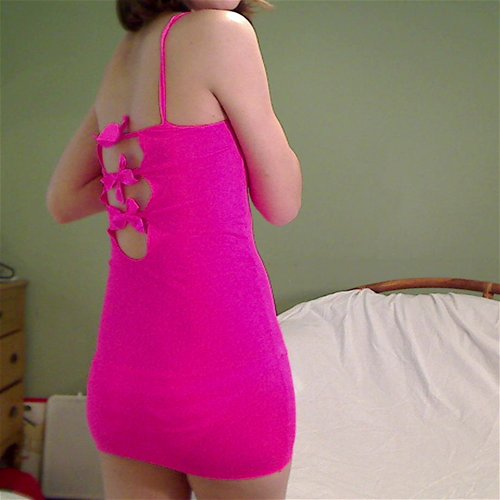 When I turned it around so the bows faced the back, the front just looked...plain and cheap, and the back just looked awkward. I guess you COULD wear it that way, but I don't see a reason to unless you need to wear a hot pink camisole under something and the one you own is in the laundry. Either way, this way of wearing it was definitely not my viewer's favorite.
The fabric is comfortable, light-weight, and does not itch at all. I had no sort of skin reaction to it or anything like that.
Follow-up commentary
2 months after original review
I still like it. As long as you care for it properly, the fabric will hold up fairly well. I wash it in the washer with cold water, and then hang it to dry. A few months after getting it, I needed to soak it to get a coffee stain out. I noticed that it tinted the water pink, and it left a bright pink puddle as it dripped dry. Therefore, I don't think I'll be washing it with any of my white clothing any time soon.
This product was provided free of charge to the reviewer. This review is in compliance with the FTC guidelines.

Thank you for viewing
Reversible mini dress with bows
review page!