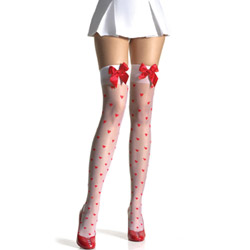 Woven hearts stockings with bows
Stockings
by Leg Avenue
Cute enough to outweigh the cons
Overall these stockings have some good points and some bad points. They're more attractive than they are quality made but they aren't shoddy either. The good outweighs the bad for these.
Published:
Pros:
Don't pull easily, cute, comfortable.
Cons:
A little tight up top, bows don't always stay on.
I will start this off by saying that cutesy stockings like these are generally designed more for look than function. They tend to assume these are for Halloween or one sexy night and not for repeated wear, or at least are constructed as such. These are by no means awful stockings or anything of the sort but aren't really an exception to these rules either.

I definitely don't recommend these for plus size folks. Even though these are "one size fits most", at 130 pounds these gave me slight muffin top legs and I'm not exactly bottom heavy. Not so drastic as to look awful but in a way that a girl (or guy) much heavier or who just has thick thighs might not like how these looks on them.

Additionally, the heart design is put on the stockings (some sort of printing on the fabric or something?) and not just different colored thread woven in. This means the area where the hearts are does not have a lot of give, so if you have thick legs there much be some weird pulling going on in between the hearts.

In terms of comfort, these scored pretty high for me. The material isn't scratchy or anything, and it's slightly thicker than a lot of stockings which add a little bit of security. Anyone who doesn't shave their legs can tell you stockings can sometimes irritate the skin and tug on the hairs. These did not do that to me. So if you're a lady or gent who doesn't shave their legs these will be comfier than you expected!

They stay up alright, but have no kind of rubbery part to keep them up. They will slide down a bit so I recommend wearing these with a garter belt. It looks sexier that way anyway!

I admit I am a clumsy person. Stockings usually pull the first time I wear them. These are a little thicker and I have yet to destroy them, which is impressive if you ask me.

In my experience with these stockings (and with any other stockings with bows) that the bows do NOT want to stay on. On this pair the stitching became loose enough that the bow on one of them has turned on its side. If you're handy with a sewing kit this may not be a huge deal to you, though.

Overall, I've gotten a couple good wears out of these. They've gotten a little beat up over time (especially the bows) but overall these aren't too bad. If you're someone who wears a lot of funky stockings usually sold in Halloween stores you'll be used to the fit and quality of these style of stocking. Expect to get 2 or 3 good uses out of these but for the bows to get a little droopy on ya over time.
This content is the opinion of the submitting contributor and is not endorsed by EdenFantasys.com
Thank you for viewing
Woven hearts stockings with bows
review page!