Cute look, fit... not so much.
For a relatively cheap lingerie set, this is decent quality. It looks nice and classy, with the simple design and the jeweled straps. However, the fit was really not right for me, and it's hard for me to tell if that's due to my body or the design.

Buy it if: You think it's right for your body, and you don't have a large budget.

Skip it if: Your body, like mine, is tricky to fit, or you can afford slightly nicer quality.
Published:
Pros:
-Classy look
-Jeweled detailing
-Comfortable
Cons:
-Fit was off
-Not entirely flattering to me
I've been trying to figure out how to write this review, because the fact is, this is a nice little babydoll that is just not quite right for me.
Let's start with some specs. When you order the black jeweled babydoll, Eden will send it to you in a box wrapped in some nice tissue paper, but no other packaging. In the box, there is the babydoll and a black thong. Both are made of 100% nylon, so they should have no trouble going through the washing machine, as long as they're in a net bag or the machine is on "delicates" (or both!). The tags say they're made in Mexico. The material is nothing special, but I do like that the mesh part is not itchy or scratchy at all. It's about as silky as nylon can get. This is especially important in a thong, let me tell you.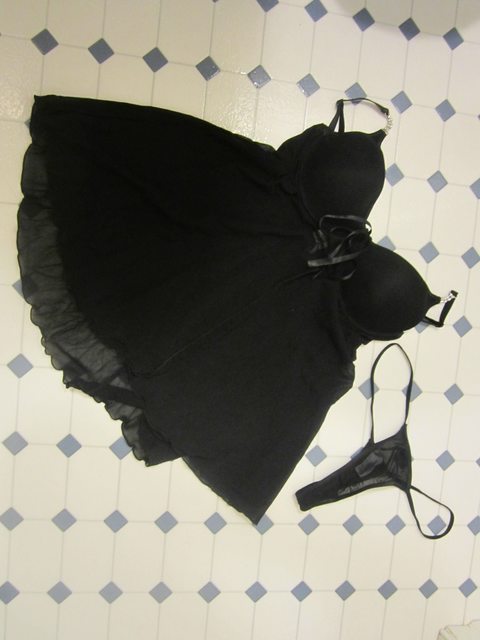 Both pieces together on my bathroom floor.
The babydoll has adjustable straps, ending in the little jeweled detail that gives it its name.
The bra part is held together in the front with two closures: a little hook that can be undone, and a ribbon tie. If you undo both, you can open the babydoll all the way up, although it's easier to just put it on and take it off over your head. I will say that the hook closure does not seem to be that well made, as mine is bent a little just from keeping the bra closed. But then again, as I'll elaborate on later, my breasts are kind of a special case.
The babydoll!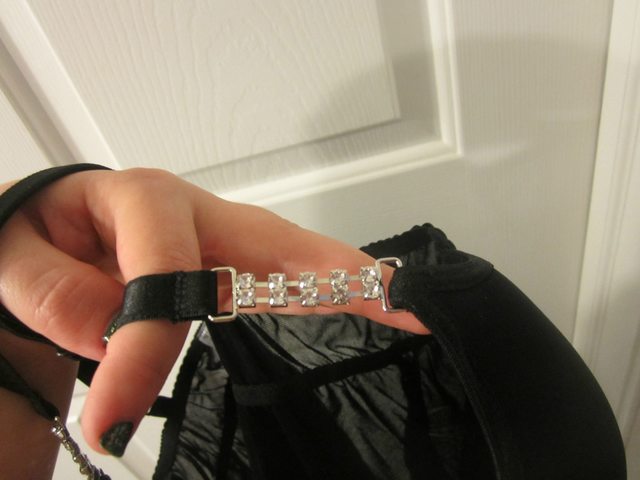 Why they call it jeweled...
The thong is extremely comfortable. In fact, I am really not a fan of thongs, and yet I ended up wearing it under my clothes for the rest of the day because it was so comfortable. I didn't get that awkward, tight wedgie feeling that thongs usually give me. And although I usually prefer bikini cut panties that offer a little more coverage, it looked hot. When I requested this babydoll, I imagined that I would wear it with a pair of black lace panties I already own, but now I'm glad I gave the thong a try.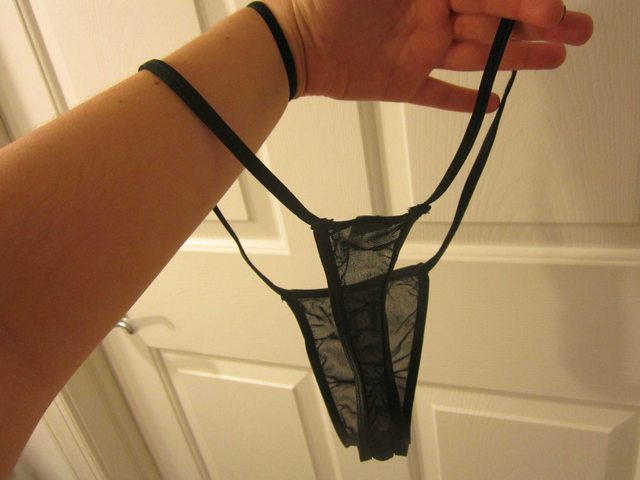 Here it is from the back. so you can see both sides.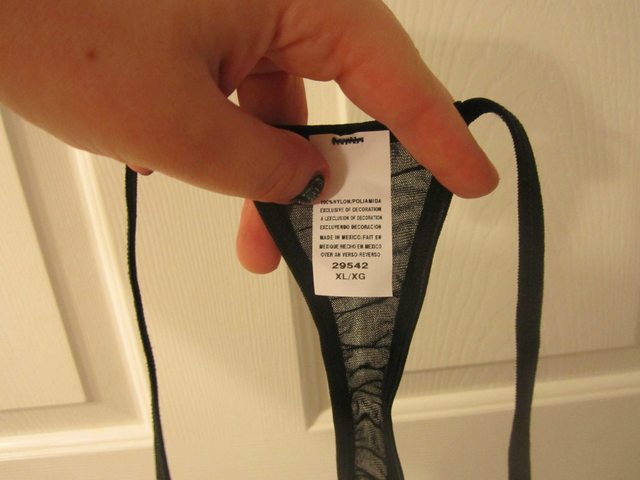 My only problem with it is this big tag. I didn't feel it as much as I thought I would while actually wearing it, but I'll still probably cut it off. It's just not cute to see a big white tag through sexy black mesh.
I got the XL, because according to Escante's sizing chart, that's a 34-36 inch waist and a D-E cup. I'm a 36DD (AKA 36E — they're the same), so it seemed perfect. I'm a touch below the weight range it gives, but I'm also below average height, so I thought this seemed like the right size for me.
Well, I can tell you that these bra cups are most certainly not E. I knew it sounded too good to be true. My bra size is not standard (in most department stores, if they go up to DD/E at all, it's with a larger band size, such as 40), so I should have known I would have trouble with a babydoll that's meant to fit a standard body type. My breasts spill right out of these cups. Which, granted, is not always a bad thing in the bedroom. But the problem is that, body-wise, I'm not really an XL... just boobs-wise. So the mesh part had too much volume, covering the rest of my body like a tent, instead of the nice body-skimming look I'd hoped for.
Experience
The thing that made this review hard to write is that I'm not sure how much of that is the design of the babydoll, and how much is my body. It's true that when people design things for my breast size, they tend to assume a larger body than I have. Often I can't buy specific styles of dresses, because to get my boobs to fit means that I'm swimming in the rest of it. So since that's a very typical fit issue for me to have, it might mean that this will fit fine on people who have band and cup sizes that work more harmoniously together.
That said, looking at the product page, I kind of see the same effect on the model. Her boobs seem kind of squeezed in, and the way the mesh flows out underneath is a little bulky and not that flattering. And plus, I really would have expected this to fit me better based on the measurements that Escante put on its sizing chart.
Here's a few pictures of the lingerie on me so you can see what I'm talking about.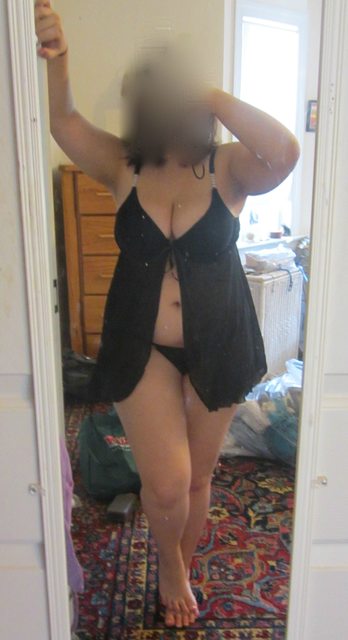 Too small on the boobs, too large everywhere else. Please excuse my disastrously messy room. I swear that's just a garbage bag of clothes behind me, not a garbage bag of garbage!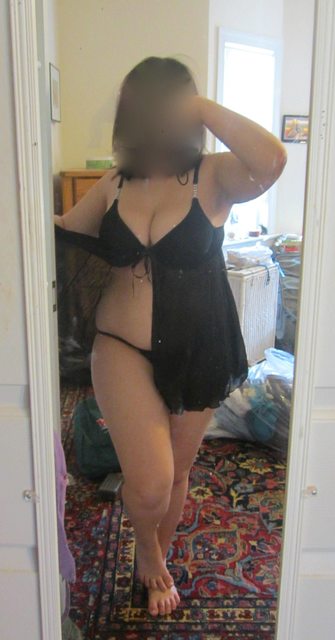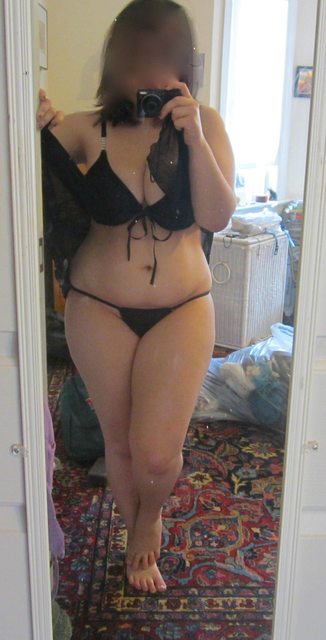 And here's a couple of pictures so you can see that my waist actually looks nicer without all that mesh obscuring it. I'd prefer my lingerie to make me look better, not worse.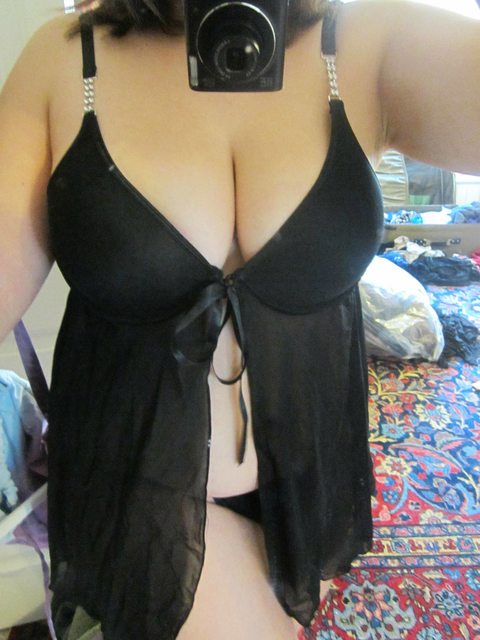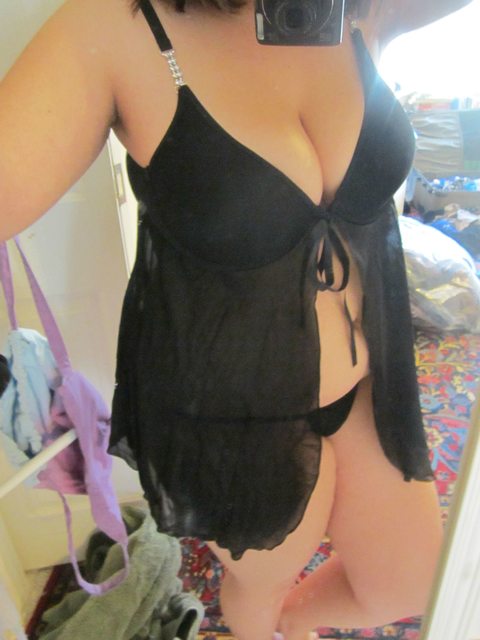 Notice how more of my boobs is out of those cups than in them!
In judging this lingerie set overall, I have to keep the price in mind. For such a delightfully cheap set, it is not bad quality. As I said, it's not itchy at all, and the thong is very comfortable. The jeweled detail is really nice and I'm definitely going to enjoy spending some alone time just lounging around in this babydoll, thong, and heels, feeling sexy. It has a much classier overall look than a lot of the cheap lingerie out there. That said, the fit isn't good, and while part of that is certainly that my body type is hard to fit, I'm convinced that part of it is also the design. But you could do worse for this price, especially if you're more sensibly-proportioned than I.
This product was provided free of charge to the reviewer. This review is in compliance with the FTC guidelines.

Thank you for viewing
Black jeweled babydoll
– babydoll and panty set review page!