Cute Meets Sexy
These 'Burlesque' panties by Leg Avenue are a real find. Not only are they very comfortable and provide 'almost' full coverage with a sexy twist, but they combine cuteness with sexiness without going over the top. You could wear these under a pair of jeans or coupled with some sexy lingerie and no matter which way you choose, you're still going to look sexy when you reveal them. Although I'm sure these will last a long time, I'd definitely buy them again
Published:
Pros:
Unique design, flattering, well-made, feminine
Cons:
Size runs small, misleading label, oversized & itchy tag, only 3 sizes
When Eden recently began carrying some of Leg Avenue's 'Burlesque' line, I quickly got excited. Not because I'm 'into' all things Burlesque, more because I sometimes like more Gothic looking lingerie and this is the next best thing. I knew not everything would suit me, but when I saw the Lace Heart Panties, I knew I had to have them.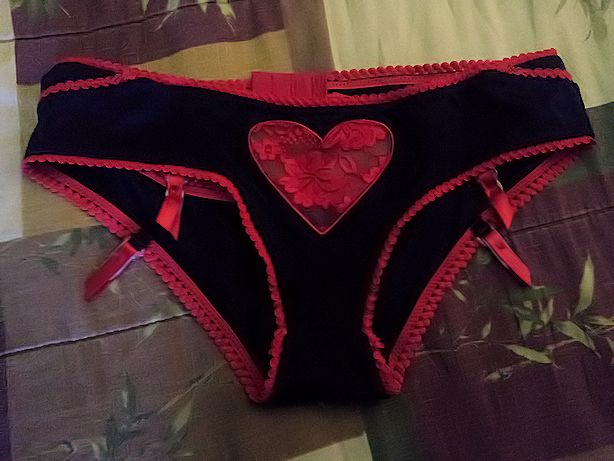 I ordered two pairs, one Medium and one Large just in case of trouble with sizing. I actually tend to vary between a Small and Medium usually, but have noticed that other Leg Avenue panties run small. These are no exception, and while I'm keeping both pairs, the Medium feel a little small while the Large are just a bit too big for me.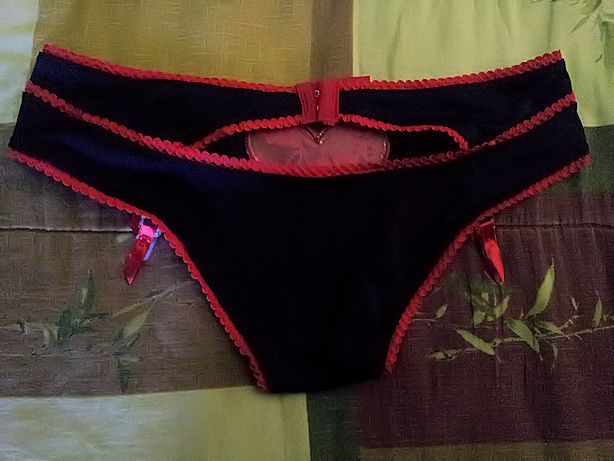 The panties came in a plastic bag - the heavyish type that a lot of lingerie comes in (similar to Coquette pieces, although unlike those, these panties didn't come with any sort of hanger).
The colors are pretty vivid - a nice deep black and bright red, meaning that they thankfully look exactly like the website pictures. The (oversized) label says that the main body of the panties are 83% Nylon and 13% Spandex. They feel more like lightweight swimsuit bottoms than regular panties, and are very satin-like and oh-so-touchable. They cling to the body beautifully and accentuate your curves. These are edged in a very nice red lace accent that looks almost like a row of little stitched together tassels. This is a very nice edging and another thing that makes these panties stand out from the norm.
The front features a red lace heart cut-out. It's semi-opaque, so if you're shaved then it won't give anything away since it's too high to be revealing. However, if you've got a 'landing strip' or any pubic hair that goes higher than an inch or so then it's probably going to show. Another nice touch is a piece of sheer white lace that's stitched over the inside of the cutout. Little touches like that make me happy! Speaking of little touches, there are also four small garter straps attached (two at the front, two at the back, obviously). These straps are more form than function, and although they're real, working straps, they're really too short to hold a pair of stockings since they're just 1 1/4" inches long and are sewn onto the panties themselves. They're still a gorgeously feminine touch though, and I wouldn't remove them even if I could.
As for the rear of the panties - well this is what makes these stand out for me. They're just unlike any other panties I've ever seen and are where the "Cute meets Sexy" title really comes from. The rear looks like a pair of cute, low-rise bikini panties but there is an extra strip of material sewn on that makes it look as though you're wearing a matching garter belt. The stitching for these begins at the front, just above the thighs and continues about half way around the back. The stitching is high quality, with no loose thread, snags or visible seams (since the red lace edging hides them). The 'fake garterbelt' sort of works too, as it's got three pairs of hook & eye fasteners on it. It's a really unusual and unique look and I love it!
Since these are full-crotch panties (thank God!), there is a 3" long by 1 1/2" wide crotch panel sewn in. This is almost exactly the same material as the main body of the panties (perhaps just a shade thinner) and is also very comfortable and not a bit irritating.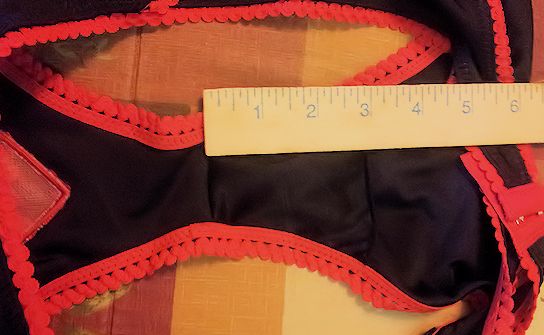 The care label is stitched into the inside left waistband and is really the only thing I could live without. It's hard and scratchy and I'll probably end up cutting it out. At 2 1/4" long I also think it's unnecessarily long and have found that it will poke out of the side unless you fold it back into the panties (making it even more irritating), and I really don't want to have to keep doing that each time I wear these. I'll probably wait until I've given these a wash or two to see whether that softens the label up. Speaking of which, the instructions say to hand wash warm, don't iron, use only non-chlorine bleach and to drip dry. I'll be sticking to those instructions since I don't want to mess these up!
There are often panties for sale here that have high price tags. This is one pair that I would happily pay the same price for if I found them in a department store. They're well worth the money and have instantly become one of my favorite pairs - and I've only had them for 3 hours!
Experience
Having bought two pairs of these, I've spotted that both the inside labels AND the attached tags can be misleading. My Large pair actually says M/L, M/G but the Mediums say X/L, X/G. Since you're ordering these online that shouldn't matter too much, but it's something you're going to want to bear in mind if you order the Mediums and worry that you've been sent the wrong size.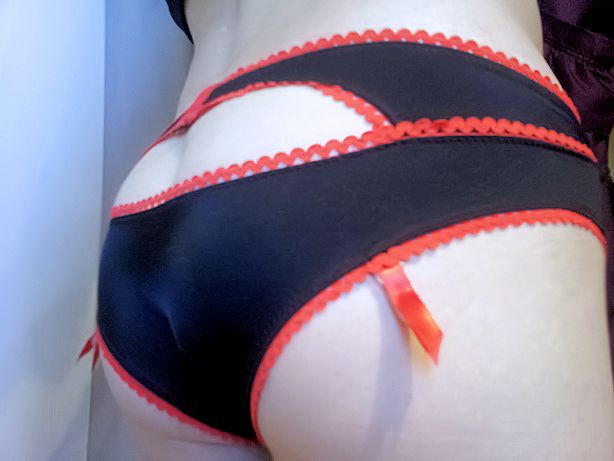 This content is the opinion of the submitting contributor and is not endorsed by EdenFantasys.com

Thank you for viewing
Burlesque lace heart panty
– sexy panty review page!