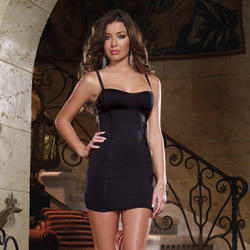 The naughty dress
Dress
by DreamGirl
Cute? Yes. As pictured? No.
This is a subtle but sexy "little black dress" that could be a staple in any woman's wardrobe. Even though I'm not absolutely in love with it, I'll definitely find use for it. Looking for something to wear for nights out at a club or house party? It would serve perfectly.
Published:
Pros
Soft, comfortable, sexy, a wardrobe staple
Cons
Wrinkling, lack of breast support, a little expensive for what it is
Mail day! I picked up a small, square, box from the post office and opened it immediately upon returning home. I pulled out
The Naughty Dress
in minimal
packaging
: just a clear plastic bag. The dress has one cardboard sales tag on it with the style number (8067), color, and size, attached with one of those little plastic do-dads. The flip-side of the tag has the product image, the same as on this site. There's also a small tag in the back at the top like most shirts have with the company name and care instructions. For those interested, this dress is made in China.
The Naughty Dress comes in
sizes:
small, medium, large, and extra large. Based on the size chart, I chose a small. According to the chart, a small fits A-B cups, 32" - 34" bust, 24" - 26" waist, 34" - 36" hips, and weights 90 to 120 lbs. It also measures 22" from the strap to the bottom in the front, and 21" from the middle of the sweetheart cut to the bottom also in the front. The back also measures 21" from top to bottom. At 5' tall and 105 lbs, most of my measurements fit right in those ranges, except that I wear a 32C. With that in mind, I figured the top would be a bit tight, but who minds a little extra cleavage?
Upon putting it on, I was a little confused. The sewn detail that you can see in the product photo seems to be sewn a little too tight, making the fabric bunch up and wrinkle where it isn't pulled totally tight... which is in most places around my torso. I adjusted and adjusted, but it wasn't changing the fact that under my breasts and over most of my midriff are awkward wrinkles. It's not at all the super smooth fit that is shown in the photograph. This may be a result of my waist measurements being on the smaller end of the range, but I'm not completely convinced.
Aside from that, I really do like it. I can wear it with a black bra and not be falling out the top or feel unsupported. Those of you who don't want to wear a bra with it, beware that there really isn't any support at all and that the material is definitely thin enough that hard nipples would be very noticeable.
I also love that the straps are adjustable. They're just like bra straps, so they'll adjust to fit just about anyone--I can't imagine that the strap length would ever be an issue on this dress.
The dress
material
is 90% polyester and 10% spandex, so it is silky smooth and definitely hugs your curves. It doesn't seem like it would be forgiving or hide much. If I was going to wear it out, I'd probably wear high-waisted tights with it to help smooth me out a bit. The tights would also help because at only 21" long in the back, I know I'd want to make sure something was covering me in the case that I need to bend over at all around people who aren't deserving of a full show.
In terms of
cleaning
the dress says you should hand wash it and line dry.
Here are some pictures to give you a better idea of how it fits me.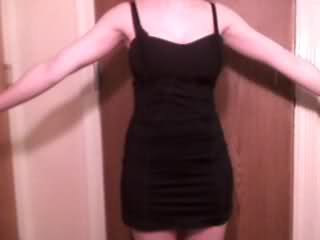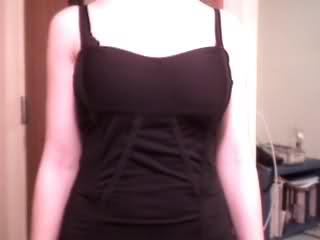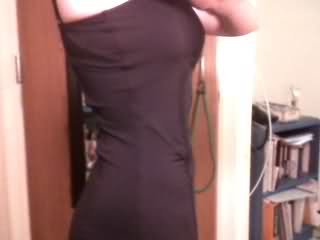 Experience
Not going to lie--I haven't actually worn it out anywhere yet, so I can't tell you how it holds up during a night on the town. It is super comfortable, though, so if it ends up being a piece I'm not comfortable wearing out, absolutely nothing is going to stop me from wearing this for my partner and adding it to my collection of comfy bedtime lingerie. I'll be sure to update you in my follow-up review.
Follow-up commentary
5 months after original review
Wore this one just the other night! I needed something simple, but I was worried this would be a bit too short. I tossed on some dark tights to make the length more subtle and paired it with a little black sweater that I have. It was perfect. :]

It's also held up well in the wash.
This product was provided free of charge to the reviewer. This review is in compliance with the FTC guidelines.
Thank you for viewing
The naughty dress
review page!