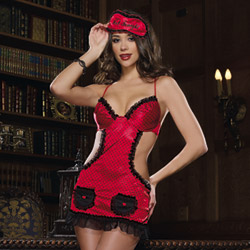 Polka dot apron and thong
Costume
by DreamGirl
Cutesie Apron
Overall I am very pleased with this apron. You really cannot beat it for the price. It is nicely made, good fitting, comfortable enough to sleep in, and I feel pretty foxy while wearing it. If you are an apron lover or just looking for something cutesie,comfy, and sexy at the same time, I would highly recommend this apron set.
Published:
Pros
Comfortable, cute, silky, nicely made, good price
Cons
Thong does not fit well, runs a bit small
This polka dot apron and thong set is absolutely adorable and a must have for anyone who has a thing for aprons/playing dress up/polka dots/pinup style/looking damn adorable sexy. I have a thing for all of the above so this set really caught my eye and I am thrilled to review it!
Okay lets get started here, this set is made of soft and silky polyester fabric. This fabric is silky to the touch, your fingers glide right over it with no effort. I am a big fan of silky fabric for lingerie, it just makes you feel all that much sexier when someones hands glide across your outfit with ease. Only downfalls I can see to this fabric is that it wrinkles very easily and also, I know from experience it can snag easily/ get caught on other items during laundry. Washing this lingerie separate sand keeping it on a hanger is a must.
Now lets talk about the fit of this set. It is available in S/M/and L, I ordered myself a medium. Judging on the size of the medium I would say this product runs a bit small. I am somewhere between a size small and medium most of the time and I am glad I ordered a medium for this product as a small would likely be too small for me. My average bra size is 34B and I wear a size medium (or size 6) in thongs. The bra part of the apron has under-wires, but no padding or cushion at all. I find the medium to be almost an exact fit to my boobs without them slipping out or being too constrained, it provides full coverage and is very comfortable. I would recommend a size small only if you are an A cup or smaller. Only problem I have with this set is the thong is kind of cheap and does not fit perfectly. I seem to always have a problem with polyester thongs, though, they tend to bunch up in the crotch area/not stay put/ and just generally look odd compared to cotton thongs.
The details and features on this set are pretty nice for the price. Including: adjustable shoulder straps, double bra latches, and two small front pockets, polyester eye mask. The back of the apron is made just like a bra with two different settings to adjust to your bust size. The bottom half of the apron features a thick black ribbon that you tie just above your butt to keep the apron in place. There are no obvious ripped seems or other sewing errors in this piece, it is pretty solidly made. Two tiny pockets on the front of the apron are my favorite thing about this apron, they add a nice cutesie look to it. While I do not see them being useful for much other than a condom or a stick of gum? (Hehe)they sure are cute!
And of course, this review is useless without pics! Sooo here they are...
Thong: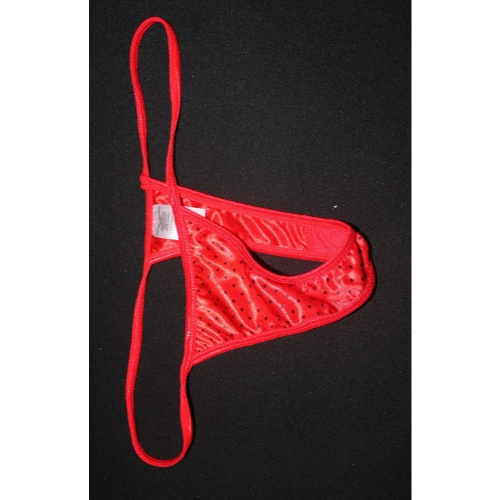 Front of apron on hanger it came with: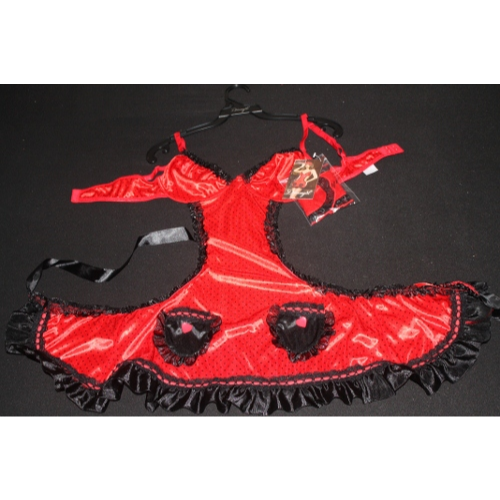 Inside of the bra: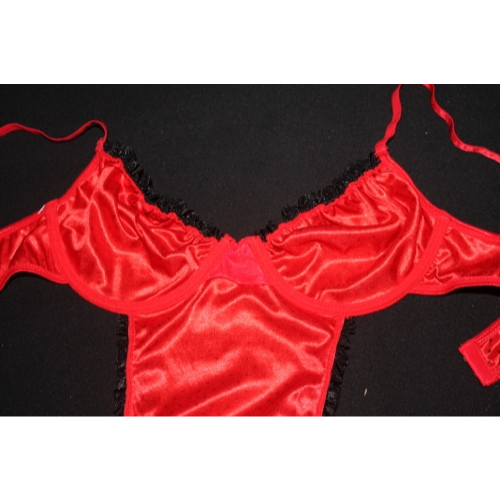 Me modeling the front: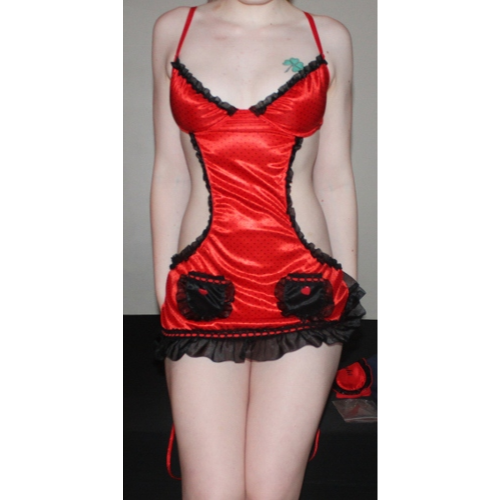 Me modeling the back: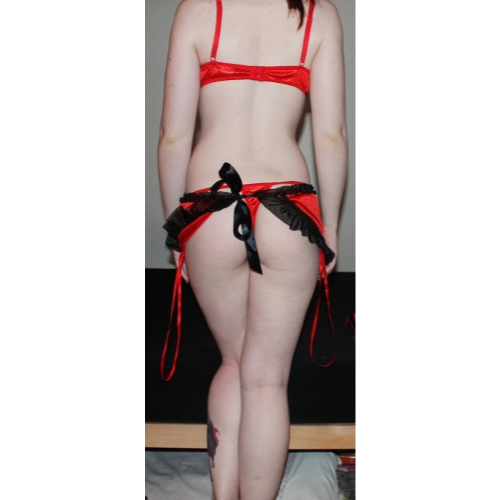 If you have any more questions about this set please feel free to ask.
This product was provided free of charge to the reviewer. This review is in compliance with the FTC guidelines.
Thank you for viewing
Polka dot apron and thong
– costume review page!