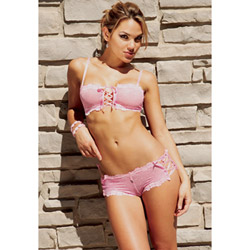 Daisy pink lace cami set
Camisole set
by Coquette
Daisy Dukes
A bit disappointing, but this Coquette set is still really cute. The sizing is a bit weird and the lacing that looks cute, is a nightmare to adjust correctly! If you are in my sizing chart and love this, I still say go for it.
Published:
Pros:
Unique, pretty lace, stretchy
Cons:
Hard to adjust, sizing a bit small for bottoms and a bit large for the top
Although cute as hell, this is more flattering on the model (in my opinion, but my boyfriend will argue this). This might be due to the sizing being a little weird between the bottom and top pieces. I'm still glad I got it, but I'm glad I got this as a buy out assignment, because at the full price, I would feel it wasn't worth the money. Some of the lace in this is very nice, while other parts are irritating. So, if this is something you really like the look of, it is worth getting if you fit in my sizing chart. Otherwise, I would recommend looking for something else. The design is pretty unique so this does get some extra points for that!

*Contents/overview:

I really liked the look of the Daisy Lace Cami Set because it has a unique, sexy, but yet still innocent look to it. It comes with two matching pieces. The top is a cropped camisole or bandeau type top depending on the size you get and how it fits you, and the bottoms are booty shorts or daisy dukes, also based on fit.

*Material:

Both pieces of the are lace and mesh made of 80% Nylon and 30% Spandex. There are also satin ribbons. The inner mesh and lace is softer and more comfortable. It also has a decent amount of stretch. The outer lace trim however is rougher, somewhat scratchy, and irritating (This may decrease with washing after a while, but who wouldn't want this to be comfortable the first time around the block?). There are also tiny small pieces of plastic and metal for difference fastenings on the outfit (the straps, and where the ribbon laces through).

The design of the lacing is also unique. The body has a vertical wave and flower vine design. The lace trim is thicker and is larger flowers in a row. It is very pretty! It also is see through for a sexy look! The light pink color is also true to the pictures (on my screen anyways). You can also get it in a pretty blue!

*Design/craftsmanship

Starting with the top, it is a shapeless and cupless bandeau style. For some, this will fit like a mini camisole or a mid-drift top. It really depends on the size you get and the size of your breasts. The back is solid while the front splits between the breasts. On the inside are tiny "eyes" as in eye and hook clasps like those that you would find on a bra. This is where the lace is threaded through. Since there is a lot of lace, you can tighten this to have no space between the breasts, or keep it looser for a sexy semi-open chested look. The entire thing has a thick lace trim. The straps are made of thin satin ribbon which does not stretch. For women with heavy chests, this might dig into your shoulders. The only problem I found with these adjustable straps is that the fastenings for the adjustment are cheap plastic. This worries me because I have had them break on bras before. There also is an uncomfortable and unsightly black tag that I recommend removing after being read for care instructions (cut, don't rip or pull).

The bottoms are like tenga boy shorts or mini daisy duke shorts. They have a seem going up the from and down the back but it is minimal and doesn't cause discomfort. The crotch is reinforced with a very soft cotton lining. I don't recommend doing this, but it can be removed easily with a seam ripper. The sides of the mini shorts have the same "eye" loops where the shorts are open. Lace is threaded through in an upward direction. The lacing doesn't appear on the sides but a little more forward than it looks in the picture. I'm pretty sure this is not a sizing issue (because this is how it is when laying flat too), but actually a manufacturing error. This posses problems for me with fitting.

Overall, it feels decently made, but the lace quality is lower than I would have expected for the price. Also the ribbons seem very thin too. I didn't find any imperfections though.

*Cleaning/care/storage:

This should be hand washed, separately, and in cold water. The material breathes very nicely so you probably won't be getting it as sweaty as thicker materials. You could put this in a lingerie washing bag and wash it on a short cycle of cold water, but do not put it in the dryer. I would dry with it laying flat. To store, just fold up (no wrinkles!) and place in a drawer. Coquette products do not come in packages, so there is no box you can place it back into.
Experience
*Application:

This was fairly easy to put on, but not so easy to adjust. The ribbon is dainty and I was afraid to pull on it. It took careful pulling on different parts, to get it to the right tightness. SO, this isn't something that is a quick put on if you only have a few moments to get ready.

*Sizing:

The sizing is strange. For me, it seemed that I would have done better if I could've bought the pieces in different sizes. The top was a tad too big and the bottoms a tad too small. This doesn't make much sense since I have a large chest and not a bubble butt. It did fit, just not as spot on as other Coquette products that I have.

I had to get a large because medium was out of stock. While I think the top would've been sexier, I think the bottoms would've posed a problem. Large says it'll fit a 12-14 dress, C cup, 38-40" bust, 30-32" waist, and 40-42" hips. I weigh ~150 pounds (size 8/10); curvy but fit. With the exception of the cup, I have smaller measurements than all of these ranges.

The top was full coverage, unlike it is on the model. I was a bit dissapointed by this. I was surprised that the top provided a little bust support though! I have a 34/36 D chest and this fit well, but it didn't look the way I wanted it to. I wish the bandeau was a bit shorter so that there was more bare breast. The band size was comfortable and didn't cut into me. This top would fit larger breasts, but would provide less support. For a C size cup or smaller, I think this would fit like a cami top instead of a somewhere in between like it did on me.

The bottoms fit a lot like the cheeky lace style from Victoria's Secret Pink collection. They covered most of my butt, but left a bit of juicy cheek peeking out. The lacing didn't sit on the sides of my hips like I wanted it to and was snugger around my crotch area than I would like it to be. The lacing sat a more forward and to me, this looked weird. The band also didn't sit on my hips where I would have liked. Because the lacing makes room for more badunkadunk, these could fit larger, but they won't look as nice. I didn't have to let the lace out much at all. My hips are a size 38" which means that the sizing chart is a bit off for that part.

My chart: I had to make some parts lower ranges.

Dress: 8-10
Cup: C-DD
Band: 36-40"
Waist: No need to worry about this!
Hips: 36-39"

*Conclusion:

I'd give this more than 3 stars if it were easier to adjust, lace was more comfortable, and the bottoms were constructed correctly. Overall, it's not a bad piece, is unique, and runs a tad small for sizing in some areas. The sizing issues aren't horrific though. I really wish I could give this 3 1/2 stars.
Follow-up commentary
3 months after original review
I regret buying this item. I have only worn it once since I bought it and my boyfriend has seemed to have forgotten its existence in my closet ever since. It isn't that memorable amongst my huge lingerie collection and to be honest, I had even forgotten that I owned it until I got the email for the follow-up review. This is one item I am not sad was discontinued.
This product was provided at a discounted price in exchange for an unbiased review. This review is in compliance with the FTC guidelines.
Thank you for viewing
Daisy pink lace cami set
– camisole set review page!