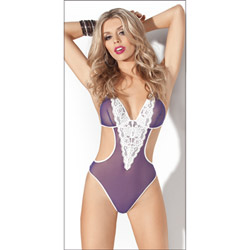 Halter teddy
Teddy
by Escante
Damn, that looks good.
This amazing teddy made me feel sexy and comfortable at the same time. The lavender color complimented my skin tone and the lace accentuated my curves. The ties did add some support, but it can eventually be uncomfortable. Definitely give it a try whether you are more on the curvy side or the thinner side.
Published:
Pros:
Comfortable, sexy, supportive.
Cons:
Tie-strings around your neck can be uncomfortable for women with bigger breasts.
I have to be honest, I ordered this while wincing because lately the past few pieces of lingerie I have tried to review were not so great. I was also iffy about the size, which I ordered in a size large hoping with my fingers crossed that this would fit decently without ripping.

Finally, the day arrived where I got to pull it out of its cardboard box and untie it from the hanger. Does anyone else find it odd that it came on a hanger? Anyways, upon inspection, the material of it looked great. It is a nylon material with lace in the front and the white outline is elastic. In the front, it dips down low to show a massive amount of cleavage (in my case at least, considering I have pretty big boobs). The crotch area to me felt a little small, but it did cover everything. At the hips, I had to hoist them up high so that they didn't look so saggy. That is probably the only complaint you'll read in this review, is that the hip part felt pretty high, like an 80's yoga instructor. Although, it didn't make the thong in the back ride up my crack or feel uncomfortable or give me camel toe, so that's a plus! When you turn it around, the back has two ties, one that goes around the neck as the halter and the other around your torso. What the ties really do is make sure that your girls are in place and covered nicely. My girls were in there tight! At the bottom is a pretty sexy criss-cross pattern that leads to the thong along with lace on either side of the corset-like design.

Now onto my personal opinion. As I stated before, I was very nervous to put it on and I was really hoping that it was going to fit. Well...It did! I looked fantastic if I can say so myself. I have never felt so sexy and comfortable at the same time. The only thing that was a little uncomfortable were the ties that go around my neck but I think it's a given that having two pieces of string supporting the weight of your breasts around your neck will eventually become a little painful, so I do suggest you watch out for that, or tie them looser if you have smaller breasts or don't have to worry about hoisting them up.

The color I had, which was lavender with white lace, definitely complimented my skin tone. I love that it was easy to put on and just as easy to take off (wink wink). In the picture on this site, the lace in front does look like a bit much in my opinion, but once I received the package and put it on, it accentuated my curves rather than just be a big blotchy piece of sewn on lace. The seams that you may see in the picture didn't bother me either like some seams do when they're sewn to the front of a bra or just on the cups of an outfit. Sometimes they tend to poke out like your nipples are hard (if they aren't already) so I'm glad I didn't have that problem.

All in all, I'm definitely giving this an awesome rating. I highly suggest it. With my body type, a little curvy, I am always on the lookout for lingerie that will make me feel sexy and hug me in the right places rather than dig into my skin and give me extra rolls and unwanted creases. Even for thinner girls, this piece would make you look great. This definitely made me feel good about myself and I couldn't wait for my boyfriend to come home. His reaction was priceless!
This product was provided free of charge to the reviewer. This review is in compliance with the FTC guidelines.

Thank you for viewing
Halter teddy
review page!