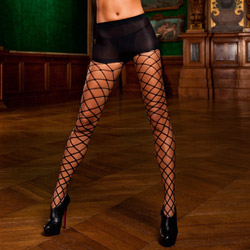 Control top diamond net pantyhose
Pantyhose
by Baci
Darn My Thick Thighs
The Control Top Diamond Net Pantyhose by Baci are lovely. The pantyhose don't fit me as nicely but that's because I'm a size XL trying to fit into a OSFM. I'm able to wear them but the netting is a bit tight at the top of my thighs. The netting pattern is nice, they're an excellent price, and the material is quite durable. I wish they had larger sizes to accommodate people like me.
Published:
Pros:
inexpensive, comfortable, stretchy, netting design, control-top.
Cons:
netting is a bit tight on my upper thighs.
The Control Top Diamond Net Pantyhose by Baci are available only in one-size-fits-most and the colour black. I'm kind of a Baci-pantyhose-fantastic. I wear a size XL but I've tried quite a few different pairs of the pantyhose by this company and they've fit well on my thicker legs.
The pantyhose arrived in the typical Baci packaging, which is a thin rectangular cardboard box. The front of the packaging has a photo of a model wearing the pantyhose and states the company website. The back of the box has a back view of the model, states the size, product name, material composition, and care instructions. Inside of the box, the pantyhose are wrapped around a thin piece of cardboard and surrounded with plastic. I usually keep my pantyhose in my stockings/sock drawer. The packaging can be recycled.
The pantyhose are 95% nylon and 5% spandex. They are very stretchy in both width and length. I've taken a few measurements of the pantyhose laying flat. If you need additional measurements please let me know and I can get them for you.
Waistband unstretched: 8 inches
Waistband stretched as much as I could: 26 ½ inches
Length unstretched: 39 inches
Length stretched: well over 60 inches (only can stretch my arms so far)
The waistband is a double layer of material and is very stretchy as you can see from the measurements above. The waistband is around 1 ½ inches in length. Beneath this waistband, there are 10 more inches (in length-unstretched) of solid black material before the netting begins. The more you need to stretch out this material, the sheerer it becomes.
This solid coloured area of the pantyhose is the control-top. Control-top is supposed to give support to your bum and belly. The pantyhose give the belly a much smoother look when you're wearing a form-fitting dress or similar item. I had recently reviewed a dress that required me to wear control top pantyhose. The pantyhose don't "suck in" your tummy but definitely gives it a nice smooth appearance.
The toe area of the pantyhose is reinforced which is nice. Many times I've purchased netted pantyhose that have netting at the toes. There's nothing more annoying than having your toes poke through. You don't have this problem with these. As for lining, there is no liner in the crotch area of these pantyhose
When I went to try the pantyhose on, it was a bit of a pain in the bum. My toes kept poking through the netting as I shimmied my way into them. Eventually I had them on. I'm 5'6 and the length of the pantyhose fit me well. I was able to pull the pantyhose a few inches above my belly button so they will definitely fit a person who needs a bit more length than myself. Below are a few photos of me wearing the pantyhose. The first is a side view, second is a front view, and the third is an up close of the netting.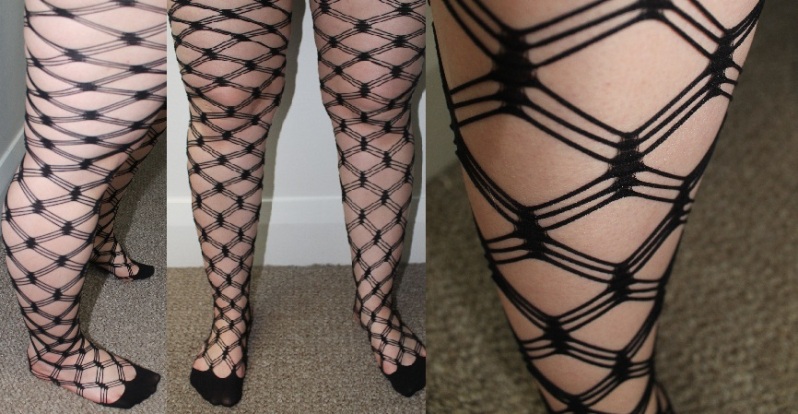 The material is comfortable against the skin. I have no complaints about skin irritation while wearing them. The waistband stretched nicely and did not feel restricting in any way. The one problem I did encounter with these pantyhose is that at my upper thigh, the netting was rather tight. This created muffin top near the top of my thigh through the diamond netting. I planned on wearing these pantyhose under a skirt so it's not a huge deal but I thought it was worth mentioning. The circumference of my thigh where the muffin action was taking place was at 22 ½ inches. If the top of your thighs is smaller than this, you won't have a problem.
The material is quite durable. The netting is pretty tight at the top of my thighs. It looks like it's about to break at any moment. I decided to do some squats in my living room while wearing the pantyhose, just to see if the netting would hold up. I figured it'd be better I destroy them now rather than out in public if they're going to bust on me. Lucky for me the netting is still in tact. It's very strong!
The packaging states that the pantyhose should be hand washed separately in cold water and line dried. Also, the pantyhose should not be bleached.
Despite the fact that the pantyhose netting is a bit small on my upper thighs, I've given them a 5 out of 5. I love the pattern to them, they're durable, and they're a great price. As long as you take note of the circumference I had mentioned and are smaller in thigh size, you'll love them!
Follow-up commentary
10 months after original review
I'm not sure if my thighs got even thicker since my original review but I can't wear them any more. I went to put them on yesterday because I wanted a cute pattern on my legs beneath my skirt. The upper area of my thighs were bulging through the netting- much worse than they were when I originally reviewed the pantyhose. I'm still going to hold on to these in hopes that I slim down a bit. They're nice pantyhose but not thick-thigh-friendly.
This content is the opinion of the submitting contributor and is not endorsed by EdenFantasys.com

Thank you for viewing
Control top diamond net pantyhose
review page!