Decently Indecent
It's a well put together lacy piece that's more of a not-so-subtle invitation than a tease. But if you're feeling daring (or impish), you should definitely try it. You may be pleasantly surprised!
Published:
Pros:
Comfortable; Pretty; Easy to store
Cons:
Tiny cuffs; Not sure how durable it is; Smallish one-size.
I've always thought that lingerie serves to tease the imagination, but there's no teasing or stolen "peeks" here, it's entirely seen, in the best possible way.
Packaging
Nothing special here. It came in a Leg Avenue paper box and was slipped inside a plastic bag. The box features the picture of the same model on the product page and it is not at all discreet. (I'm still trying to figure out a way to throw the box out without garnering unwanted attention!) You definitely want to be somewhere private when opening this.
Care
From the box:
Hand wash cold
Only non-chlorine bleach when needed
Drip dry, do not iron
It's literally just a few strips of lace, so it's pretty easy to just hand wash it in the sink and leave it to try on a hanger somewhere.
Materials
91% Nylon and 9% Spandex
(Made in China, for those interested.)
Aesthetics
I'm actually pretty impressed by how well the whole thing is put together. The seams are neat and there are no loose threads. The lace is very pretty, with scallop edgings at some parts and red piping at others. I don't see it falling apart any time soon, but I will add to the review if it does start coming apart.
The outfit includes: the lace peek-a-boo teddy, blindfold (also lace), and a pair of "cuffs" (also, you guessed it, lace). It's one-sized and it fits pretty well.
The Leg Avenue one-sized measurements (in inches):
One size
Size: 6 - 11
Cup size: A - C
Bust: 32 - 38
Waist: 23 - 29
Hips: 34 - 40
My measurements:
Cup size: B/C
Bust: 34
Waist: 26
Hips: 34
It fit me pretty well, I think, but for one-sized, it is smallish. There's some stretch in the lace, enough that when stretched, it's close to 40" in circumference.
In lieu of pictures, I've made a sketch of it, including some measurements: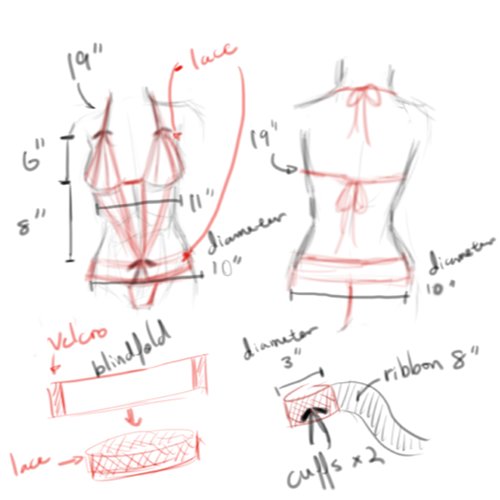 The teddy:
The "bikini top" part measures 6" in length and 8" from the "triangles" down to the bottom half. It is 11" across and is held together by 19" strings on both sides. Basically, you secure it the way you would a bikini top.
The g-string/thong bottom has a diameter of 10" (31" circumference).
The material is slightly stretchy and very comfortable. (And bonus, the way that the outfit is put together means that you don't have to take it off to engage in pretty much any sort of play.)
I really advise that you judge possible fit based on your hips measurement more than the bust or the waist. The top is held together by strings, so you've plenty of room for adjustments in terms of bust, the bottom, however, is less adjustable.
The blindfold:
It's secured by Velcro and has a diameter of 9" (28" circumference). It's the same lace as the teddy. (And no, it's not at all an effective blindfold.)
The cuffs:
These are made from the same lace as the other two items and measures 3" across (9" circumference). I wish they have the same Velcro fastening as the blindfold, but they were sewn into a loop. Warning: I've got one of the smallest hands of all of my acquaintances and I still had a hard time getting it over my knuckles.
They can be tied together using the 8" black ribbons. Because of the length of the ribbon, it's actually possible to tie your wrists together yourself. (Of course, it's so much more fun when it's someone else doing the tying...)
Experience
I confess, when I took this assignment, it was almost out of a macabre interest and a dare for myself. Lacy and hiding absolutely nothing- it's the antithesis of me. I don't do sexy. Period.

Nevertheless, when it arrived, I washed it and pulled it on the moment it dried.

Putting it on was an adventure. There are several triangular pieces connected only by multiple strings. It took me a few tries to get it on correctly, but that might just be my own lack of coordination.

I spent about five minutes trying to figure out how three strips of lace (technically five, but who's counting) can be flattering, but they were. The mirror staring was followed by some voguing and prancing that might've been partially alcohol-induced (despite not having a drop of it, but I digress).

Anyway, the blindfolds and cuffs are cute ornaments and I can see them as being useful for someone who's wary about being restrained and blindfolded, but I went without them during most of the trial run.

Long story short: if you're feeling daring, try it out.
Follow-up commentary
2 months after original review
There really isn't much more to update about this that I haven't already! I've only worn it a few times since, but it has held up through a couple of (hand) washes just fine. No loose threads or loose strips. Overall, I still really like it. Definitely something worth looking at if you want to spice up your night!
This product was provided free of charge to the reviewer. This review is in compliance with the FTC guidelines.

Thank you for viewing
Teddy blindfold and wrist cuff set
review page!