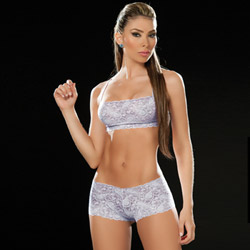 Lavender lace panty and bra set
Bra and panty set
by Espiral
Defying gravity ... and expectations!
If you do not need a serious level of support and want something extremely soft and well-made for lounging around in or wearing as a comfortable, scratch-free layer underneath your clothes, this is the set for you. I am busty myself but this actually fit me perfectly, which was a pleasurable surprise. Neither the shelf bra nor the boy shorts irritate my skin at all, which is a plus if seams, elastic, etc, normally bother you.
Published:
Pros:
soft; beautiful; well-made
Cons:
no serious support; may not fit/fully contain properly if bust above a certain size
As the title says, I originally had my doubts as to whether this, especially the shelf bra, would fit upon receiving it, but it does! I am a 32D with a 29" ribcage so there is a lot to fit in for the size of clothes that otherwise fit my frame. Now, this is not the bra to provide a great deal of support, but I don't really see that as being the point of shelf bras or of something lacier and more delicate-looking like this set. The "band", of which there actually really isn't one, actually falls in the correct place on me front and back and the straps don't cut into my shoulders or droop, which can be a problem for me with any kind of camisole or other type of top like this. It usually results in either pain (or at least red marks) or in my accidentally flashing a housemate by the top shifting and/or drooping on me, sometimes when I have not even bent over to "provoke" an accidental slippage. This would actually be extremely comfortable to lounge around in, although due to the pale colour and see-through nature of the lace pattern I am not likely to do this for the sake of my housemates. It would also make a nice light layer for under a dress or something else more delicate. I actually plan on wearing it the next time I have occasion to wear a closer-fitting stretch knit black dress I have that has a built-in bra (again, shelf type) since this would not show up through the material and both the bra and boyshorts would be quite comfortable to wear as my first layer of clothing under it.

Again, the material is extremely soft and after a quick run through the washing machine on a rinse only cycle on the gentlest setting, it air-dried very quickly and was still quite soft to the touch (did not get "stiff" during air drying like some materials do). The colour is a very pale lavender and the lace pattern is quite attractive, with a light sheen to it. I have no gaping at the top of the shelf bra and no digging in at the sides or lifting of the band. Your mileage may vary with this, especially given that there is no way to adjust anything, including the straps (which is a plus from an irritant standpoint, since sometimes I need to not have the hardware from adjustable bra and other straps on my skin). But ordering a small and with my bra size it fits incredibly well and is quite comfortable to wear. I will say that if you want full coverage in the back, this is not the set for you because the boy shorts leave a significant amount exposed, although I could see that as being a plus if you wished to engage in some sensation and/or impact play involving the buttocks and wanted to be wearing lacy lingerie while doing so.

All in all, a really lovely set. Although I am giving it four stars since, while it fit perfectly for me (and I rarely have that happen with any kind of apparel, no less lingerie and lingerie sets of this type), it may not for everyone, especially if you have an even greater overall size versus bust size differential than I do. That really is its only detraction, but that can be a serious one.
Experience
Since I believe some commenters were wondering about the real-life colour of the item, here is my best attempt at capturing it. Again, it is quite a pale lavender and so is hard to capture accurately. This also shows the back of the shelf bra, a clear view of the straps and also the cut of the front of the shelf bra.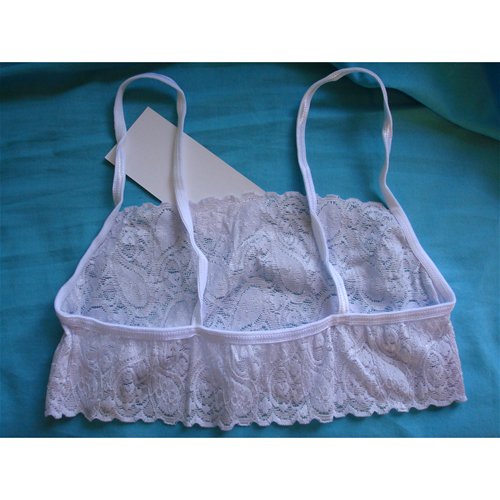 This product was provided free of charge to the reviewer. This review is in compliance with the FTC guidelines.
Thank you for viewing
Lavender lace panty and bra set
– bra and panty set review page!