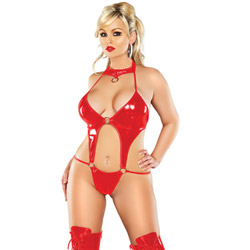 Red teddy with rings
Teddy by Magic Silk
Didn't fit right.
This size version of the item would fit best on ladies with large breasts. It doesn't give much support, but at least larger breasts would fill it in.
Published:
Pros:
The material is comfortable. Soft on the inside and shiny on the outside. Very sexy design.
Cons:
Fitting can be tricky. You need to be a certain shape and there's no adjust-ability at all.
I got the plus size one because that's what the sizing chart said I should get. It was too big on me. The outfit fits okay around the waist, and there's room for the elastic to stretch further. It was just a bit loose length-wise. Also, the breast part hangs way lower than where my breasts actually are. You can kind of see that from the product photos. Even if the breast part was in the right place, it was way too baggy for my small breasts. The material was comfortable enough. I don't like that the closure behind the neck was Velcro; my hair got stuck in it a few times. I think a snap or two would have been nice there. Also, the neck piece is a bit awkward. It's not exactly a choker, and it's hard to get it to stay straight without curling in on the sides.

I gave this outfit to my friend who is taller than me and has bigger breasts, but is about the same dress size. It fits her fine. So, it seems that this piece would work best for taller ladies with large breasts. I have small breasts, and I'm 5'3". The fitting may not have anything to do with height, it may just be torso length and how low your breasts hang. My breasts can't really hang very low due to their size -- I'm a B cup. This outfit has no adjust-ability whatsoever. If I were to keep the outfit and modify it to fit me better, I would probably cut the neck piece off and tie the straps around the back of my neck like a halter top.

I wonder if the regular size of this outfit would have fit me better. Although, it looks from the pictures that the breasts on that one also hang rather low.
Follow-up commentary
13 months after original review
This item still doesn't fit me, but I have since given it to a friend and it fits her body much better. She is more busty than I am, so it's better suited to her body type. She's also taller than I am.
This product was provided free of charge to the reviewer. This review is in compliance with the FTC guidelines.

Thank you for viewing
Red teddy with rings
review page!