Didn't Take Me To Mt. Olympus
I adore the design of the scrolled decorations woven into this "garter-dress," and the style is very sexy, but the quality of the fabric and construction is just too low. I cannot recommend this piece unless you have long legs and don't expect it to last.
Published:
Pros:
Very stretchy;
Sheer;
Beautiful scroll pattern
Cons:
Poor quality fabric;
Too long for average height;
Not adjustable
Basics
The Olympia garter-dress is misnamed: its torso section is neither long enough nor opaque enough to be worn as a dress. "Gartered bodystocking" is a more accurate description. Olympia consists of a very short halter-style chemise with a v-neckline, four knitted-in garter straps, and an attached pair of stockings. The entire piece is made of a fishnet-like mesh, composed of 90% nylon and 10% spandex, with a very soft stretch to it. There isn't a lot of snap to the stretch, so it won't provide any shaping or supporting effects and may stretch out of shape easily. It's manufactured in Taiwan.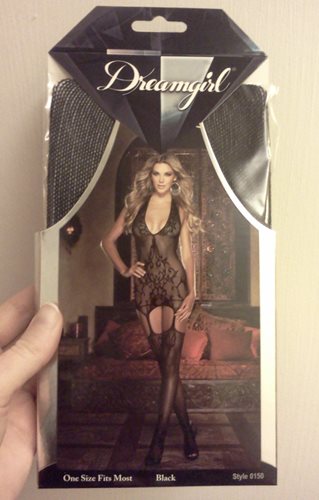 Details
The soft-stretch feature of the fabric would make Olympia comfortable to wear, if it weren't a little rough to the touch; it may feel itchy on sensitive skin. In addition to this, the halter neckline is trimmed with a thin and very snappy elastic band, both around the neckline and around the back. This band feels tight and uncomfortable after wearing for only 10 minutes or so. But wait, you say. The product description says that the halter neckline has an adjustable tie closure! Why yes, it does say that, as does the packaging of the Olympia.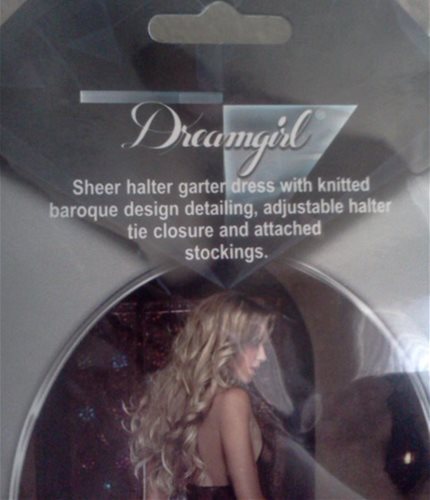 However, this is false. I don't know whether this mistake was the package designer's or the manufacturer's, but this halter neckline is elastic only--not adjustable in any way. The mesh fabric around the halter neck is knitted in one piece, with no seam; the elastic bands have seams behind the neck which are uneven and leave loose ends.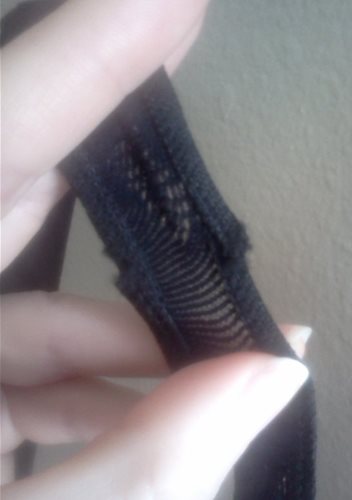 The knitted-in design does look just like the product images show, although perhaps not quite as dark; the sides and back of the chemise are seamless, and the stockings each have a sexy backseam. The toes are reinforced with a thicker, more opaque knit, which isn't the prettiest for wearing without shoes, or with open-toed shoes. It works well enough with peep-toe styles, as long as you don't plan to show off your pedicure. I'm not sure why this reinforcement was necessary, as my (size 8 1/2 W) feet don't stretch the mesh anywhere near enough for concern about escaping toes.
Although the upper edges are trimmed in elastic, the lower edges--the hem of the "dress" and the tops of the stockings--are left unfinished, with just a slightly thicker knit. The benefit of this is that it creates a smooth look, since there is no elastic to dig into your skin; however, it has negative implications for the durability of the garment. These unfinished edges appear likely to unravel with repeated wearings.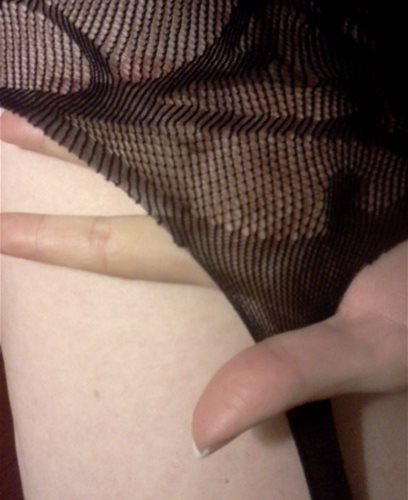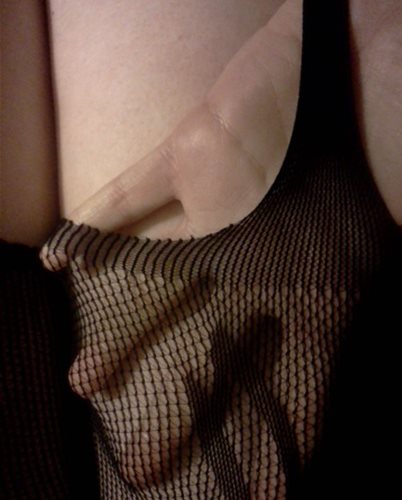 Another unfortunate detail is the way Olympia smells. She has a latex-y fragrance which is rather harsh on my nose, though it's possible that this will dissipate after washing.
Fit
Olympia is available in only one size, which is said to fit those who weigh between 90 and 160 pounds (or 40-70 kilograms). The height range is not listed, but the bodice would fit a shorter person better, while the stockings seem designed for longer legs.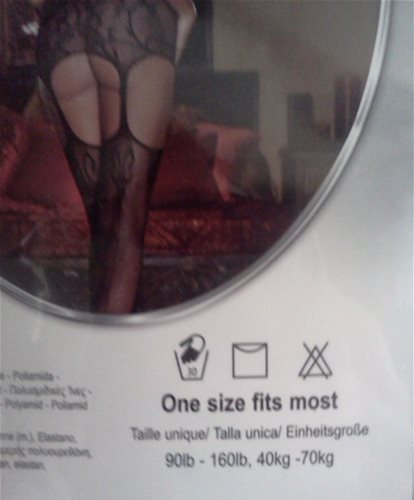 I, myself, am 5'5", 140lbs., 34C bra size, with measurements of 37-28-40. The upper portion of Olympia is a good fit, except for the over-zealous elastic trim. The stockings are too long (or too wide?) for my admittedly somewhat-shorter-than-average legs; the fact that the fabric isn't stretched out enough there, combined with its lower quality, gives it a streaked and uneven look which is quite unattractive.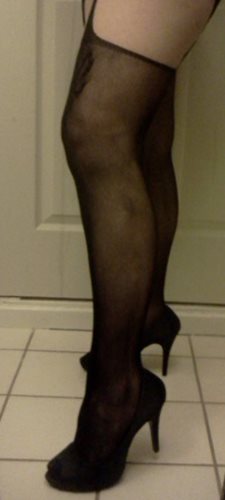 It would be very difficult to measure the Olympia, given the enormous amount of stretch, but I believe the body of it--every part made of mesh--would fit a wider size range than that listed. The bust area is designed well, and will work for smaller or even very large breasts, as long as the elastic trim isn't too tight for comfort.
Care
The label recommends hand-washing in cold water, and line-drying your garment. I suggest using fabric softener in your rinse water before hanging to dry, in addition to using a gentle laundry soap made for delicates. You can squish Olympia into a ball to squeeze the water out, but don't wring or twist.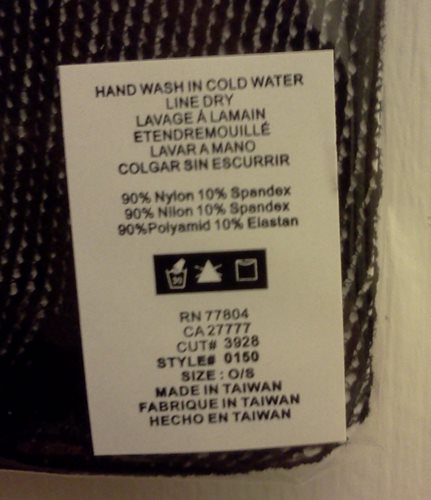 Packaging
Olympia arrives in a cellophane-encased, envelope-style box. The front of the package is embellished with an image of the front of the garment, modelled in an elegant setting which adds to its high-class appearance. The sides of the box are a silvery metallic color, and the back shows the back of the garment on the same model, along with the product description, fabric content, and size information. Inside the box, the Olympia is wrapped over a cardboard rectangle and enclosed in another cellophane pouch. The package is nice-looking and protects its contents adequately; it would be fine for gift-giving as long as discretion isn't required.
Experience
I tried hard to like the Olympia, because the tattoo-like scrolling is just amazingly beautiful, and fishnet is a very flattering fabric with its slimming, yet curve-enhancing appearance. I tried it on when it first arrived, and was unimpressed with the many flaws mentioned above, especially the fit of the legs. I tried it on again in preparation for creating this review, and I liked it a bit better - probably because I'm in a different part of my cycle, and my bust is a little firmer than last time! - but after wearing it for 5-10 minutes, the elastic was putting uncomfortable pressure on my neck, and the fabric was making my torso itchy. Ah, the sadness! If it weren't for the streaky look of the stockings on my legs, I might still find a use for it as something to wear just briefly for show in the bedroom, and then remove fairly quickly, but I can't handle the way it makes my legs look.

As for getting into the Olympia, I found that the best way is to first gather the chemise portion into your hands, then gather the stockings one by one and slide them up your legs. Once you have both stockings in place, you can pull the chemise up over your body and pull the halter neck over your head.

I'll post a follow-up after I wash it; we'll see if that helps with the streaky legs and the latex scent!
Follow-up commentary
1 month after original review
So, I hand-washed the Olympia in lukewarm water in my bathtub with a little Woolite. I swished it around a bit and let it soak for about 30 minutes, then drained the water and refilled the bath, adding a nice-smelling liquid fabric softener this time. After letting it soak again, I rinsed it, squeezed out as much water as I could, then hung it up to dry with the halter neck wrapped around one of those velvety, non-slip hangers.

Once dry, the latex scent was gone, replaced by the pleasant scent of my fabric softener. Yay! The mesh also felt a bit softer. However, when I tried it on again, the stockings still had their uneven, splotchy look, similar to what one often sees with very low-priced nylon hosiery. So, sadly, this piece of lingerie still won't be making an appearance in my bedroom.
This content is the opinion of the submitting contributor and is not endorsed by EdenFantasys.com

Thank you for viewing
Olympia
– gartered mini dress review page!