Disco Fever!
Get your shine on with these fun, sexy pasties that will add a sparkle to any outfit you want to pair them with. Made for comfortable nipple wear, these pasties look great on anyone and will add an eye-catching glimmer to the bedroom as you strip down for a partner. They feature a peel-off backing to adhere to the nipple itself in one quick and easy step!
Published:
Pros:
Adheres well to nipple
Sparkly addition to any outfit
Easy to put on/take off
Cons:
Not-reusable
Price
Not waterproof
Like lingerie or other mood enhancers, pasties add a little something extra to bedroom play. The Disco Glitter Cones by Charm Wear are a lovely addition to any outfit, or as a tease when stripping down.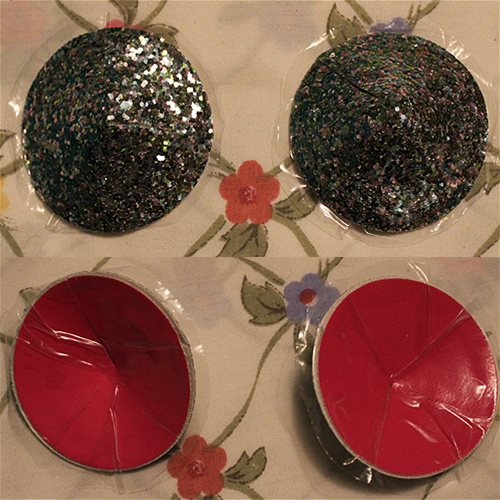 Material/Texture/Construction:
The pasties are made from
polyester
and are well-made. The polyester backing is covered in shimmery, silver sequins that shine multiple colors in the light. They are attached well to this backing and show no signs of coming off of it easily. On the back of the pasties there is a paper-like material that has the adhesive on it. This backing is glued to the back of the polyester and is secure. This backing ensures that the polyester does not irritate the skin when applied.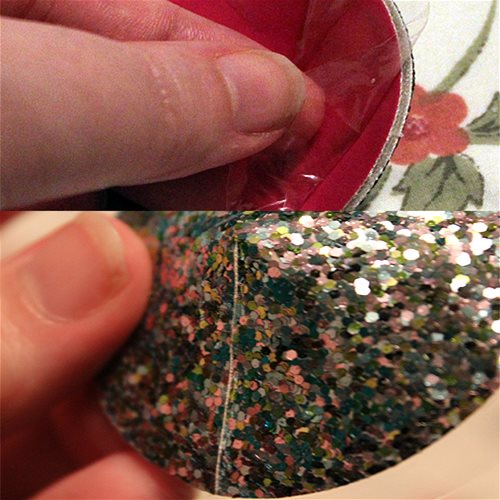 The texture of the sequins is rough and scale-like because of how they are attached in rows to the surface of the material. However, these sequins do not shift or move when touched or brushed against their direction they are laying in. The sequin texture does not interfere with how the pasties feel on the skin once applied but may rub against one's clothing if the user decides to wear them underneath something. Along with the sequins, there is a seam where the pastie overlaps to form the cone-like shape. This seam can be felt as it is raised just enough.
The back of the pasties is smooth and sticky when first applied. The surface on the back is completely texture-free and won't present any problems when worn.
In Use/Wear:
The pasties have a peel off back that comes off easily when the user is ready to apply them. Simply peel off the back of the pasties, line them up with the nipple, and apply, pressing gently to help them adhere. This works best on clean, dry skin, as natural oil on the skin can cause them to lose their adhesive ability and cause them to slip off. The pasties are comfortable, and they don't hinder movement in any way, which means they can be worn during intercourse or masturbation. They can be worn underneath clothing as well, but users may want to watch out for lace or other thin fabrics as the sequins may catch on them. These are best worn with a cupless bra.
Care and Maintenance:
These pasties are a single use item, but you may be able to apply an adhesive to the back of them for a second time provided that you are careful with the item during the first use. Clean your skin thoroughly before applying these for best performance, and when removing, be sure to peel them off slowly to prevent any painful experience. If users are careful enough, the adhesive may remain sticky if taken off before intercourse, but this will depend on a person's skin, and results will vary. If the user doesn't wish to keep the pasties after one use, they can be tossed in the garbage. Should a rash or irritation occur when using the pasties, remove them immediately and wash your skin with warm soapy water to remove any adhesive left behind. Discontinue use and consult a physician if rash proceeds more than a few hours.
Packaging:
The Disco Glitter Cones were packaged inside of a small plastic bag sealed with a strip of adhesive. The bag opened easily, and the pasties were stacked on top of one another. There is only one pair per package, and the pasties did not come with instructions, but none were required. The pasties shipped discreetly, as one would expect with all Eden products. They were shipped inside of a plain, brown box and sealed with no mention of the contents on the outside. The shipping label does not have any indicators that the pasties come from a sex toy shop. If gifting these pasties, a small gift bag or gift box will suffice.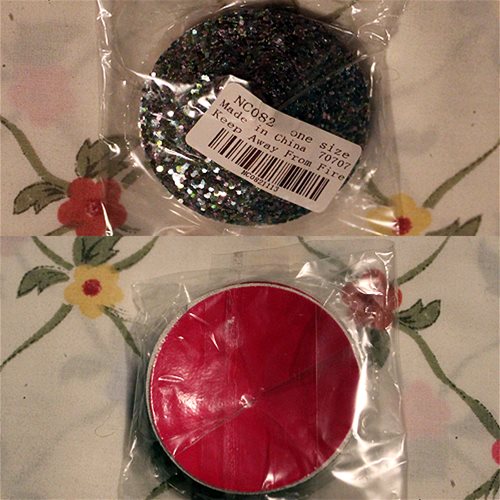 Experience
These aren't on the affordable side if you want to keep buying them per pair. The pasties are beautiful though when applied and adhere very well to the thin wall of adhesive on them. They did not come off during foreplay, but my girlfriend pointed out that one loosened during intercourse and extreme sweating. This made me think that these would not survive in a shower, pool or anywhere wet that long.

The pasties covered a broad range, but it will not fit all areolas. However, they will fit all nipple sizes, from puffy to flatter nipples. The cone shape gives the nipple room, but it does not rub or irritate the nipple in any way when it's flush with the skin. The sequins did not affect performance. However, they did rub against a favorite lingerie piece and slightly rough it up before my gf took the top off. This was due to the overlapping sequins and their scale-like texture. These would probably catch on lace or fishnet too if there is any on a bra or bodysuit.

Overall these are great for foreplay, and they shine brilliantly in any lighting. It really is like having a private disco party in your bedroom between you and your partner. For what these pasties are, they're a great addition to complete any outfit (especially a shelf bra).
This product was provided free of charge to the reviewer. This review is in compliance with the FTC guidelines.

Thank you for viewing
Disco glitter cones
– pasties review page!