Disposable lingerie for a fun night on a budget
Expect to wear this once or twice and then throw it out. The cups are useless even on small breasts and will come undone unless you re-lace them (difficult!) or sew them shut. You'll need to provide your own thigh highs. It's one of the worst pieces of lingerie I've tried on. However, your partner may well enjoy it anyway, flaws and all, because you probably don't put something like this on every day. If you like the look on the model, you're not going to break the bank giving it a shot.
Published:
Pros:
Affordable, unique, sparkly, sexy details.
Cons:
Falls apart almost immediately, incredibly flimsy cups, restricting waist, no thigh highs included.
Packaging: It comes wrapped in stiff plastic, hanging from a plastic hanger like those you'd see holding bras at Target. Definitely not the lingerie you want to bring home as a gift, unless the lady has an appreciation for cheap lingerie.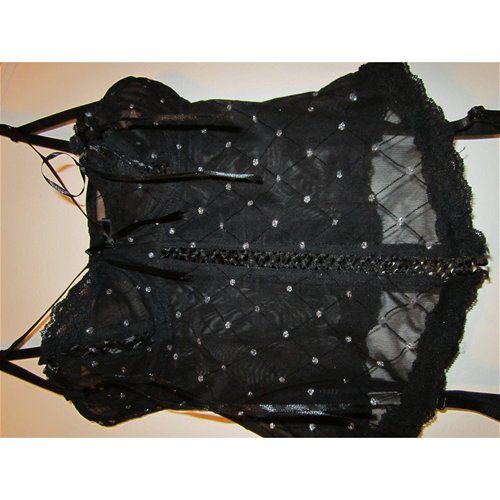 Item Description: You get the bustier and a matching G-string. The thigh-highs shown in the picture are not included, so expect to provide your own if you want to attach the garters to something. The garters themselves are not removable unless you want to pull out a seam ripper, and they're the plastic sort that comes pretty standard on cheap lingerie. They are adjustable, thankfully, as are the shoulder straps.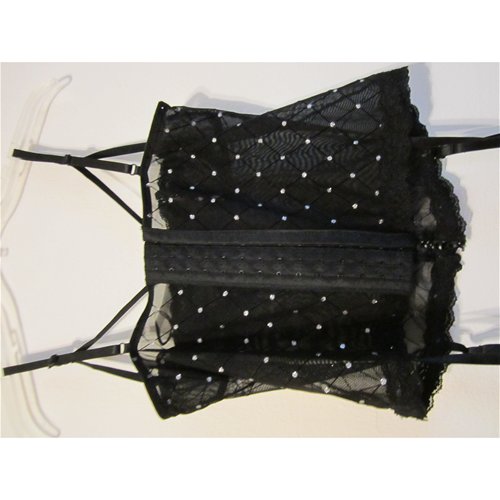 The bustier itself is mainly made of a fine mesh material with a diamond pattern decorated by little dots of silver glitter, which seems to be staying in place remarkably well and not falling off all over me, even when I stretch the fabric. I don't think this fabric is likely to run or tear unless you snag it on something sharp. The bustier is closed by a row of hook and eye closures up the back. There are three rows of these to ensure a good fit. The bottom is trimmed with black lace, which is less stretchy than the rest of the fabric. If you have a curvy middle, it is likely to dig in a bit. The same black lace tops the cups, which are complicated and perhaps a bit odd. There's a solid underwire, and they lace up the middle with a thin ribbon laced loosely through a very delicate eyelet material. It could be unlaced and re-laced more tightly, but the eyelet material is really not meant to be "load bearing" and I believe you would run out of ribbon. These cups are definitely more for decoration than support. You're going to want to knot the ribbon securely if you don't want it to come undone. More on these in the "Experience" section of the review. Up the middle of the bustier is a crisscrossing pattern of the same ribbon that laces up the cups. A few of these ripped out when I wore it the first time. They could be repaired, but I'm not sure it's worth fixing.
The G-string highly resembles the bustier. It is made of the same main mesh material, with the criscrossed black ribbon up the front and a black bow on the top. Two strings go up the back, made of the same material as the side portions. It has some stretch to it. I think the designers were trying to make this g-string crotchless, though it doesn't quite fall that way on my body. There is no lined "crotch panel." Instead, the double straps of the back portion continue under the body and are connected together at one point by a few stitches. Needless to say, this is not a terribly comfortable pair of underwear and I would not wear it under my clothes all day if I were you.
Care: You could wash this by hand without hurting it. I wouldn't toss it in the washing machine, though, unless you want it to fall apart.
Experience
The cups were awful on me and my A-cup breasts. My nipples poke through the lacing and open the cups up awkwardly. I tried to tie it really tight at the top but it seems unavoidable. I think it was made for B-cup breasts, honestly, because there was extra fabric sticking up awkwardly when worn with my A-cups, and the cups would likely be no match for C-cups in terms of support. My partner, who is pretty easy to please in terms of trashy lingerie, agreed that the cups looked odd and preferred scrunching them down beneath my breasts. If I were to wear this again, I'd cut out the cups altogether, right above the underwire. Alternatively, you might sew the cups closed yourself, folding some fabric underneath if your breasts are smaller like mine are. It would be a quick and easy fix that would leave you with a custom fit, more flattering and less flimsy than the "out of the package" look.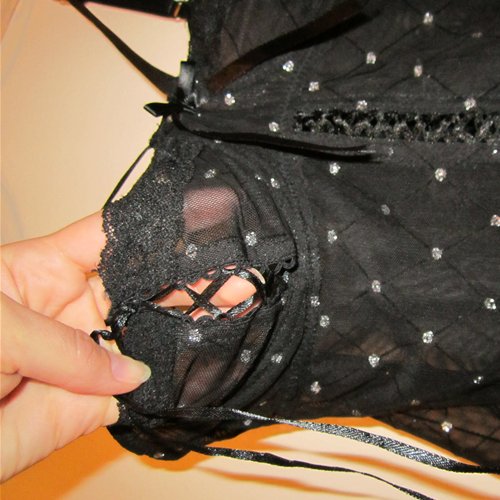 Overall, my partner appreciated seeing me dressed up, even if the bustier itself did not fit right. I will probably not bring this one out again, but never say never.
Follow-up commentary
2 months after original review
Just a warning: I tossed the g-string into the delicate cycle of my washing machine in a lingerie bag and the ribbon shredded to bits. Definitely not made to last. I ripped the bow off with a seam ripper and it's still usable, but be careful with how you care for this if you want to wear it more than once!
This product was provided free of charge to the reviewer. This review is in compliance with the FTC guidelines.

Thank you for viewing
Star studded peek-a-boo bustier
review page!