Don't like animal print, but I like these panties!
Because I seem to be doing a series of reviews on the different panties offered by Baci I bit the bullet and got these; I'm so glad I did! Even though I hate animal print, these are so comfortable and nice to wear they are now some of my favorite panties. The combination of the solid front and lace sides make these comfortable and practical, and the cut is going to be flattering on almost everyone. If you can stand the print I highly recommend these comfy, cheap underpants.
Published:
Pros:
Super comfy, great quality for price, solid front, lace sides, flattering
Cons:
Animal print
I seem to be on a quest to try all of the Baci panties that seem to be a reasonable shape and design, and I hope that some day I help someone decide which panties to get or not get. I got these panties with a recent order because they looked like they would be very practical because of the cloth front and comfortable because of the lace band. I was right.

Packaging

These came in identical packaging to the other Baci panties I've received on here. When you get them they come in a large cardboard sleeve that is much larger than the panties themselves. It has the two images on the product page on the front and back of the packaging, but other than that it just has the barcode and some care instructions in the form of pictures. Inside the cardboard envelope is a plastic bag that contains a cardboard insert and the panties themselves.

Because of the packaging I may unwrap them and keep them elsewhere if I was giving them as a gift. While the packaging does seem excessive for one pair of cute underthings, I really do appreciate it because it means that there aren't any tags to rip off or damage the panties. I wouldn't store my panties in here because that would be silly. I keep all my panties in a drawer with my socks and bras.

Fit

I got these panties in a medium because that's the size I've gotten all other Baci panties in. These panties come in small, medium and large. The size charts are as follows:

Small
Size 2 - 6
Hip 34 - 36
Weight- 90 - 120

Medium
Size 6 - 10
Hip- 36 - 38
Weight- 120 - 140

Large
Size- 10-14
Hip- 38-40
Weight- 140-160

Personally the widest part of my hips is 40 inches, but since these don't cover my entire bottom the mediums fit best because they sit right about on my hip bone. I wear a size 6 in most pants, but because of the stretch these could very easily fit someone who's a size 10 in pants. If you are over a size 12 or so and get the medium the band may stretch too much and start rolling during wear, but it's super stretchy and it has a lot of wiggle room.

I personally sound that the front of this covered up until where my pubic hair ends in the front and that the band starts about an inch over my crack in the back. It fits very comfortably and because the back isn't just an elastic band it doesn't give me a painful wedgie like some panties.

The panty liner sits right where it should, and when wearing these they didn't shift around at all. I also really like the cloth front because it allows for a bit more protection especially when I am wearing jeans or other rough fabrics. I also feel like if you get irritation after shaving these panties let your skin rub against something soft instead of lace, which can make razor burn worse.

Quality and Material

These panties are made of nylon and spandex. Both the cloth material that the body is made of and the lace that the sides are made of have a lot of stretch to them. Because of the material these are fine to toss into a delicates bag and wash with other clothes, but they shouldn't be tossed into the dryer if you can avoid it because the heat can break down the plastic in the different cloths. After washing I toss these into a drawer.

I really like the material on the front of these panties. It's hard to find panties that have lace sides and solid fronts, but they always are super comfortable while being secure. I normally hate leopard print, but these are so comfy and look great on me so I think that I can forgive the tacky (in my mind) design on the fabric.

Overall

I got these even though I don't like animal print, and I am so glad that I did! I really like the way that they fit me and they are very flattering, and the wider back bit helps it not to ride up and need readjusting. These are wonderful for people who don't like transparent panties or for someone who just wants something comfy and cheap. For the price I would highly recommend these.
Experience
Here I am trying to show the basic design of these panties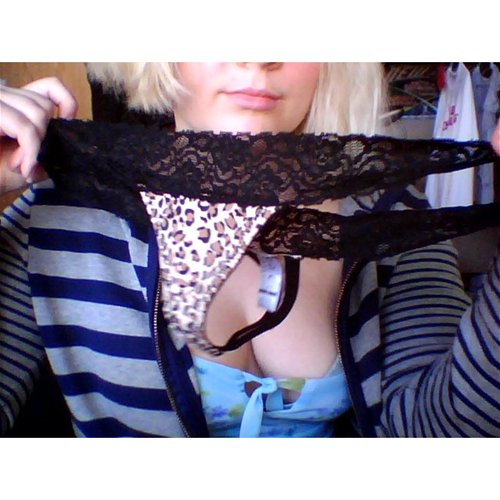 This is the front of the panty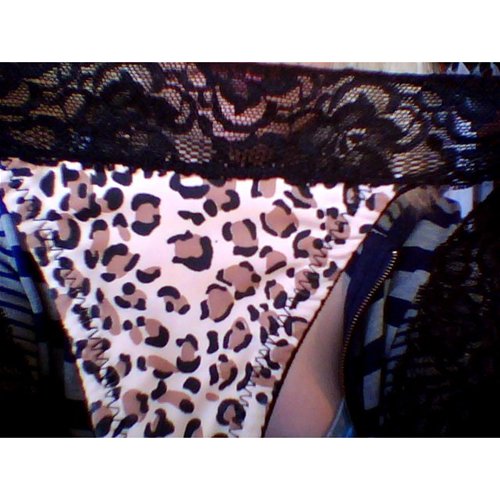 This is where the back meets the band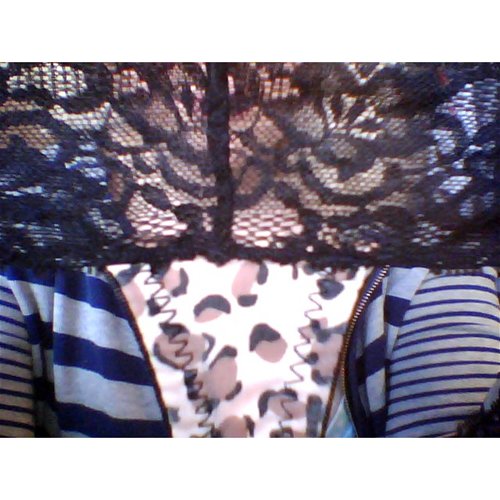 This is showing the nicely sized panty liner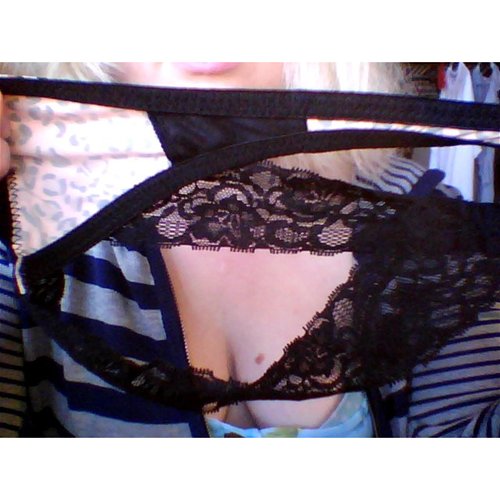 This content is the opinion of the submitting contributor and is not endorsed by EdenFantasys.com

Thank you for viewing
Leopard lace and microfiber thong
– sexy panties review page!