DreamGirl with your dress so bright...
Although this is not long enough to be a dress on me, it is fun to wear! This is perfect for a Christmas or New Years party or to surprise your lover under the tree!
Published:
Pros:
High quality fabric, sturdy construction, definite attention-catcher!
Cons:
Smaller on top, dry clean only, sequins can get caught on fabric, clings to any pudgy spots.
With Christmas around the corner, I couldn't resist this sparkly red number by DreamGirl! Although I bought this mini dress with visions of sugar plums dancing in my head, it would also be perfect for Valentine's Day, or just any time you want some sparkle in or out of the bedroom!
The dress is available in Small, Medium and Large, with color choices of red, blue and black. I got the red in size Large, which according to the DreamGirl size chart should fit sizes 10-14, C-D cup, 36-38" bust, 28-32" waist, 38-40" hips, 140-150 lbs. My own measurements fall pretty close to those on the chart at size 10/12, 36/38D, 32" waist, 39" hips, 155 lbs. I'm quite tall (5'11") so I really wish this was available in XL, but no luck. The large is about 34" long and comes down to cover my panties in the front, but my butt totally hangs out the back. This is definitely a shirt on me, not a dress, but that's what I expected. Since there are no bra cups or under wires, you don't really have to worry about your cup size with this. Since the top is cut similarly to a tank top, you should have no problem wearing a bra underneath.
Laid flat, this measures 19 inches across from the bottom of each arm hole, which should fall near the widest part of your bust. There is a bit of stretch, so it will accommodate approximately 2 or 3 extra inches. The lower hem is 23 inches across laid flat, and will stretch a couple of inches, as well. The dress is fairly a-line, so it is best suited for those a little bigger in the hips than on top. (Unfortunately, I'm the opposite.)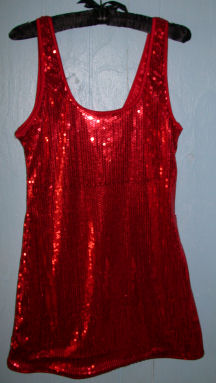 The dress is made of 100% polyester (plus sequins) and the tag says to dry clean only. The sequins seem to be pretty well attached, and the seams look well sewn. You may want to be a little more careful than usual when wearing this (especially in the bedroom) to keep the sequins from coming off, but in general it doesn't look like it will fall apart after a few uses.
I was really impressed by the quality of the fabric that lines the inside of the dress. It is the same shade of red as the sequins, thick enough to shield your skin from the rough exterior, and super soft and silky. The inside of the dress is so pretty and well-sewn that this could almost be reversible if it weren't for the tags and the fact that wearing the sequin side against your skin would be uncomfortable. There is a visible seam running down the back of the dress, but the sequins camouflage it well.
The color is a true red, pretty much what I expected from the photos on the product info page. It leans just a tiny bit towards the warm side of the scale, with the undertones being just a bit more orange than blue.
The dress arrived wrapped up in bright pink EdenFantasys tissue paper, with no factory packaging. Be careful when you first unfold it, some of the sequins on mine were stuck to the fabric. All you get is the dress, there are no included accessories or panties. Cal Exotics makes
this set
, which looks like it might match, though. I would suggest storing this hanging up, possibly covered with a plastic bag to keep the sequins in good shape and prevent them from getting caught on your other clothes.
You can wear this in a lot of different ways. If you are short enough, it can be worn alone as a dress, or paired with almost any tights, stockings, panty hose or leggings. If you are taller, it works great as a shirt with jeans or dress pants (I'd suggest black). It is also great for layering, if you want to tone the sparkle down a little bit. A black button-down style shirt would be perfect on top, as would a bolero-style jacket.
Experience
Just a few observations after wearing this for a while:
*Although this is really well-constructed, there are a few spots that just don't sit right. The arm straps bunch up oddly atop my shoulders, and there's a spot near the bottom that will NOT lay flat no matter what I try.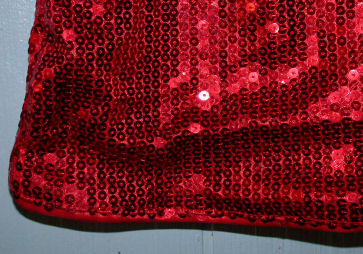 *If you stand in the sun, you can spin around and be a human disco ball. Really, really fun.
*In terms of fit, I'd say that the size chart is pretty spot-on. This would probably work better on someone a bit smaller in the bust (B or C), because it smooshes my boobs a bit flat.
*The sparkly fabric is going to accentuate EVERY curve, both the ones you like and the ones you'd rather conceal. If you have a bit of a tummy, you may want to order a size up (if possible) so that this flows over the round spots instead of clinging.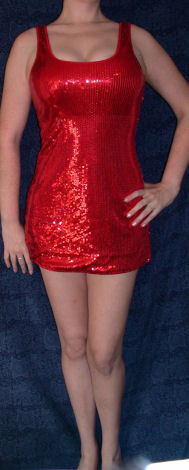 *I really wish that this was available in a tank top length! I tried it with a few different jackets and shirts on top, but it's a bit long to really work naturally with most of them.
Overall, I am pretty pleased with this, even though it is an awkward length on me. I really wish it was available in XL, an extra couple inches of length would be great, and I'd like for my boobs to be less squished!
This product was provided at a discounted price in exchange for an unbiased review. This review is in compliance with the FTC guidelines.

Thank you for viewing
Ruby sequin dress
– mini dress review page!