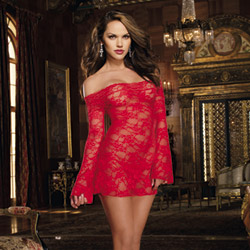 Red floral lace sleeved chemise
Chemise by DreamGirl
Dress it up, or dress it down!
This item is marketed as a lingerie piece, which implies that it's something you'll want to wear in the bedroom, but I prefer to wear it out. It makes an amazingly sexy top when you pair it with a camisole and a nice pair of jeans. It's also incredibly comfortable. Unfortunately, however, there are no plus sizes available, so not everyone will get enjoy the beauty of this piece.
Published:
Pros:
Comfortable, Looks like the picture, Sexy, Versatile, Can be worn out
Cons:
No plus sizes, Some might be irritated by the seam down the back, Thong is a little small
A long time ago, I purchased the blue version of this chemise. I fell in love, and promised myself that I would one day collect all the colors. Then, other items got in the way, and now these sexy chemises are on clearance, with most of the sizes/colors being sold out. I saw that there was a red, size large, chemise left, and I knew that I would regret not snatching it up. Like the blue one, the red one is not a disappointment at all. It's definitely a piece that will get a lot of use from me.

Basics:
This beautiful floral lace chemise is made by Dreamgirl. The tag states that it was made in China.

It's available in four different colors: red, blue, purple, and raspberry. The chemise comes with a matching thong.

How can you wear it?:
A lot of lingerie items are simply for the bedroom, but that's not the case with this chemise! This chemise looks sexy in the bedroom, when worn with nothing but the matching g-string. That being said, I don't really look at this as lingerie. Instead, I view it as a top. I love to wear it with a camisole underneath, and to pair it with a nice pair of jeans. It makes a very sexy top that you can either dress up, or dress down. Be aware, though, that you do need to wear something underneath it, if you choose to wear it in public.

What's it made out of?:
The red chemise is made out of 100% Polyester (according to the tag). This is different than what the tag in the blue chemise says (the blue one is made of 90% Nylon and 10% Spandex). While the two colors are composed of different things, they pretty much feel about the same.

The chemise features a gorgeous floral lace pattern. As it's lace, it's very sheer. Some lace can be stiff, but the material on this chemise actually feels very soft and flexible. It's a pleasure to have against my skin, as it's so comfortable. It feels durable, too; I don't think that snagging will be an issue.

Despite the fact that the red chemise is not made with any spandex, it is still very stretchy. Don't expect it to fit far above the size chart, but if you're a few inches larger? It should fit okay.

How do you care for it?:
You should hand wash this item in cold water, and then it to line dry. If you use a mesh lingerie bag, this item should survive a trip through the delicate cycle of your washing machine, but that's at your own risk. Whatever you do, avoid the dryer at all costs.

How's the fit?:
This item is available in three different sizes: small, medium, and large. I purchased the large, which fit me like a dream.

The large should fit someone with the following measurements:
Cups: C-D
Bust: 36-38
Waist: 28-32
Hips: 38-40

I wear a 34d bra, and have a 32" waist. My hips are 40" wide. As you can see, I tend to be on the upper side of the size chart. I was really worried that this piece would be too snug on me, but it actually fits perfectly.

The chemise could easily stretch to fit someone that's maybe 2" larger than the size chart, due to the material. Be aware, though, that this fabric is going to hug your figure, no matter how big or small you are.

The length of the chemise is perfect for me to wear as a top, as it doesn't quite cover my bottom (I'm 5'6"). While it's a great top-length, it's not a great chemise length.

The included thong doesn't provide a whole lot of coverage, and it is very tight on my 40" hips. It fits, it just gives me some muffin top. I'd suggest the thong mainly to those that are on the lower end of the size chart, and perhaps even a few inches smaller than recommended.
Experience
Tell us about the design...?:
The top of this item is designed to be worn of the wearers shoulder. Some people might find that the chemise just slips too far downward, but Dreamgirl's thought of that! Dreamgirl has included little removable shoulder straps that help to keep the chemise in place. The straps are adjustable in the same way that bra straps are adjustable (with a little sliding bit of plastic).

The chemise also features long sleeves. The sleeves are very long, extending all the way to my finger tips. The ends of the sleeves flare out gracefully. I initially thought that I would dislike the way the sleeves flare out, but I actually find it very sexy and flattering.

The edging on the bottom of the chemise, and on the sleeves, is straight. The edging on the collar, however, is scalloped lace.

There is a seam that goes up the center of the back. That seam is very obvious, but it doesn't make the chemise any less comfortable. It also doesn't detract from the overall sexiness of the chemise.

The chemise does not offer any bust support, due to the fact that there is no underwire, or padding.

As I mentioned previously, the chemise comes with a matching thong. The matching thong features the same floral lace pattern. It also features a cotton pantyliner, which is left open on both ends.

Quality:
There were a few loose threads on the thong, but that's easily fixed with a small pair of scissors. The rest of the piece was extremely high quality -- I have no complaints in that department!
This product was provided at a discounted price in exchange for an unbiased review. This review is in compliance with the FTC guidelines.

Thank you for viewing
Red floral lace sleeved chemise
review page!