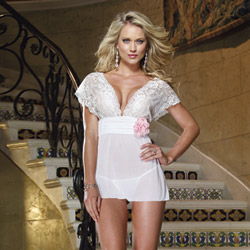 Lacy seduction babydoll
Babydoll and panty set by DreamGirl
Easy, Breezy, Beautiful- DreamGirl
If you're looking for lingerie that's on the more romantic, lace and flowers side of sexy, this fits the bill! This babydoll by DreamGirl is lightweight and comfortable, and with a little creativity could work outside of the bedroom as well.
Published:
Pros:
Comfortable, lightweight, soft fabrics, pretty!
Cons:
Totally transparent, bra hooks in the back look a little out of place.
I've wanted this top since it came out, but it's been in and out of my cart several times. I absolutely love the style of the front, but the back kept making me hesitate. It's like they made a beautiful, feminine front half and then half-assed it (literally, since it shows half the model's ass) in the back. I finally gave in to its sad presence on my wish list, though, with hopes it wouldn't end up being one of those items I pine for for months and then am disappointed by in person.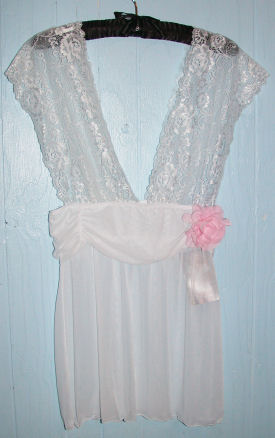 (Not the hanger it comes with.)
The top is romantic in design, with white mesh and lace and a pale pink flower thrown in for good measure. I think this would make a great bridal shower gift, it's very honeymoon appropriate (if you're going for that romantic, white lingerie vibe, that is.) A good choice for a friend that you know well enough that you're stuck attending their shower, but not well enough to bestow anything too kinky upon. ("I'm so glad we met at work last week! Enjoy this replica of James Deen's penis!") This could also make a cute swimsuit cover-up, although I'm not sure how well the delicate fabrics would hold up with too much exposure to chlorine.
The top portion of the babydoll is made of stretchy white lace, while everything below the bust is thin white mesh. Just below the bust, there's a little draped area adorned with a pink flower. I like that the draping adds interest to the design, but just out of the package, it looked a little droopy to me: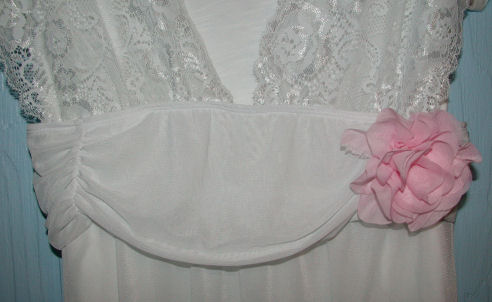 Thankfully, it looks better on!
Both the mesh fabric and the lace are very soft and stretchy, making this a really comfortable top to sleep or just lounge around in. For me, the lace was too stretchy to provide any bust support, but if you have an A or B cup, or just really perky breasts, you should be OK. I'm a 38D and the XL was a little loose around the under bust area when I wore it with nothing underneath, but not to the point of being baggy. I did have quite a bit of sideboob showing, which can be a pro or con depending on your preferences!
I alternate between L and XL in DreamGirl items, and although I went with XL this time, I probably would have been fine with Large, and may have even had a little bit better bust support. The DreamGirl size chart says XL is designed to fit size 14-16, D-DD cup, 38-40" bust, 31-33" waist, 40-42" hips, 160-180 lbs. I'd say the size chart is fairly close, other than the cup size, but you have some leeway to either side on most of the measurements. I'm size 10/12, 38D, 33" waist, 39" hips, 155. Since this is split in the back, it will accommodate larger hips and waist than the chart, for sure.
The XL is 14" across below the bust when the back hooks are on the tighter of the two settings, and will comfortably stretch to about 18", or 36" around. It's 17" long from below the bust down (everything below the lace). The top, lacy part measures 13" tall from top of the shoulder down. The white lace that covers the breast area is about 6.5" wide and only stretches vertically (not horizontally), so fellow members of the Wide Boobs Club should expect either a lot of cleavage or a lot of side-boob, depending on which way you adjust it.
The care tag says to hand wash in cold water and line dry. I think this might survive a spin through the washer on the delicate cycle, but I wouldn't do it regularly. The good news is that since it's mostly mesh, a quick rinse in the sink should make for super easy cleaning and quick drying. For those into details, it's made in China and 60% polyester, 32% nylon, 8% spandex.
Experience
Staring at the photos online before I ordered this, I kept wishing it wasn't so transparent (and open backed) because it would make a gorgeous shirt. You could possibly wear a nude colored bra underneath to wear it out if you're a C or smaller (I tried a bra underneath, but WAY too much of it stuck out from the lace), but then you've still got the totally see-through part from the bust down, and I'd say I know maybe one in ten woman who are totally down with showing off their stomach that much. If DreamGirl had at least gone with two layers of mesh on the bottom half instead of the single layer, I'd probably consider wearing it out as-is, but it's just not gonna happen with one flimsy layer of white mesh between my Nutella-stuffed belly and the world.
I spent about half an hour whipping up a little white tank top to wear underneath this top so I could feel a little less bare. Kindly ignore the unfinished edges and drawn on lines, I haven't gotten around to really finishing it yet!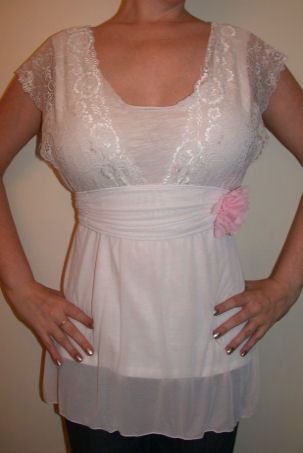 This kind of gives you an idea of how long the babydoll is, since the layer underneath is average t-shirt length.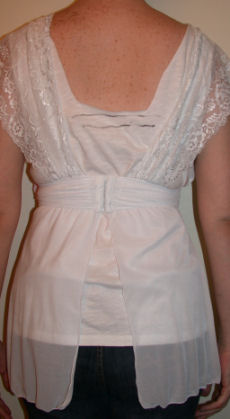 The back. This was with the hooks in the back on the tightest setting- apparently I need to wear it on a looser one when I have something underneath! But still, you get the idea.
I'm still not 100% sure about wearing this out as a regular top (with the added lower layer), I can't decide if it still looks too much like lingerie. Still, I think it's cute!
The set also includes a matching white mesh thong. It's pretty decent as far as "we threw this in with the top" thongs go, but nothing especially exciting. It does provide a little more coverage than most freebie thongs, measuring almost 6" across the top of the fabric in the front and 3.5" across the top in the back. There's also a 3" crotch liner. The waistband is going to fit a wide range of hips, measuring about 18" across and stretching up to about 28".
This product was provided at a discounted price in exchange for an unbiased review. This review is in compliance with the FTC guidelines.

Thank you for viewing
Lacy seduction babydoll
– babydoll and panty set review page!