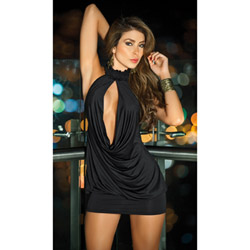 Halter keyhole front dress
Mini dress
by Espiral
Easy, Sleazy, Beautiful
It has one goal and succeeds triumphantly at it: looking sexy for a night out at the club. Putting it on is a breeze, taking it off is a snap. Wearing it is comfortable, sexy and flattering.
Published:
Pros:
Easy to wear, maintains mystery, flattering to a variety of bodies, extremely comfortable
Cons:
It's not lingerie, it's not a conventional dress, so you're limited in places you can wear it.
My expectations for this dress were medium- Espiral makes great products but I was concerned that with the many unconventional elements of this dress (the collar, the long opening down the front, the short skirt and plunging back), there would be something awkward. Turns out: Espiral wins again. It fit like a dream, was flattering in all the places I love to show off, but maintained a nice amount of mystery and covered up the areas about which I feel less confident.
It's super easy to throw this dress on. There aren't any zippers to get stuck, snaps to fasten or bows to tie. Slip the collar over your head- which is easy since the collar is very elastic- and make sure you know which side is the front. And done. The design is made to hug along your curves. The skirt stays down, the body of the dress moves naturally and is incredibly comfortable.
Whether you're having a day where you love your mid-section or hate it, you'll feel great in this. The cut is flattering to anyone who feels good about bare arms and back. If you don't feel confident about your legs, put on some fishnets. Or try opaque tights underneath to draw the eye upward.
I wore this dress while selling shots. It was perfect for the amount of movement: lots of up and down stairs, navigating easily through crowds without fear of a costume malfunction. As insurance, I used electrical tape as pasties, since the keyhole was sizable. But there was never a nip slip issue. My boobs are mad small, so fabric can move unimpeded across my chest pretty easily. It's kind of unclear how my ladies with larger breasts will fare in this. I got the medium, and based on my dress and the one in the picture here, I would surmise that the larger sizes mean larger keyholes. So keep that in mind if you're concerned with nipple modesty. It wouldn't have been a great hardcore go-go dancing dress, necessarily, but for the average person, it'll provide plenty of range of motion for a night on the dance floor.
Construction on the dress was as high quality as the other Espiral pieces I've tried. There weren't any big worries with this falling apart any time soon. The elasticity of the collar was a slight concern. Because it has to be wide enough to accommodate your whole head, it stretches a lot. Over the night, the weight of the fabric of the body of the dress stretched it a lot. It remained elastic, it just didn't stay up around my neck like a choker necklace: it drooped. And I would have to adjust it back up every so often.
I had a hope that since the dress has such an interesting neckline and minimal fabric on top, that would translate into more versatility in wear aside from the prescribed method shown in the pictures. Sometimes I find these strappy dresses that allow for creativity. They can be put on backwards, upside down or something and BAM: there's another outfit. For example, check out these reviews I've written previously.
Confusingly Sexy Body Stocking
and
Bra and Panty Set
. I have not yet discovered another option for wearing this piece, however. But it doesn't need to be more than it is, because it's great at that.
Experience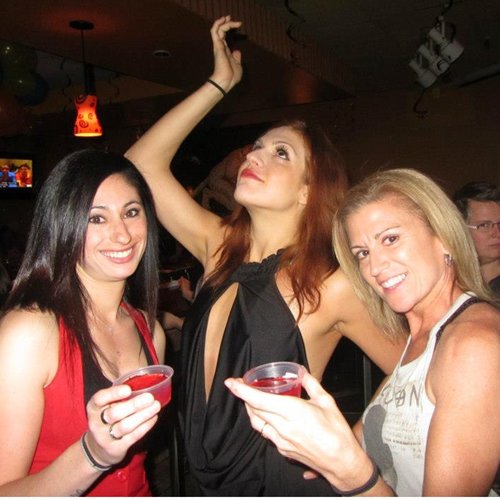 I'm in the center, surrounded by sexy ladies.
Follow-up commentary
21 months after original review
Although it's hard to dance in without having to repeatedly readjust- hiking the skirt back down, for instance and making sure no boobs have popped out- it's a good look and very flattering to a variety of body types.
This product was provided free of charge to the reviewer. This review is in compliance with the FTC guidelines.

Thank you for viewing
Halter keyhole front dress
– mini dress review page!