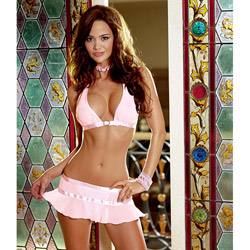 Fetish femme pink bra and skirt set
Bra and skirt set by DreamGirl
Either baby got back, or your sizes are off
I like the outfit for the color, adjustable top, versatile arrangements (no top, no skirt, no choker, just the skirt, etc.), skirt which hovered in a good place rather than hiking up, and generally flattering cut.
Published:
Pros:
Very adjustable top, skirt stayed in place, flattering cut, versatile.
Cons:
Flimsy buckles, larger cups paired with smaller bottom.
My boyfriend loves the color pink, and loves what we call "sex clothes." This seemed like the perfect thing to surprise him with after I was out of town for five days. I ordered a small, as encouraged by the size chart. Mind you, my breasts are a 32C, and I wear a sized 1 or 3 in jeans. So when I tried this on, well, I wondered what the person who was supposed to fit into it looked like.

The top was attractive, yes, buy definitely not in the "my breasts are spilling out of this" way. I'd say it looked like a gathered, full-coverage bikini top. I thought that the manufacturer would scale the small down to fit, well, smaller boobs, but not so. Like I said, it was hot.

I liked the fact that it tied at the neck and back, which made sizing for my small ribcage easier. The fabric was just sheer enough to see the spots of my nipples through it, and it also enhanced sensation. The slight roughness of the fabric was very nice as my boyfriend handled my breasts.

The collar/choker was cute, also tying in the back (the buckle is just for show). It's something I might even wear about town with the right outfit.

The thong fit, though fitting into cheekless underwear isn't usually a problem for most people. It was slightly stretchy, which allowed it to flex with my movements (I wore it as normal underwear for a few hours before the big test). It's just a simple cute piece of underwear, nothing out of the ordinary, except that it was more comfortable than some thongs I've worn before. No chafing or wedging here.

The skirt I had some problems with. Even at the largest size setting (the two buckles pictured are functioning, with three holes each), the skirt rested high on my hips. I kept wanting to tug it down a little for more of a hipster look, but didn't because the skirt has no stretch. The buckles are very flimsy, beware - I imagine that if you gave them a yank, they would rip. The top one constantly came undone, to the point where we just left it alone. This wasn't a huge visual flaw, and didn't stand out or bring the outfit down.

All in all I'd say it's a very sexy outfit, and versatile in that you could wear as many or few of the pieces together or even mix them up with other sets. I also thought it was flattering, making my boobs appear fuller due to the ruching. Pair it with some white high heels and you've got a date. Oh and this is also something you can wear during sex without cutting holes, a huge plus for me. I'm not sure why some outfits are made with crotches or attached underwear, but I was glad this wasn't one of those.
Experience
I wore the full set with four-inch white patent leather heels. It was a great combo, and I couldn't stop looking at myself in the mirror. We tested the outfit out, and after stepping back to look, my boyfriend immediately pulled the thong off me and started licking away. After vaginal, anal, oral, sitting, standing, and laying down, we both agreed that the skirt was done well, in that it wasn't elasticized. Normally, skirts will ride up until they hit the smallest part of my waist and hang out there like a floppy belt.

In addition, while in action, the skirt's ruffles had an adorable rumpled look no matter which way I was flopped. Some outfits you have to constantly straighten and smooth, but I had no problem with this one.

On a final note, the skirt and top came with those loops of ribbon for hanging off a hanger. After having this outfit stuffed into the shoe box for a week, it came out unwrinkled, so I cut these, and the tags, off.
This product was provided free of charge to the reviewer. This review is in compliance with the FTC guidelines.

Thank you for viewing
Fetish femme pink bra and skirt set
review page!