Elegant with jeans and sexy with matching panties
Whether you're looking for a pretty top for Valentine's day, something sexy and classy for the bedroom or for everyday wear, this camisole is a perfect choice. This pretty little thing isn't looking for a one night stand, it'll be around for the long haul if taken care of. This top is an easy way to sexy up a pair of regular old jeans. Add a pair of heels and you're ready to go! I feel pretty when I wear it and my partner agrees!
Published:
Pros:
Beautiful.
Great fit.
Sexy and classy.
High quality, durable.
Cons:
Underwire.
Hanging loops.
NOTE: If you do not like reviews with photos you might want to consider skipping mine.
The size small camisole fit me well. I wear a size zero in jeans and my measurements are 32-30-32. Despite Coquette's reputation for their sizing running small, this was the correct size for me and I even had extra room. Someone a couple of inches bigger than me could still fit this.
The camisole's measurements lying flat and opened are:
BUST: 18"
ENTIRE LENGTH: 16 1/2"
WAIST: 25"
HIP: A little over 30"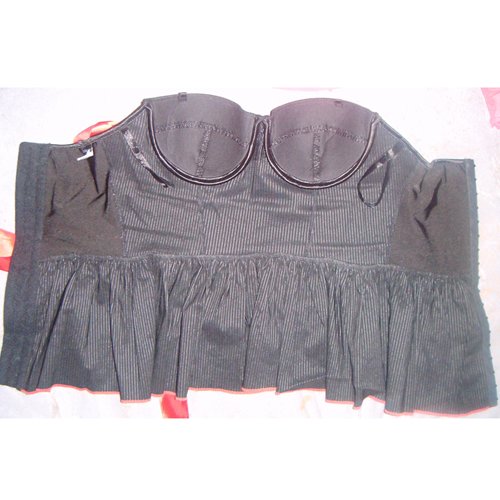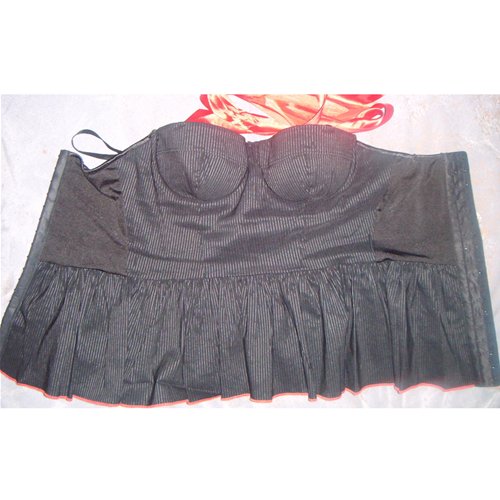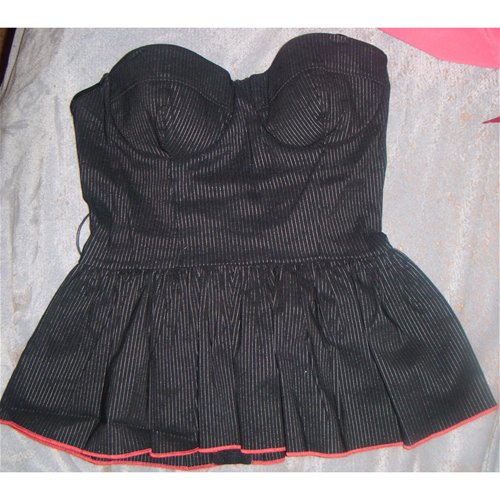 The material is 100% polyester and has a good amount of stretch to it. The black camisole has tiny white pinstripes all over. If you've ever worn pinstriped work pants, this is how the camisole feels as well. It's lightweight and thinner than denim. It's not as soft as a silk or spandex, but it's comfortable.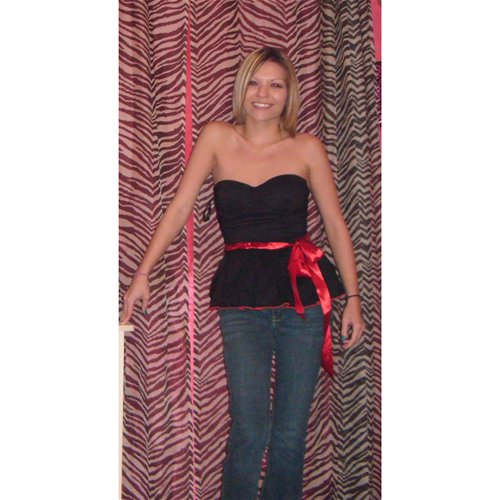 The camisole has underwire and a tiny bit of padding. I actually wouldn't even consider it padding since there's so little, but it's a perfect amount for someone like me who doesn't want any push up or added thickness. I'm average in the bust area so the stiff material and bit of padding makes wearing a bra not necessary, but with the terribly uncomfortable underwire, a bra helps. The underwire doesn't provide any lift, but it gives shape to the bust.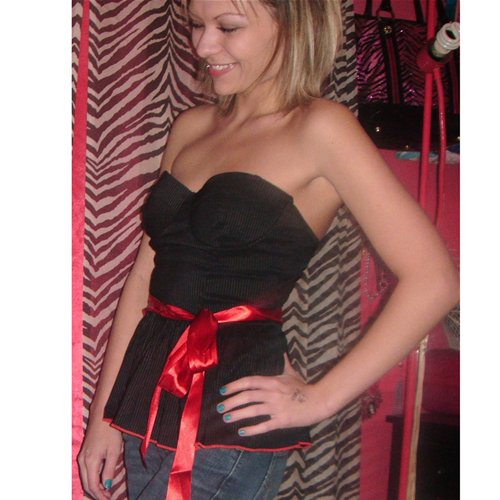 The lovely camisole can be worn with or without straps. The straps measure 13 1/2" when adjusted at the longest and 7 1/2" at their shortest. They are exactly like bra straps.
This camisole has stretchy panels at the top of each shoulder in back for a more comfortable fit. It closes in the back with 18 hook and eye closures. You have two rows of these hook and eye closures. There's less than a half an inch in between each setting of hook and eyes. I used the tightest setting, but using the first row will give a lot of extra room. If I wear it on the loosest setting it slides off.
Close up: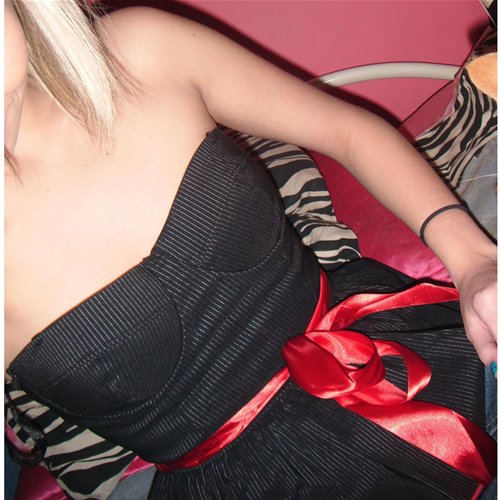 There are two stretchy belt loops on the front of the camisole. They're a lot like those tiny pony tail holders. These hold the red sating ribbon that's used as a belt. The ribbon is removable so you can wear it with or without. You can also use a different colored ribbon, but the stitching at the bottom of the camisole is red. The ribbon is long! It measures a little over 71" long. It could be trimmed, but I like how it looks with the large ribbon hanging from it.
In the middle of the camisole, there's stitching where the pleated, flowy waist begins. The stitching there is what helps hold this on my body. Otherwise, it would slip down. The flowy waist of this does create some extra curve, but doesn't add bulk. It kind of flows out at each side which can either hide your figure or add to it depending on your size. For me, it kind of adds to my waist area. While I'm not trying to add to my figure, I do like the way this fits. It reminds me a lot of the Layered Lace Babydoll from Coquette that I recently got. Both are adorable, this fit looser though.
This is actually a really high quality, gorgeous top. I've heard many people say that a lot of Coquette's clothing/lingerie looks so cheap and the stitching isn't always well done i.e. loose threads. This is actually nice and has no loose threads or bad stitching. Everything's perfect and durable except that underwire.
While this lovely top doesn't come with a pair of panties, it does come with the pretty Coquette hanger.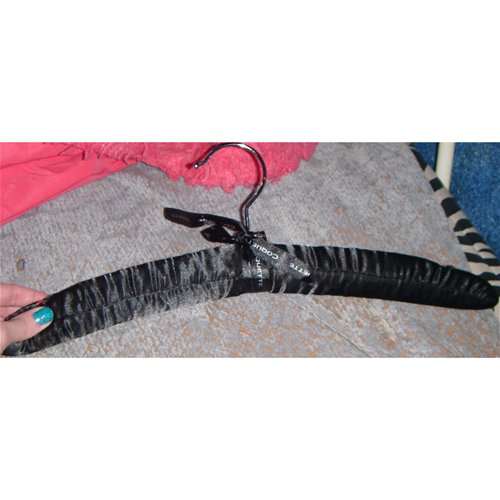 This camisole should be handwashed only! If you must throw it in the washing machine, do so at your own risk. I can't bring myself to risk it because I'd be really disappointed if I ruined this top, but I really don't see it damaging anything as this doesn't feel delicate. If I was to wash this in the machine, I would definitely do so on a delicate cycle. The tag also says to hang to dry. My dryer has a cycle for even the most delicate items, but I worry too much that it might shrink or something. It's already short so if it shrank, I'd have me a belly camisole and that wouldn't be so cute.
Experience
CONTINUED...
Now let me try to explain my problem with the underwire... Ladies, you know how the underwire in our bras lie flat against the chest, not poking? This does not. It seems the underwire is round or something and it jabs and feels terribly uncomfortable. That's the best I know how to describe it, but I did find that wearing a strapless bra underneath keeps the wire off my chest and doesn't irritate.
Also, just a tiny little thing worth noting, the inside loops that are used to hang this are sewed to where they lay outside the top. They won't tuck in and since they're so short, I cant get them to stay in the top when I wear it. You will notice this in my photos. I plan to cut them off and use the straps it comes with to hang it. Thats not a bad idea either since I'll be able to keep up with the straps that way. Besides that, this is pretty comfortable. I wouldn't like sleeping in it, but it's something I can wear all day without problems. And believe me, when I wear it, I wear it all day!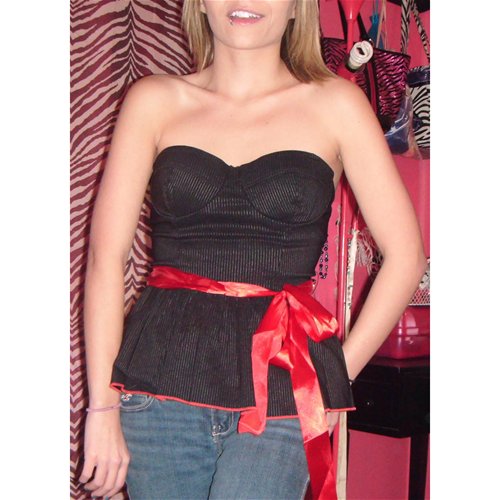 This classy, but sexy little top can be worn in the bedroom for your partner or with a pair of jeans and heels for public wear. I wear it out, but with a pair of black or red silk panties, this would be a great lingerie piece! This could even be worn under a matching pinstriped blazer for work.
Despite my photos, I feel pretty and a tad bit sexy in this! The photos seem to look like there's more bulk to this than what it looked like in the mirror. I'm not sure why, but it happens sometimes (the pictures looking different.) It's possible that my mirror doesn't show just how things really look, but I didn't think this looked as wide as it showed in my photos. If that makes sense? I do have a little bit of extra width in my sides (love handles!) I felt slimmer when I looked in the mirror wearing this than when I saw my photos of me wearing it. The pleats do create some extra flow and on me, they flow out to the side some.
Overall though, I love this camisole! For those of you who want a man's opinion, my partner says he really likes it! This is a piece that he noticed right away. He said I looked beautiful in it many times throughout the day. While it's wonderful to recieve a nice compliment from him, I care more about how the piece makes me feel and I feel great in this!
Since the ribbon is removable, I suggest taking it off while washing this. I lay the ribbon aside and once the camisole is dry, I tie it back on and hang it in my closet.
PACKAGING
The camisole came with plastic around it. A lot like the plastic that the Eden Fantasys T-shirts come in. No pretty pink tissue paper and no extras except the lovely hanger.
Follow-up commentary
3 months after original review
I still *adore* this top! I wear it frequently (about once every couple of weeks). It always makes me feel sexy, elegant and pretty and it sexies up any pair of jeans. When I bought this, it was during cold weather so I paired it with jeans. Now it's warming up and I wasn't sure how well it would look with jean shorts, but it actually works well! Instead of jean shorts and a t-shirt, this adds some class and sexyness. I wear it with a pair of dark blue jean shorts. I didn't care for it with the light washed jeans. It looked too slouchy for my tastes. It's just too nice to use for bedroom purposes only, but if you only want it for that, I feel like you'll be pleased. This is a confidence booster kind of piece. It's one that will more than likely make most of us feel smokin' any time we wear it. It's also simple. Slip it on over jeans and there's little getting ready to do. I don't feel like I have to work hard to get ready with it as it's simple, but beautiful. Since it's flowy at the middle, it does well at hiding my belly when I'm bloated and without causing discomfort. It's loose on my mid-section so it's always comfortable.

After washing (hand washing) I found that the pleated bottom portion likes to wrinkle up and take on it's own new shape. I don't like that. I have to smooth it while it's damp and hang to dry. I also noticed that the cups, which arent' padded, but are thicker than the rest, seem like they may warp a little. It has started to look slightly lumpy in the cups after washing and wearing so often. The rest is as good as new! It doesn't act like it will give out or actually mess up anytime soon, but if it did, I'd be right back here buying another!
This product was provided free of charge to the reviewer. This review is in compliance with the FTC guidelines.

Thank you for viewing
Pinstripe woven camisole
review page!