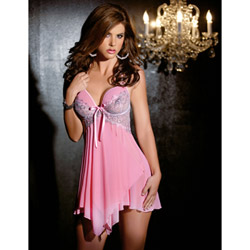 Sweet bouquet clip babydoll
Babydoll and panty set by Escante
Escante Babydoll; Lovely and great quality
Move Escante to the top of our list, they have quality fabric and nice craftsmanship. We thought the Sweet bouquet clip babydoll was fabulous!
Published:
Pros:
Excellent quality, beautiful embroidery, soft fabric and innovative design.
Cons:
Some may find the lack of coverage disappointing.
We have sampled and reviewed several Escante products, and it's no secret we enjoy their pieces. This Babydoll seemed to be one of the higher quality pieces we have seen. We have Coquette, Leg Ave and Espiral pieces but none have had the same quality in the materiel and craftsmanship as Escante's.

This Clip babydoll is a two piece that comes with a matching G-string that has the same pattern as the flowing portion(no embroidery). It's a beautiful design and it's elegant. The bottoms lack a liner in the pubic area, but are otherwise sturdy. There is decent cup support for the breasts, as there is an underwire for support. This ensemble fit very well (top and bottom) on my size 6 frame. The length was also right on; my height is 5'9". This babydoll may be intended for those with a petite bust, or those who have been enhanced because of the lack of support.

Design

The design is quite innovative with the nylon panels attaching across the body on to opposite sides. An elastic band gives the back it's conforming fit. The materiel that makes up the panels is sheer nylon, and is not quite as soft as chiffon; it is however soft for nylon. Ours needed a iron on medium heat to remove the wrinkles. The stitching on our particular set was good and without flaws or pulls. It's not the most substantial set as it weighs .2 lbs, and really is not much fabric. There seemed to be a lot of questions as to the fabric. This product is sheer so it does not cover the details, some may find that appealing but if your looking to cover something up; steer clear.

Care and maintenance should follow delicate garment care, in our case we use warm water and Woolite. We did use an iron on it after washing and upon first arrival. Medium head took this garment from rags to riches in no time. We have a closet dedicated to lingerie, so we cannot comment on how this holds up folded vs. hung up. It's been resilient so far.
SIZING

This product comes in small medium and large, we ordered a medium and usually fit well in that size. If you were very petite it may look a bit loose or baggy. Conversely if your a plus size, you may find that this product is not for you(no plus sizes).

The measurement across the bust line is 13" with a maximum stretch of 18", it's measurement from the top of the cup to the bottom of the garment is 25". The cups are 5" wide and 7" tall.

My size is 34 D with a size 6. I weigh 140 and am 5'8". The measurement at my hips are 40". The bottom of the Chemise came down past the but cheek, extending about 2 additional inches. This product was true to size and fit perfectly, the cup size should of been an issue but was perfectly accommodating.


Escante
Cup Bust (in) Waist (in) Hip (in) Weight (lb)
Small 2 - 6 A - B 32 - 34 24 - 26 30 - 32 90 - 120
Medium 6 - 10 B - C 34 - 36 28 - 30 32 - 34 120 - 140
Large 10 - 14 C - D 36 - 38 32 - 34 34 - 36 140 - 160
XLarge 14 - 16 D - E 38 - 40 34 - 36 38 - 40 160 - 180
Sm/Med 2 - 8 A - B 32 - 36 24 - 28 34 - 36 90 - 130
Lg/XLg 8 - 16 C - D 38 - 42 30 - 34 38 - 40 130 - 170
1X 16 - 18 D 40 - 44 44 - 48 50 - 54 175 - 200
2X 18 - 20 DD 46 - 48 48 - 52 54 - 58 200 - 225
3X 20 - 24 D+ 48 - 52 52 - 56 58 - 62 225 - 250

MATERIAL

The Babydoll is 82% Nylon and 18% spandex. The Nylon/Spandex is not exactly soft but it's smooth, no one is going to mistake this for silk though. The materiel conforms where it needs to and flows well, the embroidery around the boobs and waist is really pretty even close up.
Experience
This looks amazing on, it's super sexy and you can undo the panels while having sexy time. It looks sexy both ways but it great to open it up when we have sex. The panties were comfortable and didn't cut in, they were a nice compliment to the ensemble. Keep in mind it is completely transparent; we were very pleased by that, but some may find that undesirable.

We were pleased that the material was as soft and silky as it was. We have had a lot of positive experience with Escante products. They have fit very well in the past (tight in the right places and sexy). Their material seems very soft compared to some of the competitor fabrics in the same price range. Escante has some great fitting and feeling products. We will be sure to continue to sample their products (and provide reviews).

In the similar product area we have the similar pieces in this line, if you like the cut and materiel of the Clip babydoll, you may want to check out some of these.
Follow-up commentary
5 months after original review
This may be one of our classiest and well put together pieces, it definitely does not have that disposable feel to it. You will not regret this purchase, it's a great price point.
This product was provided free of charge to the reviewer. This review is in compliance with the FTC guidelines.

Thank you for viewing
Sweet bouquet clip babydoll
– babydoll and panty set review page!