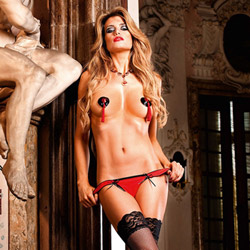 Red microfiber g-string
Sexy panty by Baci
Every Girl Needs A Pair Of Sexy Red Panties
These sexy panties aren't my favorite pair, but they're still pretty good. The stretchy waistband and the soft fabric makes them comfortable, yet they still manage to be sexy. The smooth red color looks great, and makes me feel like a million bucks. And my all time favorite aspect of these panties? The ruffle waistband! It's both sexy and playful all at once.

For $5.99, these are definitely worth trying!
Published:
Pros:
Stretchy, Ruffle waistband is adorable, Comfortable, Soft, Sexy
Cons:
Some loose threads, Bows don't lay flat
When I asked my boyfriend what he felt was missing from my massive lingerie collection, he replied that I should have at least one sexy red g-string. Being the great little girlfriend that I am, I secretly started searching for one. I wanted one that screamed of sex appeal, but I also wanted one that I wanted one that seemed playful and cute. I wanted one that would wow him, and one that would be comfortable for me. When I saw this listed for only $5.99, I figured I'd give it a try. It's not my favorite pair of panties, but I do like it.

The Basics:
These playful panties are made by Baci. The packaging states that they were designed in Milan, and made in China. They are available in three different color combinations; red and black, pink and blue, and black and pink. I, of course, purchased the red.

The panties are available in three different sizes; small, medium, and large. I find that most panties are a bit too snug on me, so I purchased the large.

Material & Care:
These are made out of 90% Polyester and 10% Spandex. There is also a small pantyliner, which appears to be made out of cotton.

The color of these panties is great. The red is a true red. It's bright, but it's not overwhelming. The black detailing adds a bit of contrast, making these panties even sexier.

I really love the feel of the material. It's incredibly soft -- almost silky. The fabric is smooth and very "touchable", which is a good thing if you're wearing these to seduce your lover (or even if your wearing these just to make yourself feel sexy).

The fabric appears sheer if you hold it up to the light, but they actually appear opaque while on. I love that these are opaque, as they provide me with a little coverage.

The material has a great deal of stretch to it, so these will certainly fit a wide of individuals.

Another fabulous thing about this pair of panties is that they can be machine washed (warm) and then tumble dried on low. This makes them very easy to care for, which is an excellent thing for those of us that are a little pressed on time (or just a bit lazy).

The tag states that you should not iron or dry clean these. It's also noted that you should only use non-chlorine bleach when needed.

Sizing:
I purchased these in large.

According to the size chart, the large should fit someone with 38-40" hips. I have 40" hips, so I was expecting the panties to be a bit snug. These fit me comfortably -- in fact, I probably could've sized down to a medium. This is due to how stretchy the waistband is.

The actual triangle in the front is great, too. Usually the little triangles end up being way too small for me, but this one actually covers everything that I want it to cover.

I took the following measurements with the g-string laying flat:
Waistband: 15" (unstretched), 33" (stretched)
Triangle: 5" (top), 6" (each side)
Pantyliner: just over 1" (wide, and long)

As you can see, these panties are quite stretchy. That being said, you don't really want to have to stretch them to their full potential, as doing so will take away that cute little ruffle on the waistband.

Design:
The design is really simple. It's got the little triangle in the front that covers your private bits, and then the little g-string in the back. The g-string is surprisingly comfortable.

The main design feature of this g-string is the ruffle waistband. The ruffle on the waistband makes this pair of panties extremely stretchy. That being said, the more you stretch it, the more you loose the ruffle. On my 40" hips, the ruffle still shows, and I believe that it would continue to show on someone a few inches larger than myself.

The ruffle adds some playfulness to these sexy panties. I love the look of the ruffle when I wear the panties as just lingerie, but I also love that the ruffle lays flat enough for me to wear this pair under clothing without adding bulk to my outfit.

Another feature worth noting is the two little bows that are featured on the front of the panties. The bows are black in color, and they're quite small. They're not meant to be removable, but you could remove them with a seam ripper if you chose to. As for me, I've decided to leave them as I think the panties would be too plain without them.
Experience
Packaging:
These come packaged in a basic cardboard envelope. The packaging is not exactly discreet, as it does feature a photo a model wearing pasties. The packaging is not good for storage; I basically had to destroy the packaging to remove the panties. That's not a huge deal -- I've always found it easier to just store my panties in a drawer.

Quality:
For $5.99, the quality is decent. There were a few loose threads, but they were easily snipped off with a pair of scissors. The actual sewing quality is good; the seams are sturdy.

My biggest complaint about the quality is that the two bows appear cheap, and do not lay flat. That being said, that's not really a huge problem.
Follow-up commentary
1 month after original review
I love these panties, though they're not my favorite pair. The waistband just always feels a bit loose, but I think that if I were to order a smaller size, the ruffle waistband would disappear. Sometimes being in between sizes is very frustrating.
This product was provided at a discounted price in exchange for an unbiased review. This review is in compliance with the FTC guidelines.

Thank you for viewing
Red microfiber g-string
– sexy panty review page!