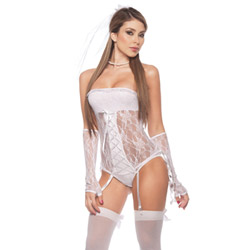 All for you bride
Costume by Espiral
Everything But the Ring
I would recommend this to any women comfortable with her curves, it fits great and with the veil and train being detachable you don't have to be honeymooning to fall in love with it to. It can be unflattering on large breast due to no breast support and fitting loosely, but overall it is a great piece that is a great buy for the money you spend.
Published:
Pros:
Looks Good, Fits sexily, Re moveable Frills, Not Just for Brides
Cons:
No Breast support, Easily Tears,
Always the Bride's maid never the bride until now. The set comes in a simple card paper board box with the same model pictured for purchase on the front, the back has a picture of the rear view of the piece. This set contains four pieces the gloves, teddy, veil,and a train. The train is a tie on and connects by two pieces of ribbon on the sides of the teddy. The veil is connected by a clear comb that slides in. I purchased the size medium sizing as follows:
sizing: Medium
36 Bust
27 Waist
36 Hip
My sizes:
36 Bust
28 Waist
35 Hip
The gloves and the teddy are made from a mixture of 93% polyester, and 7% elastic. This means that they should be only hand washed and hung to dry, this is what i decided to do with my piece do to it feeling so delicate. I did put it into the dryer on the air dry setting and that worked to dry it quickly without it becoming stiff, and without it destroying the teddy.
The teddy is the main piece of the set, it is soft and feels great against the skin. It fit me tightly and had a lot of give but the lace does feel as if it would rip very easily if you did not take care with it. The bust gave no support for the breast and made them appear flat. I have a size C breast so this was shocking to me, the teddy also fell down often so I used double sided tape to keep it up when things got hot and heavy, or I thought they might. The lace of the teddy can feel slightly scratchy if you don't have lotion so I advise doing so. If you are self conscious of your curves this also may not be the set for you. It fits tightly and shows off your figure well. Overall for me I found it to fit me well and be rather true to size.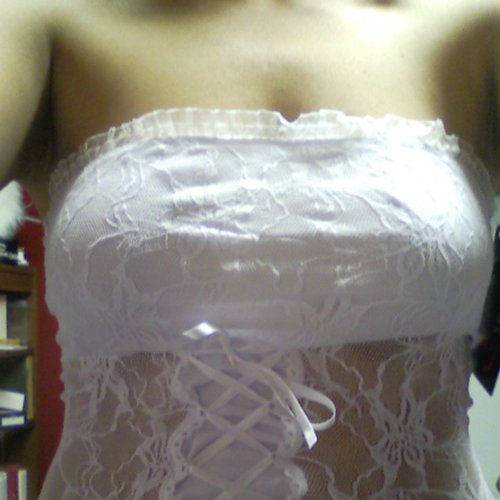 The breast area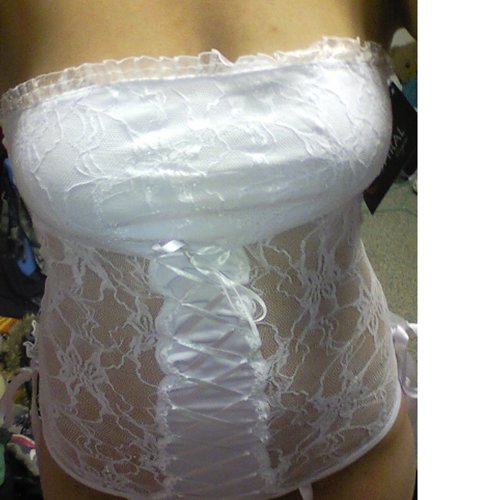 The gloves are very tight, if you have thick arms I would advice not wearing these. They fit tightly and have not give to them. They actually fit me tightly and felt uncomfortable on the upper part. They do compliment the set greatly but they can also hinder more then add to sex appeal, as they do have a problem with sliding.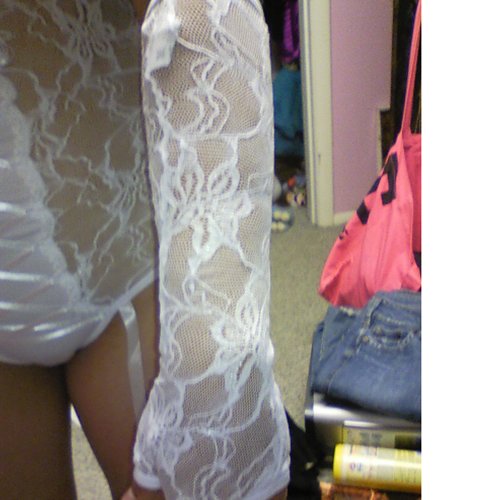 The next two piece I combine because they are very similar There is a train that is a tie on tutu, there is also a veil. Both are made of a simple mesh fabric that holds onto stains, and can't be put into the washer or dryer. The veil is on a simple comb style that is hard to keep into hair that is not pulled up into a ponytail or bun, I used hair spray to create a hard spot on my head to hold it into place. I'm not a bride so these two parts I chose not to wear. The train ties onto the teddy by two ribbons on either sides of the hips these can be hard to tie without some help. They also do not look curly like they are in the photo. These come undone easily and seemed to be more of a waste to me. Overall these two would be mostly for a honeymooning couple.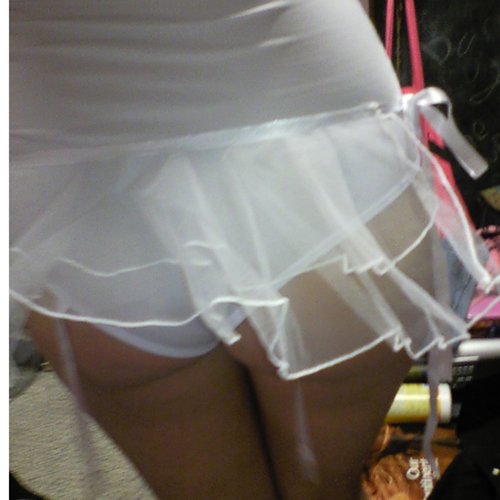 Follow-up commentary
2 months after original review
This set still has me floored. The lace is very durable and has withstood the washing machine, on delicate cycle. It even has no threaded out the stretch fabric that can occur with stretchy laces. Overall it still fits great even with me gaining some weight. It compliments all the right areas, in the the right ways.
This product was provided free of charge to the reviewer. This review is in compliance with the FTC guidelines.

Thank you for viewing
All for you bride
– costume review page!