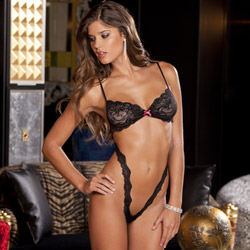 Lace extreme v-teddy
Teddy
by Rene Rofe
Extremely Disappointing
This potentially sexy little piece leaves little to nothing to the imagination. If you're looking for something you can wear during sex you've come to the right place, although it will not stay in the correct position for very long. I would recommend women with smaller breasts avoid this product because the cups seem over sized and will not stay in place, or look flattering.
Published:
Pros
Inexpensive, Potentially Sexy, Soft
Cons
Cheap, Poor sizing, Hand Wash Only, Unflattering, Doesn't Stay in Place, No Chest Support
Oh how pictures can deceive us! Let me start off by mentioning something I wish I realized sooner. The item picture has been cleverly photo shopped to hide the woman's privates as there is actually no crotch piece on this item whatsoever. Foolish of me not to have noticed, but I wouldn't want others to make the same mistake. This could be a huge plus if you would like to wear it during sex as it will not get in your way. For me however, I would like if it had covered any amount of my crotch so everything wasn't just hanging out. Not much of a tease to say the least!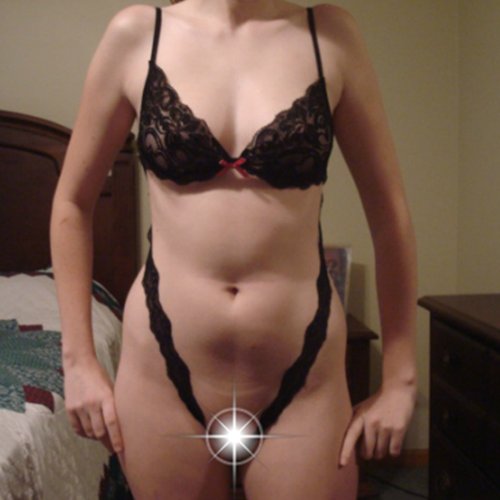 Basics:
This
Lace Extreme V Teddy
was made by Rene Rofe Lingerie. For the low price of $13.99 it is quite affordable, but I think mine will be going right in the trash. It only comes in black with 2 pink bows, and in sizes small or medium. According to the package it was made in China.
Material and Care:
This teddy is made from 90% nylon and 10% spandex. Although there really isn't a lot of material here to begin with, I purchased a small and it will easily entirely fit in my fist.
The majority of this piece is made with a floral designed lace, which I must say was comfortable, soft and not irritating on my sensitive skin. The lace is quite stretchy, but I don't think I would trust stretching it very far as the seams are likely to rip before the lace does. Mine came with several blemishes along the lace and seams, but I expected this due to the low cost.
There isn't a lot of material here to work with so it was pretty easy to figure out how to put it on the first time, although it did not come with any kind of instructions. The second time I went to put it on was a different story! The thin lace strips want to twist and turn every which way so it takes a few minutes to get them all straight and flat again.
Like most lace lingerie the tag suggests you separately hand wash in cold water, hang to dry, and avoid bleach, irons, and dry cleaning.
Sizing/Design:
This item only comes in a small or medium so far.
Sizing Chart From Rene Rofe's Website
This chart can be found
Here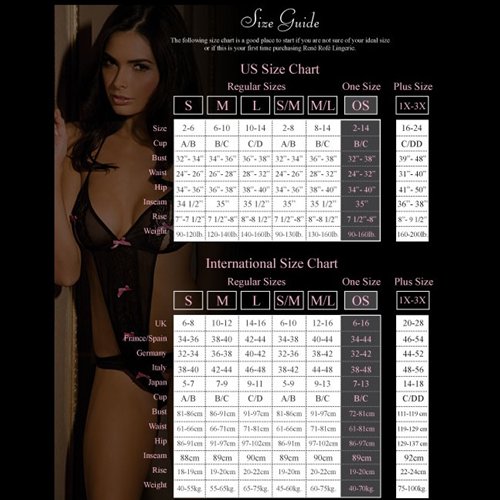 My Measurements
Size: 3 (Pants/Shorts)
Cup: 32C
Bust: 32"
Waist: 25"
Hips: 33"
Weight: 110lbs
So, according to their sizing chart this should fit me just fine. This was not the case! Sizing is my biggest problem with this piece.
Lets start with the cups! They seem way too over sized for A/B cups as they claim. I have a 32C which should be more then large enough to fill the size small teddy, but the cups were just way too huge. I think they would better fit women with larger breasts, but then here comes the next problem! The cups will not stay in place! There's nothing to keep them in the correct place. There is no under-wire or any kind of support and the "cups", if they deserve that title, are really barely more than flat pieces of fabric. The moment I lifted my arms up they were already sliding up way too far up and out of place.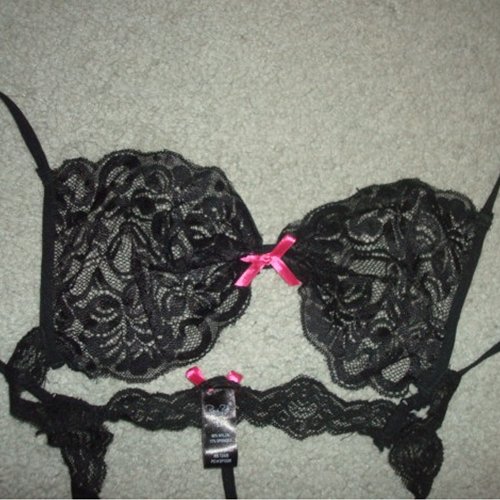 The straps to the top are adjustable at least, although I have a smaller frame and needed them to be fully extended in order for the top to stay over my breasts. Every time I tried to tighten them the top would pop off my breasts.
Here's something the pictures might have misled to you about, there is no crotch piece. The display photo makes it seem like there is a small bit of fabric covering you (or at least I thought so), however upon closer inspection that is apparently just Photoshop. This piece goes straight from the V of the teddy into the thong back piece. Personally, that showed off more than I would have liked. I love wearing new sexy lingerie for my man, but when everything is already clearly visible it defeats the purpose for me.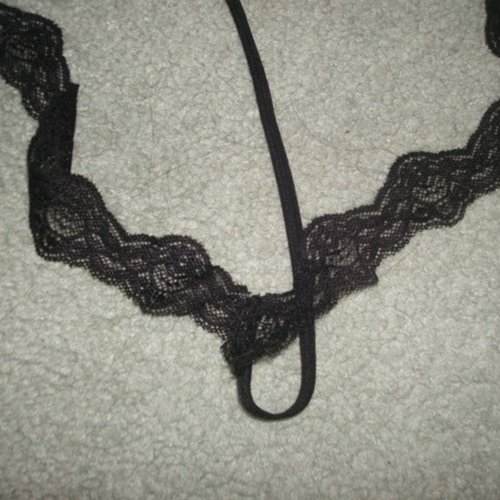 If you wish to wear this teddy during sex you're in luck because it won't get in your way! How could it with this little fabric?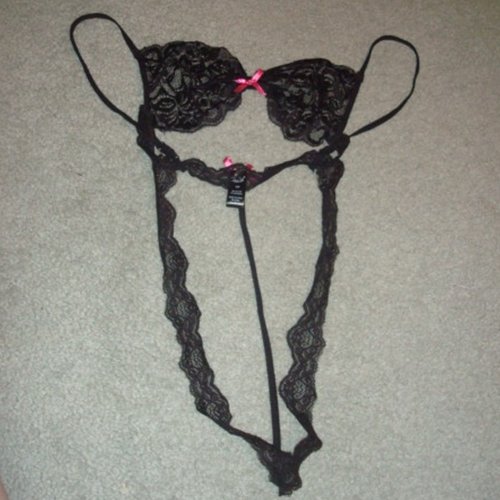 Experience
Sizing/Design Cont...
Now let's get to the back of this piece. I found the entire back to be completely unflattering on me. The long thong attaches to the back of the bra. I had extra room there, it was a little looser than it should have been when I was standing up straight, but I have a smaller frame. If you have a longer torso this may not be enough fabric for you to fit comfortably without having the feeling of floss between your butt cheeks, and the back of the bra being pulled down and looking quite unflattering. They also have the tag sewn straight up and down instead of horizontally so it will always stick out no matter what you do when you wear it, unless you cut it off.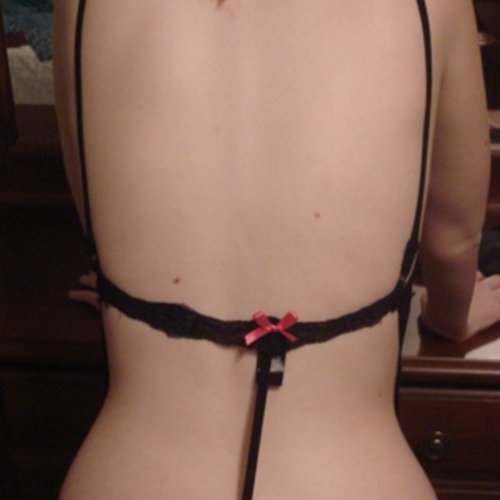 Packaging:
Nothing too exciting here. The outfit came in a cardboard envelope with the same model as the display picture shows. It is not really a great place to store your lingerie because it will just fall out. The envelope does not really say much other than the size, material, care instructions, and their website page.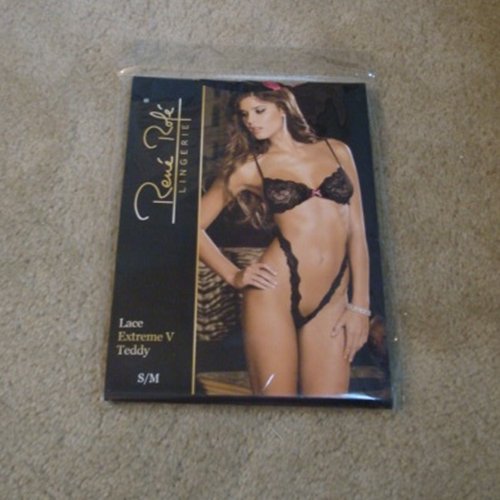 My Opinion:
It was worth a shot for the price! It looked so sexy on the model I couldn't resist, but I think I will now be throwing it straight into the trash. It doesn't fit me well, or stay in place, hopefully it will fit others better because it has very high potential to be extremely sexy! Unfortunately I cannot see myself wearing this piece for any reason. My boyfriend and I both laughed at how badly it looked when I first put it on! Needless to say I look better in nothing than I did this teddy!
Follow-up commentary
5 months after original review
I still don't like this piece, I never have really. Every time I look through my drawers I wonder why I haven't thrown it out yet. I gave it another shot to see if my opinion on it would have changed, but it was still just as bad as the first time.
This product was provided free of charge to the reviewer. This review is in compliance with the FTC guidelines.
Thank you for viewing
Lace extreme v-teddy
review page!