Faith Restored
Seven Til Midnight brings you a wonderful garter belt that is not only beautiful, well made and affordable, but also is going to give you a great look regardless of your shape.
Published:
Pros:
Well made, will fit a variety of sizes, comfortable to wear
Cons:
Garter buckles are a touch tricky
Due to the fact that I have quite large hips, ordering anything online makes me feel terribly nervous! I just so happen to love these large beautiful hips I've been blessed with, but unfortunately clothing lines do not share that same love. Instead of waiting days for items to arrive and praying that they will accommodate my body just to be let down, I usually just steer clear and only shop in regular retail stores where I can try on every item. Thankfully EdenFantasys has a great return policy, so I felt safe enough to put myself and my money on the line and make an order for a garter belt that I've had my eye on since the day I joined.
My garter belt arrived in a flat plastic bag with no markings on the outside. When I removed it from the bag, I immediately noticed how soft it was. Usually I find any kind of lace or mesh to be extremely irritating and itchy, and wouldn't you know the garter belt I had to have had both! The belt is made of 90% nylon and 10% spandex with a lace front panel and back mesh panel. I'm not sure how it escaped my daily glare, but the back also has two strips of doubled mesh that creates a bow. This is how the garter is closed, which is great for gals like me because it will accommodate any sized hips. I ordered the size 3X-4X based on the size chart. However, I could have easily worn the 1X-2X because of the extra amount of room the tying back gives you. The entire top of this item is surrounded by a mesh ruffle with pink trim, and the bottom is two rows of mesh ruffling with pink trim. This trim gives the garter belt a sexy and sweet look at the same time. Each of the four garters is a total of 6 inches long and adjusts down to 3 inches from the top of the garter to the end before the hook. Although adjustable, these garters are not removable. If you don't like bows, steer clear of this item! It has a total of 11 not including the one you'll need to tie to keep the garter belt on! There is a small difference in the color of the garter belt I received and the one listed online. Of course, the black is spot on, but the pink is less vivid than that of the picture and almost appears to be white. Personally, I don't mind this, but keep it in mind if you are trying to match this to a top, hosiery or other items.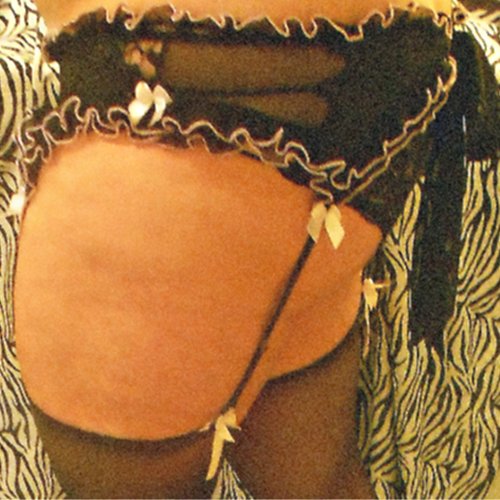 After giving it a good looking over, I noticed not only is this a beautiful piece, but it is well made too! Every seam is sewn perfectly, and there were no flaws in the lace or any part of the mesh. Just to give it a good test I pulled lightly at first and then a little bit harder on a couple of places on the garter belt, and it held up great and always found its original shape. To keep this garter belt in tip top shape, be sure to hand wash it in cold water and line dry it only. Do not iron or tumble dry this piece.
There was only one thing to do after all that, and that was to try it on. I was apprehensive because at this point, I would be heartbroken if it didn't fit or looked wrong on me. I was so caught up in my worry that it wouldn't fit correctly that I wasn't ready for what happened when I put it on. It fit perfectly. I literally jumped and clapped my hands for joy! I grabbed a pair of thigh highs and hooked them right up to the garters. Here is where I found the only disappointment in this garter belt. The bows at the bottom of the garters are sewn onto a piece that slides in the buckle making it hard to move. I found that hooking the hosiery onto the garters, pulling on the hosiery and then tying on the belt is the easiest way to get around those tricky buckles.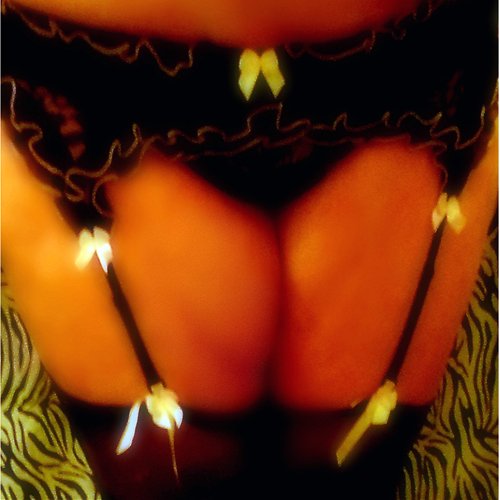 I find myself not wanting to take this garter belt off...ever! I'm actually wearing it while typing this and will continue to do so until I'm practically forced to take it off, or my partner does so for me. Not only has EdenFantasys and Seven Til Midnight made me feel incredibly sexy, but they have also restored my faith in online clothes shopping!
This content is the opinion of the submitting contributor and is not endorsed by EdenFantasys.com

Thank you for viewing
Racy ruffles garter belt
– garterbelt review page!