Falling Short..
I am glad this was my first piece of lingerie off EF, because it taught me a lot about what I do NOT want in lingerie. This set is unflattering, the accessories are cheap and flimsy, the garters are permanently attached and way too short, and the chest won't fit any size properly, from what I can tell (as I've been at different sizes since owning this). This currently sits, unused, in the back of my closet.
Published:
Pros:
soft front fabric, comes with everything you need for a lingerie outfit, underwire
Cons:
breast shape/size, cheap materials, flimsy garters, useless g-string, small, short, unflattering
Presentation
I got this item quite a while ago, actually, as my first piece of lingerie from EdenFantasys.
This piece came to me in bare basics, folded down inside complimentary hot pink tissue paper from EF.
The satin chemise came with attached pink garters, black thigh highs, and a matching black g-string.
Design & Craftsmanship
At the time I bought this chemise, I wasn't very well-versed in lingerie. I didn't consider a few things that I now look at more critically.
Something I considered but failed to realize, is that a chemise is more of a "shirt" than a dress. I thought this would be long enough to not look bad on me, but unfortunately I was wrong. I didn't scrutinize the model photo enough to realize this barely covered her butt, so it really wouldn't cover mine.
The chemise has soft pink straps and small, pink bow accents. There are 4 garters. There is also a keyhole on the back of the chemise.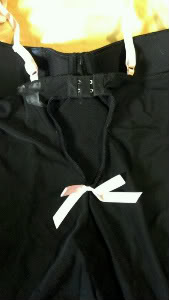 The breast-area is supported by underwire cups and some thin padding. The description labels this as "push-up" style, but there is definitely no extra padding. This is merely a demi-cup that is awkwardly shaped to give small gaps towards the centers of the cups if your breasts are smaller than suggested. If your breasts are the 'proper' size or larger, you will have an awkward gap in the center due to the wire not resting under your chest.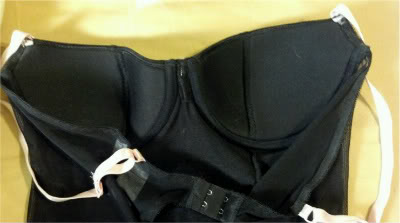 Materials and Care
This piece is advertised as being made of satin and lycra. It is NOT in fact made out of satin. You wish!
This set is made of 90% polyester and 10% Spandex.
I personally dislike polyester material.
The front part of the chemise is incredibly soft and cool to the touch, smooth to run your hand across.
The back is sheer mesh-like material. The back of the chemise is incredibly resilient; it holds up to a lot of stretch and pull, without really stretching. The polyester front part stretches the most.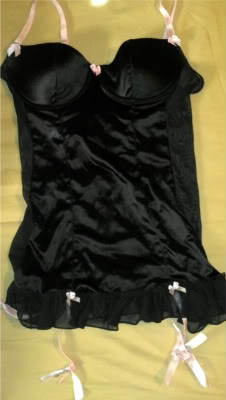 The black thigh highs are, I assume, nylon. They are the thinnest, flimsiest thigh highs I have ever encountered. I was able to put them on twice- for trying on and modeling purposes only. Then, they started to tear.
Don't buy this piece for the accessories.
The garters are extremely cheap and flimsy, all made of plastic. The bra straps, on the other hand, are quite soft, comfortable and stretchy. There are two metal hooks and eyes to adjust the bra.
Neither the bra straps nor the garters are able to be removed.
The g-string is sheer, cheap and made from apparently the same materials as the chemise. It isn't comfortable or that stretchy, since it is mostly that hard, sturdy mesh material. It dug into my hips and is not at all flattering. I threw mine in the back of the drawer immediately.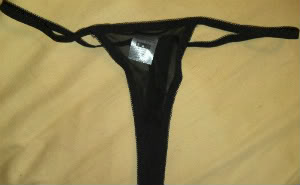 You should wash this by hand in cold water and hang to dry. Do not bleach this set, and definitely do not iron it.
Experience
Sizing and Fit
I purchased the large sized chemise. When I first bought this, I was a 36B cup. Currently, though:
My bust is 36C (underbust 34", fullest part of my bust is 38.5").
My waist is 30".
My hips are 38", with the widest part of my bottom reaching 42" or so.
I usually wear a dress size 10, or pants sizes 9 to 12 depending on brand.
According to size charts, a Dream Girl Large is supposed to fit sizes 10-14.
C-D cup with a 36-38" bust.
A waist sizes 28-32".
With hips measured from 38-40".
They also throw in an arbitrary weight number.
Anyway, how does it fit?
The g-string:
13" lying flat.
...At max stretch, I could get mine to 20" lying flat, which would make the size chart true. Who wants to wear something that's going to be resisting and digging into them that much? Frankly, it's painful.
At widest, the sheer crotch of this g-string is 4". Oh, but there is a pantyliner! ...1" at its widest.
Chemise:
Length (from center of bust): 17"
Bust: 28"
Waist: 26"
Hip: 32"
The garters, at their longest, are 5" to the plastic part.
This material is just stretchy all around, unflattering in front and back. I see every curve of my belly while the mesh material stretches harshly over my butt.
The cups are 4.5" long, and 8" at their widest. For some reason or another, these cups just failed. They made my boobs seem small when they were 36B's, with excess fabric bunching toward the middle. Now that I have C-cups, edging into D's, the fit is even worse with my areola and nipples peeping up over the top of the demi-cup. Answer: no size boob will properly fit this.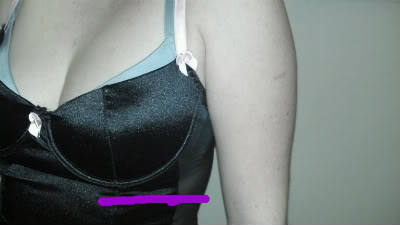 (Purple is roughly below where the wire should be resting, under my breast)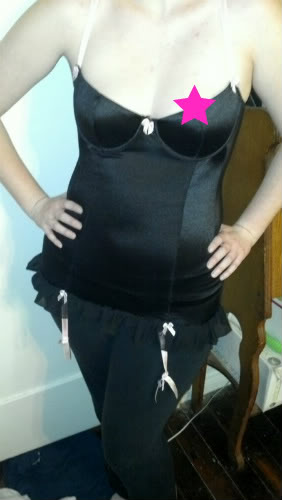 As you can see, the length is more shirt than anything- and you can see my belly button area quite easily through fabric.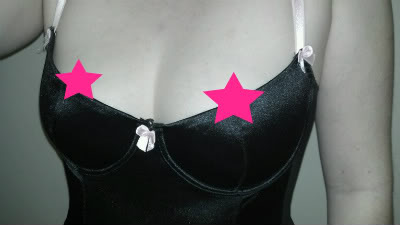 Without an extra bra on, this piece shows how small the bra really is. I didn't even have it properly adjusted below my breasts! When I readjusted the girls, pushing them together and up resulted in full nipple-spill. (Of course, no pics of that.)
Overall
I have only put this piece on three times- mainly to model it and try it on. I felt so awkward in it, when I tried to get the thigh highs attached to the garters, the plastic kept slipping and then the entire chemise was being pulled drastically downward, leaving my boobs unsupported while the cups slid down. The back stretched poorly over my butt, mashing it and not flattering it at all. I felt like my hips and legs were busting right out of this.
It made me feel really un-sexy.
For me, this is the first piece of lingerie that traumatized-- I mean, educated me so that I could be more cautious and critical with my lingerie purchases. I felt like the entire time I was wearing this piece, a tug-of-war was going on between the stretchy bra straps and the pulling garters.
Follow-up commentary
2 months after original review
I will still keep this stashed in the back of my lingerie drawer, not to be worn again. It just wasn't worth it. Maybe someone shorter with a different shaped chest would like this.

As it stands, the cups of this chemise were a breaking point.

And overall, the thigh highs and the g-string were throw-away items.
This content is the opinion of the submitting contributor and is not endorsed by EdenFantasys.com

Thank you for viewing
Satin gartered chemise set
– gartered chemise and panty set review page!