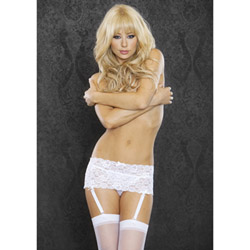 White garter belt
Garter
by Fantasy Lingerie
Fantasy Garter Belt
The White Garter Belt is a gorgeous piece of lingerie that will have you and your man smiling in the bedroom. This belt is gorgeous enough to make any woman feel pretty wearing it. It does a fantastic job at keeping your stockings in place while still maintaining a comfort level that anyone will appreciate.
Published:
Pros:
Price, Comfortable, Good quality, Multiple Sizes
Cons:
I would like to see black have a one size.
The White Garter Belt by Fantasy Lingerie was just what I was looking for to add to my lingerie collection. It is a gorgeous garter belt that pleased my man and I. He absolutely loved the way it looked on me and I felt amazing wearing it!
Material/Care Instructions
The garter belt is made of 90% nylon and 10% lace. As soon as I started to handle the material and take a good look at it, I was instantly reminded of a lace tablecloth. This isn't necessarily a bad thing though. Even though it is only made out of 10% lace, you would think otherwise looking at it. The material is very soft and will grab at any rough skin you may have on your fingers. I did not find this garter belt to be itchy, which is always a good thing! I think this garter belt is extremely comfortable to wear for any occasion, whether it is in the bedroom or under a dress to keep up your stockings.
Most women will be pleased to find out that this belt is able to be washed in the dryer. Make sure you wash it with warm water on the gentle cycle. Keep your darks away from this belt and wash them separately. You can also throw this in the dryer. Tumble dry on low and remove the belt promptly. Do not twist or wring.
Sizing
This belt is available in three different colors to choose from. You can pick from white, black or red. The white and red belts are available in three sizes which are one size fits most, 1x, 2x and 3x. The black is only available in 2x and 3x. I picked the white belt in one size fits most. I wanted the black but was disappointed to find that it did not come in my size. The sizing given by Fantasy Lingerie is pretty accurate. One size fits most is said to fit anyone with a 27 1/2 to 31 1/2 inch waist. Your hips should be 38 1/2 to 43 1/2 inches. My measurements are a 32 inch waist and 36 inch hips. The belt was snug enough to stay in place but did not cut into my skin, giving me a horrible muffin top look. Which was appreciated! I feel that this belt could fit someone up to a couple inches larger than me. I say this because the material is fairly stretchy. I believe if you are 3 to 4 inches larger than me, go up a size because I think the material would start to dig into one's skin, creating a very unflattering look.
Garter Belt
The garter belt shocked me with its quality! For $14.99 I didn't expect much and the material looked extremely thin. When it arrived I was pleased to find the quality was much higher than what I had anticipated. The belt is pretty short, having a length of only 5 3/4 inches. It has a width of 12 inches.
There are two seams on each side of the belt. The stitching in the seams is done fairly well and I do believe that it will hold up for a while. The seam is even and looks very clean with no miscellaneous strings hanging off. I was surprised that the seam is pretty hard to notice when you wear the garter belt. It blends in to the design pretty well.
Here are two pictures of the seam. The first is taken on the inside of the belt. The second is on the outside.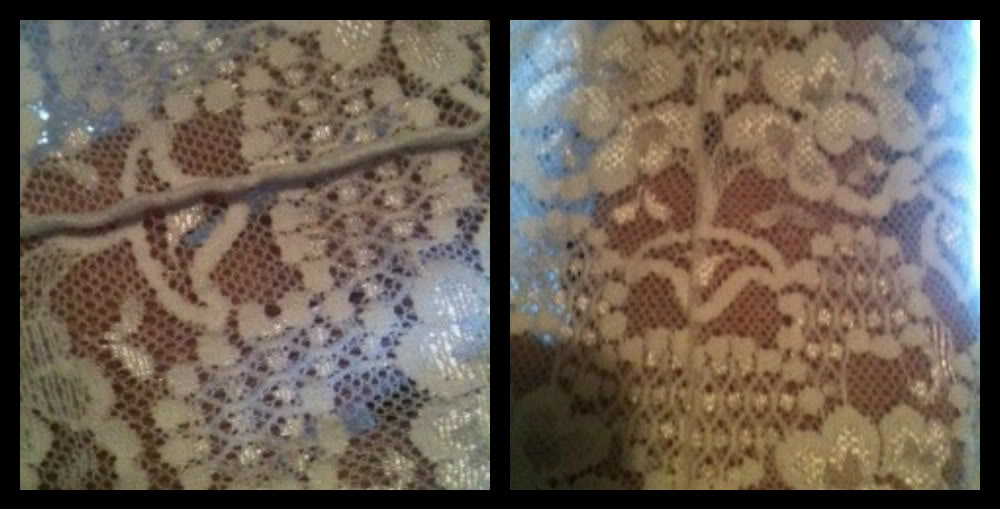 I loved that the top and bottom of this belt weren't flat edges like most belts. This belt actually has a bit of shape and design to it. There are little half-circles surrounding the top and bottom which make the belt look a bit fancy in my opinion. Fantasy Lingerie got it right with this belt because there is no fraying or loose stings here either.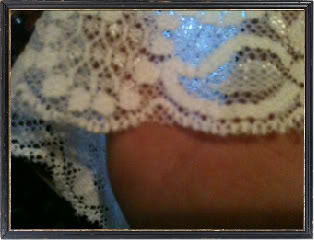 This belt has a lovely pattern. It is a floral/vine pattern. I personally love it because I feel that there is enough going on in the pattern that it draws your attention to the belt. But not so much that it is overwhelming and hurts your eyes to look at. The pattern makes me feel sexy as soon as I put this on and seems to go almost perfectly with everything I have paired it with! Inside some of the leafs there is a metallic silver color, this gives off a shiny appearance without being tacky.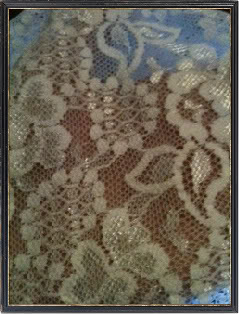 Experience
There are three bows on the belt that are sewn into place with a very thin string. I feel that these could be removed easily, without causing damage to the belt it self. I have not removed my bows yet because I find them to be pretty small and unnoticeable. The only reason I may remove them is because the bows are kind of flimsy and tend to flop over. One bow is located along the top of the belt. The other two are directly above the garter straps.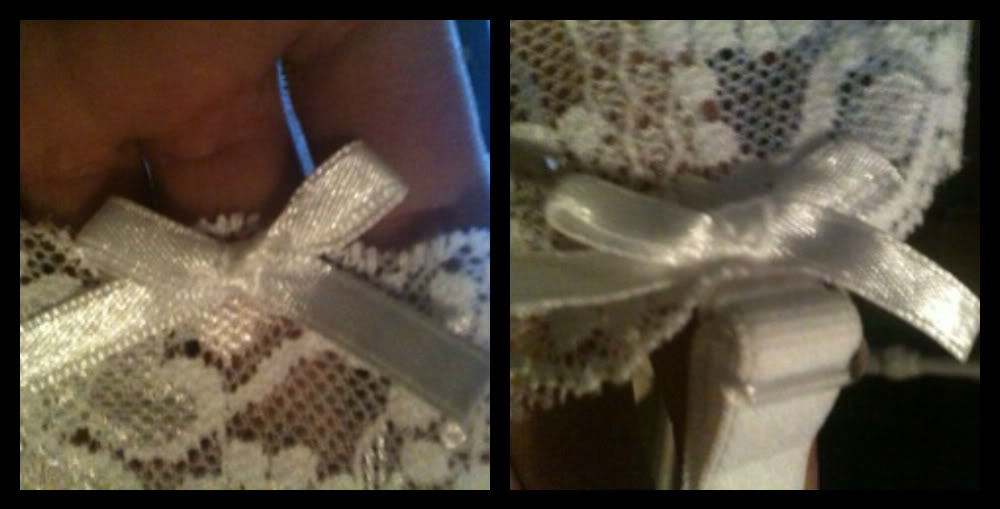 Garter Straps
The garter straps are sewn into the belt. I don't see any way to remove them without damaging the fabric. The piece that adjusts the length is made of clear plastic. The bottom of the garter that holds your stockings is made of clear plastic as well. The garters have a width of half an inch. At the shortest setting, the garters have a length of 5 1/4 inches. At the longest setting, they have a length of 9 inches.
Packaging
My garter arrived on a small black hanger. Pretty minimal packaging but that didn't bother me. You can use the hanger to store your garter if you like to hang your lingerie. I choose to store mine in my lingerie drawer, neatly folded.
Heres a couple pictures of me wearing the garter belt.
Front: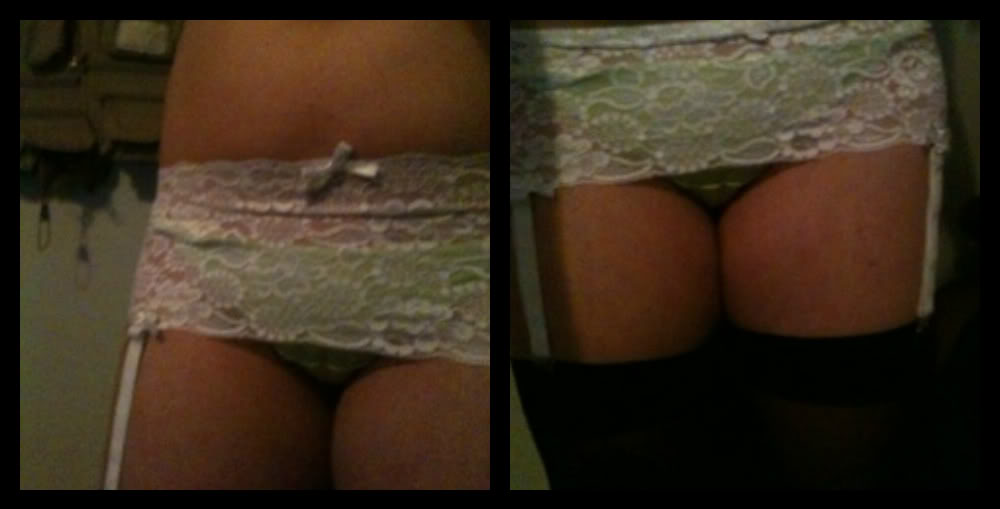 Back: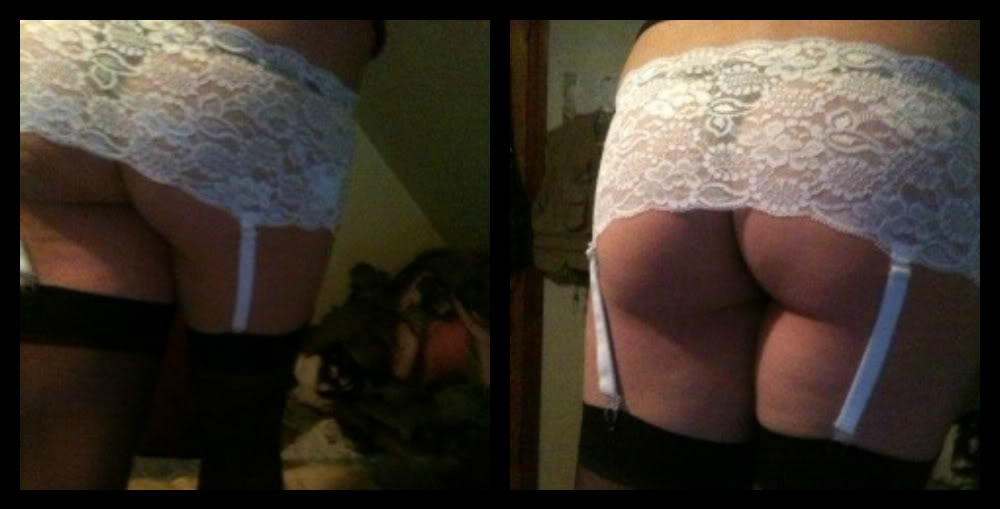 This product was provided at a discounted price in exchange for an unbiased review. This review is in compliance with the FTC guidelines.

Thank you for viewing
White garter belt
review page!