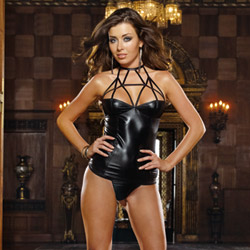 Caged heat cami and thong
Camisole set by DreamGirl
Fear no more the caged heat o' the sun. (XL)
I am very pleased with this set. It makes for a nice visual in a private setting, and I've found that I fancy wearing it under a strapless shirt so as to show off the neckline detailing in a public setting. The matching thong is also a perfect fit for my flat-arsed self.
Published:
Pros:
Comfortable, Wonderful detailing, Neck band is not tight around neck, Easy to put on, Great undies
Cons:
Bust won't suit everyone, No underwire (or support), Elasticized band at bottom, Dry clean only
I was über-excited when I saw the Caged Heat bra set and the chemise set pop up on Eden. In my excitement, I ventured to the DreamGirl website to check out the XL size chart (the DreamGirl size chart on Eden doesn't include XL). I know I'm a pretty solid XL (and, if necessary, 1X), but I'm sort of compulsive when it comes to checking my size. When I did, I saw the Caged Heat Cami, and I knew I had to make it mine. I hoped dearly that Eden would add it, AND THEY DID. Into the cart it went.
This set came on a hanger in a non-reusable plastic bag.
Included: The cami and a matching thong.
The tags read as follows: Dry clean only, 80% Polyester 20% Spandex.
.....I have no intentions of dry cleaning this. I'll be hand-washing it, and pray the world doesn't end as a result.
These ridiculously long loops are......well, were, ridiculously long. The first thing I did upon removing the set from its packaging was cut these things off.
Here are the front and back views of the top, laid flat, with all the measurements I deemed important enough to note. The fabric is soft and smooth, shiny and stretchy. I wish I had one of the wet look items from Coquette to compare it to, but I do not.
The matching thong. Interestingly, whereas the thong that comes with the
Caged Heat Bra Set
seems to be made of a cheaper material than the other components of the set, this is made of the same higher-quality material as the cami. I also like the double-strap detail, but I could personally do without the 1 3/8" vertical bands on the sides. That's a minor complaint, though.
Sizing Information
Eden's
DreamGirl Size Chart
doesn't include XL, but the DreamGirl website says that an XL should fit:
Size 14-16
Cup D/E
Bust 38-40
Waist 31-33
Hips 40-42
Weight 160-180 lbs
Me:
Size 16
Cup C
Bust 42
Waist 32
Hips 42
Weight 180 lbs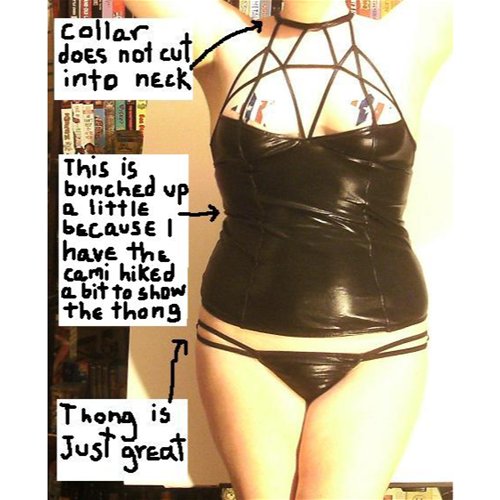 At the top working down:
I know some people voiced concern about the neck band being too tight. However, the neck band is stretchy and measures 20 1/2" unstretched, so the band won't be anywhere near tight on anyone who wears an XL unless a goiter is involved. My neck is 13 1/4" in circumference. Though the band appears close around the neck in front, the band extends several inches down my back (in case it isn't clear, the band closes via a hook and loop, such as those that attach detachable garters to their respective garments.)
The neckline detailing in front is exquisite. In order to make it lay flat, I had to adjust the back straps to their shortest and pull the cups a little bit lower than my breasts, which was possible due to the lack of underwire, and didn't look bad at all IMO. I attribute the necessity of these adjustments to my breasts being smaller than the size chart specifies. I think D's or E's would be able to get the neckline detailing to lay flat without as much adjusting (just know that this piece provides no bust support).
My underbust is 37" and this feels like it would comfortably fit an underbust up to 38 or 39 inches.
This is not as loose in my waist as it appears here (though it is a teence loose. The smallest waist that will perfectly fill out the garment is 32 1/2 inches). I have it hiked up about two inches so as to show the thong. I think this will fit a waist up to about 38 inches, as the fabric is very stretchy, though it wouldn't flatter a 38" waist.
As is, the fit in the hips is about dead on, since there is an elastic band at the bottom that cuts a little into my 42" hips. I fully intend to remove this elastic band, as love-handle-emphasis is something I can do without. Without the elastic band, this could comfortably fit about 44" hips, I'd say.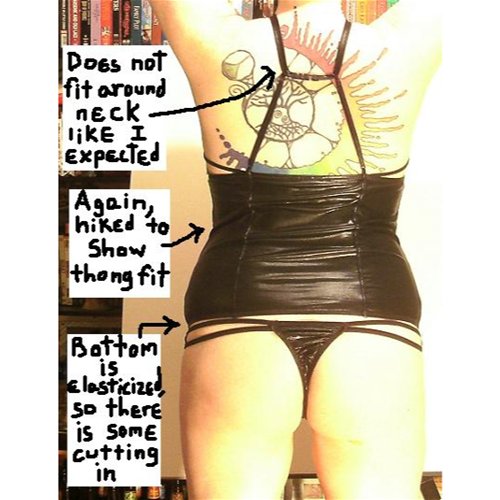 Note how far down my back the neck band comes. The front of the neck band isn't pulling back against the front of my neck at all, either.
You can see better in this picture how the elastic band accentuates my lower back fat. Thanks, elastic.
The thong is the perfect front-to-back length to just cover my ass-crack and my mons pubis, which I suppose means that it may be too low-rise for some people's taste, as I have no ass and it fits me wonderfully. I'd say the straps would comfortably fit up to 43" or 44" hips.
Experience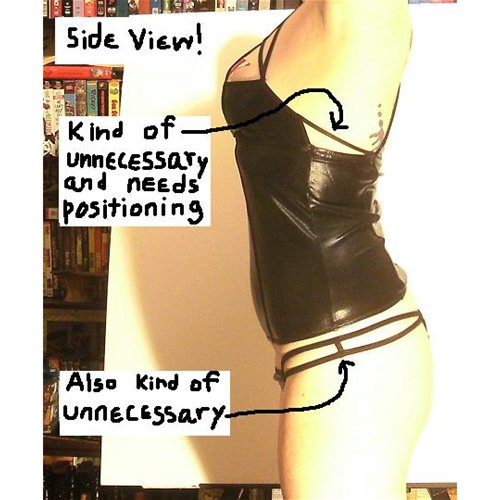 I'm not sure about the necessity of the strap anchoring the top of the front of the cami to the top of the back of the cami. I think I'd rather it be a solid piece of material. Again, a minor complaint.
I know I'd rather the short vertical bands on the sides of the thong not be there, as they just make it more difficult to adjust the straps. Still, a minor complaint.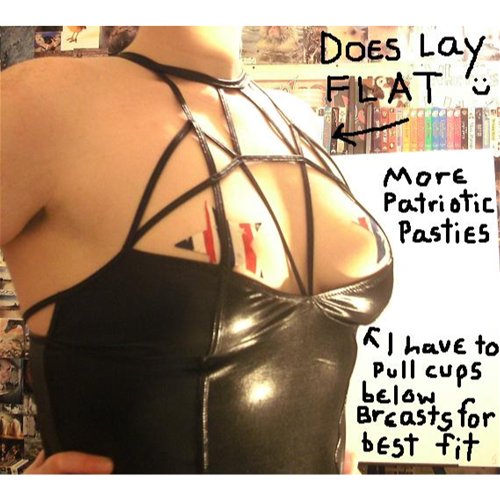 Fitting Information
I'm sure I'm not the only one who was concerned about how the bust would fit (where the cups would cut off).
I should note here that I've had a breast reduction, so my nips are positioned slightly higher than they would otherwise be.
For an XL, to find out where the cups would come up to, I would suggest this:
1)Put on a non-padded, underwire bra, preferably one with soft cups.
2)Acquire a tape measure.
3)Starting at the underwire at the bottom center of one of the cups, measure up towards the nipple (like the line going up the center of the cup in the above picture) 4.25". That should be were the cup cuts off. If you have C-cups like me, they will not come up quite that far because you will probably have to pull the cups down a bit to flatten the neckline detail.
Oh, yeah! I almost forgot to give an example of this under another top! Tadaaaa! I'm just crazy enough to do something like this.
Thanks for reading :) I welcome any questions in the comments!
Follow-up commentary
2 months after original review
This garment has held up well (to hand-washing), and, while there are times that I wish this had full cups instead of the shelf-style deal, I do love wearing it under other items.
Sorry about the blurriness. I took this when I was in a major hurry.
I LOVE this combo.
.....Bottom line, I love wearing this. I would buy this item again. Enough said.
This product was provided at a discounted price in exchange for an unbiased review. This review is in compliance with the FTC guidelines.

Thank you for viewing
Caged heat cami and thong
– sexy camisole review page!