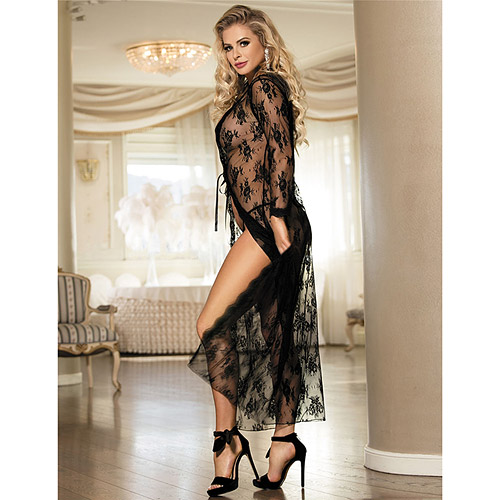 Lace maxi robe
Long peignoir
by Charm Wear
Feel sexy in a jiffy
While this is not going to be your average can throw it on anytime around the house robe, it is definitely worth having on hand for those occasionally nights that need a little extra sexy added to the mix, anniversaries for example. It will travel and store away when not in use very easily as it can fold up small. Don't let the lacy delicate look and feel scare you away as it is more durable than it seems and won't scratch or itch.
Published:
Pros
sexy look
delicate feel
easily accessible
comfortable, soft material
machine washable!
Cons
tight in the shoulders
sizing can run small
I couldn't wait to receive my new robe, it looked so sexy from the pictures, and it didn't disappoint at all. The material is a lace which worried me that it might be scratchy or itchy but was very much relieved to find out that is soft and comfortable. It is a long robe with a single satin tie in the middle to hold it together slightly, and what should be 3/4 sleeves. After reading the sizing charts I decided I would get an XL instead of an L as this brand seems to run a little to the smaller side and I wanted it to be comfortable and sexy. I am glad that I went with the larger size as that made the sleeves full sleeves, I can't stand 3/4 sleeves and it would have driven me insane all evening. I did find that even with the xl the shoulders and upper arms still felt a bit snug on me. Nothing major that would prevent me from wearing it, just like that annoying hair tie that is a little too tight when around the wrist feeling, only this was at the shoulders and no hair tie needed. I would assume this is caused where the material is joined at the shoulder being thicker than the rest of the robe.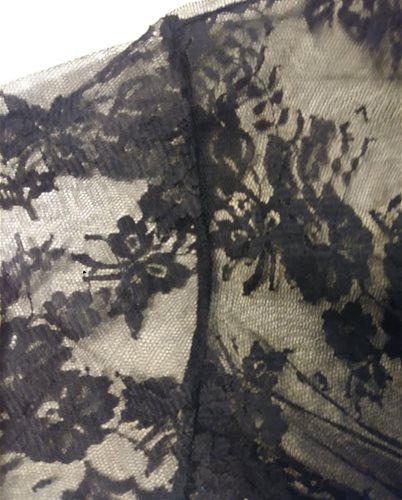 My hubby found it very sexy and thought it looked a little big on me but not enough to warrant going with a smaller size. While I didn't wear shoes on this particular occasion, I do think it would be even sexier with a nice pair of sexy, strappy heels, at least briefly before the fun starts anyway. I am by no means built like a model, but that didn't stop him from finding me sexy in it and myself feeling sexy wearing it.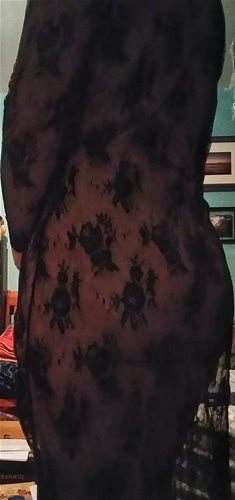 Being a robe it is very much a foreplay thing. I wore it around the house all night since no one else was home to warrant the need to be covered. We very easily could have left it on during our sexual play time for a while as it is easily pushed out of the way, but I felt like I was lying on it wrong the whole time so I removed it. It is actually a fairly sturdy garment considering how soft and delicate it feels. I worried about putting a whole in it or ripping it but didn't have any problems at all with that. The sleeves and edges all the way around have a thicker lacy that adds a finishing touch to the robe as well as reinforces the ends so they don't fray.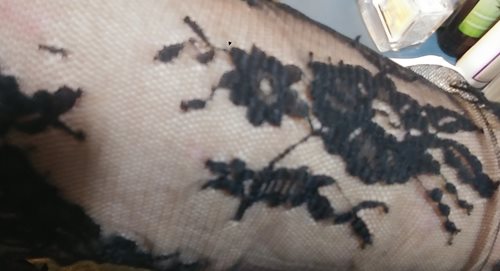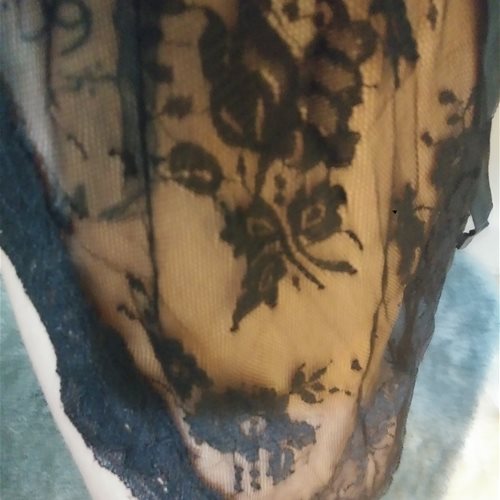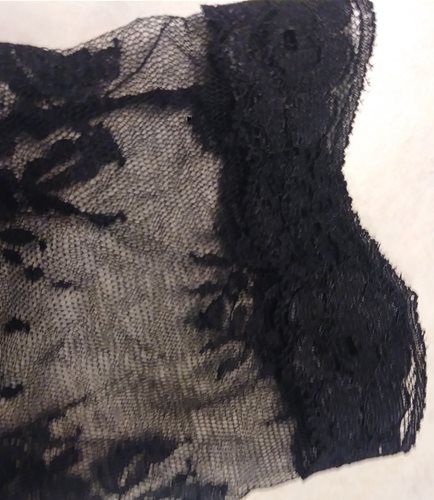 I wasn't really sure how to go about washing it as the only instructions for that are those ridiculous pictures that they think we have all memorized what they mean. Anyway, I went with my usual choice and instinct and decided to wash it in my washing machine on a regular cycle with the rest of my clothing. I then choose to lay it out flat to dry as I thought it might shrink or curl up in the dryer. I did worry about my choice to not use the delicate cycle for this item while it was washing, but it came through the wash just fine and held up with no problems what so ever.
This product was provided free of charge to the reviewer. This review is in compliance with the FTC guidelines.
Thank you for viewing
Lace maxi robe
– long peignoir review page!