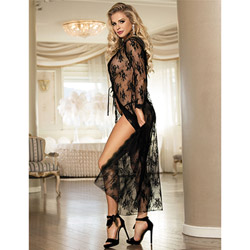 Lace maxi robe
Peignoir
by Charm Wear
Like a Queen
This has become my go to out of the shower sexy item to get my partner in bed with no words required. I'm not happy with the fact that my boobs tend to play on the edge or outside of the lace because of the large bust requirement. Definitely buying a second (and maybe a third!).
Published:
Pros:
Little to no fraying, dries quickly, no scent, goes well with other pieces
Cons:
Large bust almost required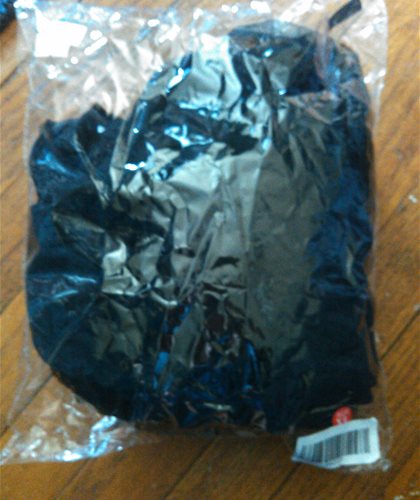 I had been looking for a lace robe without all the ugly fur, fluff, and extra stuff for a while when I came across this one on eden fantasy. I knew I had to have it! I ordered it and the box was here within two days even with it being 10 days to christmas! I was so ecstatic that I had decided to wear it that night. I took it out of the simple packaging to hand wash immediately before my partner got home. It is 65% cotton and 35% polyester so it hung to dry and did so quite quickly(within 30 minutes or so). It had no smell and was already so soft to touch before I washed it and even softer afterwards. I had decided to wear it out of the shower when the kiddos went to bed.It came with lace panties to match. I chose some cute peep-toe black stilettos to set it over the top.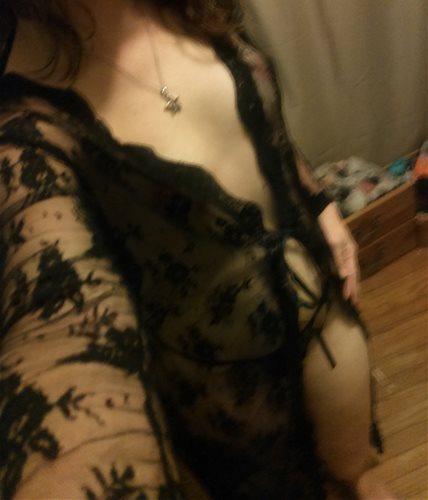 I slipped it on after my shower, looked in the mirror, and noticed that it draped well every where but the chest.I tend to get annoyed with lots of lingerie because as a small b cup (or large a cup)everything seems to be made for gigantic boobs. My partner seemed to not notice or care when I walked into the living room asking if he was coming to bed soon. He was excited enough that he made me keep it on bent over the couch. Even if the chest was ill-fitting it made me feel incredibly sexy. .
I have definitely worn it more than once since receiving it. The lace seems to stay intact very well with little to no fraying this first month. My close friend has also wore it once for a sexy maternity picture shoot and fell head over heels for the robe part of the set so I will be buying a second one for her (hopefully in a different color lol) for her upcoming anniversary!
This product was provided free of charge to the reviewer. This review is in compliance with the FTC guidelines.

Thank you for viewing
Lace maxi robe
– peignoir review page!