Polka dot babe
Bra and panty set
by Fantasy Lingerie
Feelin' Like A Total Babe
The Polka Dot Babe will make you feel just like one! Fantasy Lingerie shows you how to show just enough skin while added a flair of sexy and flirty simultaneously. Girlish ribbons and bows and garter straps, oh my!
Published:
Pros:
Super cute and flattering, garter strap boyshorts, soft material, padded bra, underwire
Cons:
No cotton panty liner, garter attachments are tricky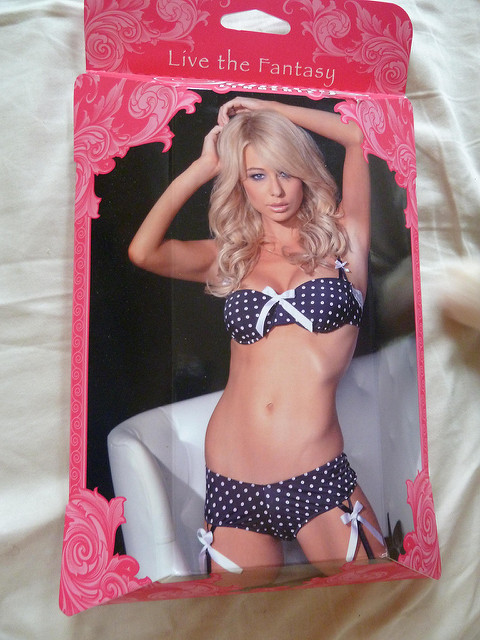 What a flirty little pair! The Polka Dot Babe bra and panty by Fantasy Lingerie is a silky, sexy set. As if cheeky boyshorts, ribbons, lace and bows weren't enough, Fantasy Lingerie has added
garters
to the base of the shorts. Talk about merging Fashion and Function! Or 'Fucking hott,' the other 'F.'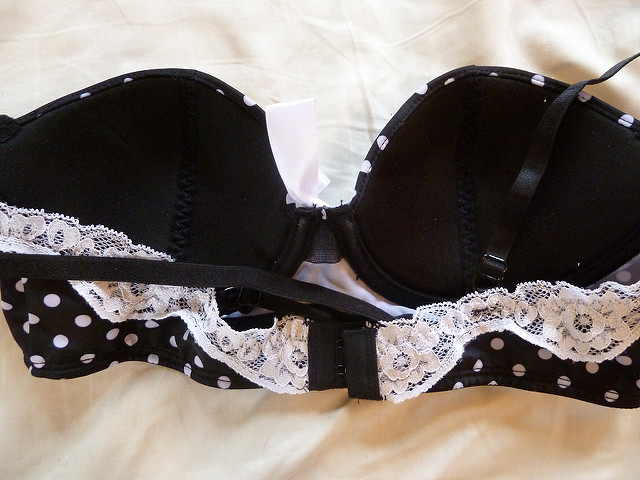 The silky smooth polyester bra top is padded lightly enough to bend and move around your own breasts, but sturdily enough that it won't show THO, and will stand up on its own. A thin underwire holds your girls in place. A sweet white satin bow meets the two in the middle and is sewn securely to the elastic centerpiece. The bra back features a 2" x 6" strip of floral white lace, interrupted by the 2-setting double hook-and-eye closure.
The black bra straps are comfortable enough, but were initially stuck on one setting. After a couple tries from my boyfriend and I both, however, we were eventually able to adjust them.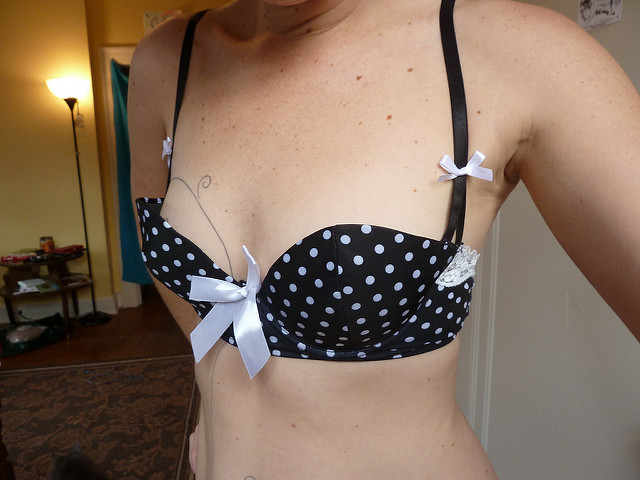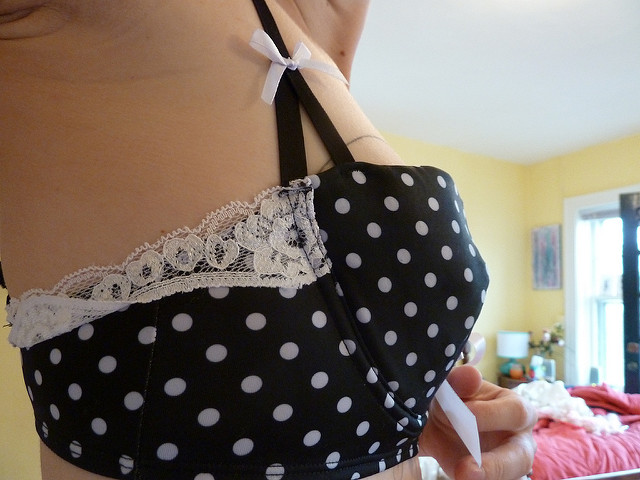 The size Small/Medium bra fit my barely A breasts perfectly. While it didn't lift, separate, or glorify them, the underwire and slight bit of padding did make them look nicer than if they were running free. The cups round the breasts out, even if your gals don't completely fill the cups full. A small gap on the sides and top of my cups remained after my ladies were situated, but the light padding made up for any lack in support that my boobs were giving the bra. Give and take. Take and give. This set really worked well with me.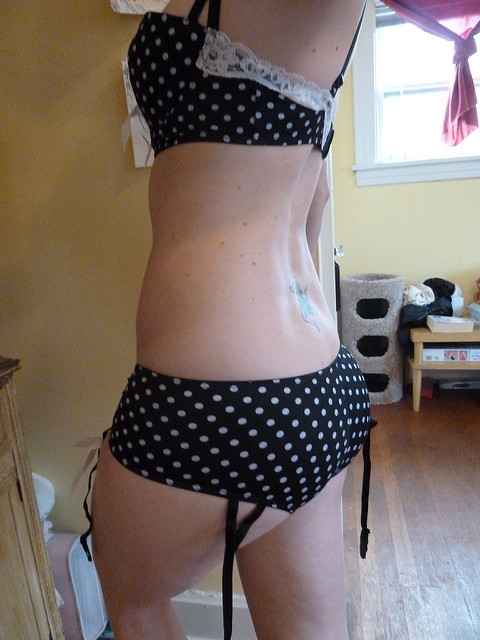 The Polka Dot babe boyshorts hit me just below the hip, and modestly cover my ass, leaving a little cheekiness for your viewing pleasure. This set definitely knows how to keep things visually alluring.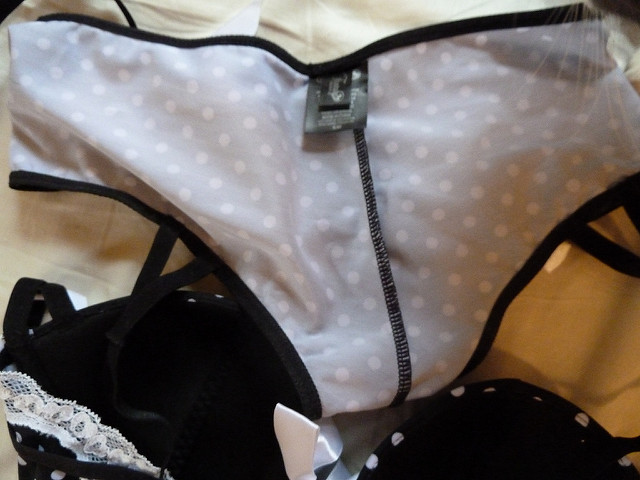 The hotpanties are of the same smooth black polka dot pattern. A seam runs vertically through the front and back, separating the two sewn pieces in half. There is no panty-liner on the boyshorts, to my dismay. A cotton liner would've been great for extended wear. Polyester doesn't allow the flowerpot to breathe, and could irritate or cause yeast infections with extended use.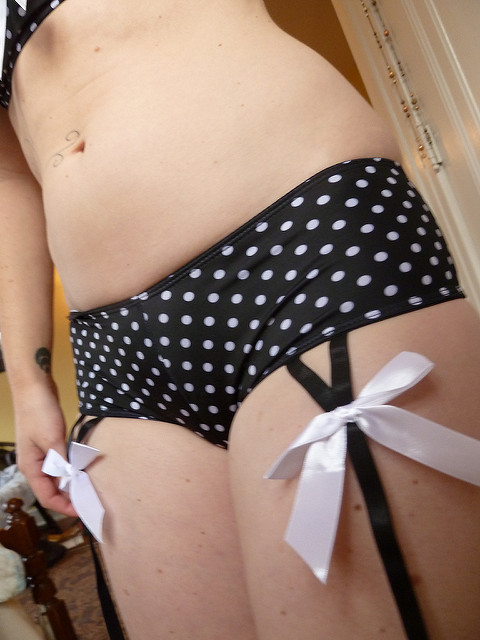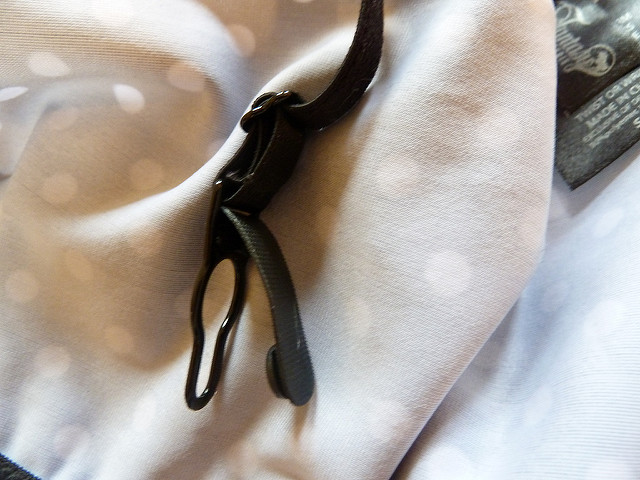 A pair of oversized bows adorns the top of each black garter, intersecting the V-shaped straps where they meet the main strap. Following that line southward, you find a plastic bra-like adjuster attached to the stretchy elastic garters. They attach to pantyhose via a rubber stopper attached to a vinyl backing. Slide the round rubber piece through into the eye of the hoop with your pantyhose fabric captured between, and then slide the whole bit down into the smaller, tighter part at the bottom of the garter-piece. If the vinyl piece of the garter attachments was a more sturdy material, like plastic, I would be more likely to use them as garters. As you can see from the pics, I didn't even bother attaching them to pantyhose. It's such a pain in the ass with this type of garter. The garter-pieces are one solid piece of metal, and appear very well-made.
Construction throughout the set is very firm, secure and well-done. I was disappointed, however, that the piece was deep black. I know, it's listed as black on the product profile page, but from the photos I expected a navy blue. That would've been sexier, in my opinion. Win some, lose some.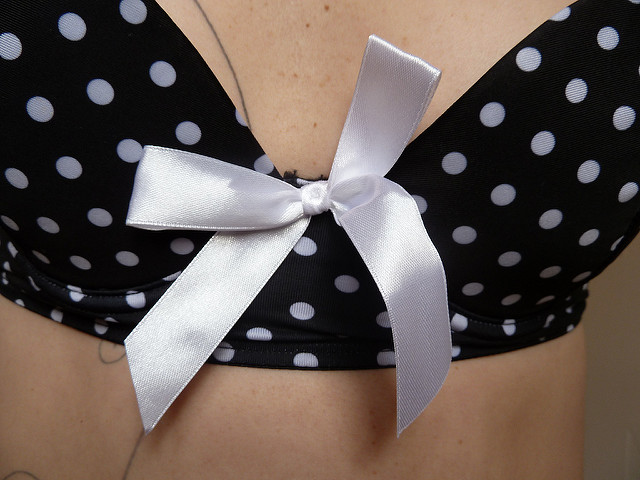 The feel of this polyester/spandex fabric can be likened to a bathing suit's material, minus the annoying ability to pill. The Polka Dot Babe set doesn't appear to be pilling anytime soon.
Experience
It may have just been the set that I got, but my bra straps would simply not adjust. They were stuck. This made the set less comfy for me, as it was too tight on my shoulders. I'm 5'6", 128 lbs. I wear a 36 A in bras and 5-7 pants. The set made my ass look really nice, and the boyshorts fit my hips just right. If you're bigger, would still flatter you, in my opinion, because it covers you more than other lingerie, and keeps a sexy alluring sense of mystery.
The set only comes in SM and ML, which is a shame. However, I'll have to guess that ladies with boobs up to a C cup should still be able to fit into this. More than that and I can't imagine a ML's bra holding all your glory in!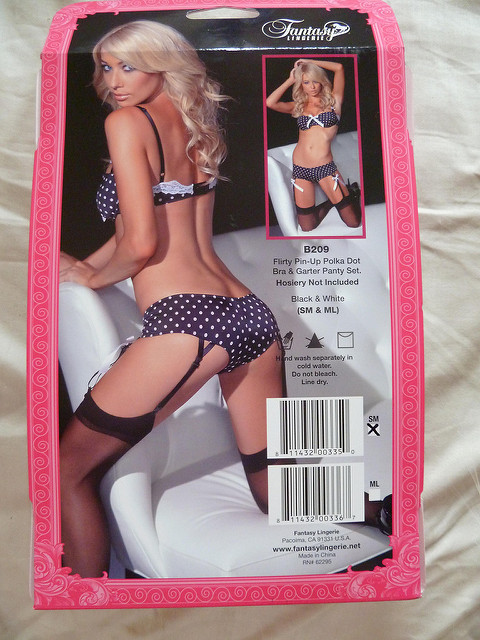 The packaging this came in was a very unique triangular pink box with elegant graphic design surrounding the photos of this Paris Hilton look-alike gal modeling the PD Babe. So now we know Paris Hilton will look hot in this. Go figure.
The set was found folded into a sealed plastic bag, non-reusable. I recommend storing this in your panty drawer with the rest of your unmentionables.
The box suggests you hand wash this separately in cold water. Do not bleach or wring, and line dry. And rock on! You're a sexy Polka Dot Babe now.
Follow-up commentary
2 months after original review
This is definitely a cute set, but I don't wear lingerie hardly ever. The one time I did wear the bra out on the town, half a day of wear later and I was half miserable. The bra is not comfortable. I can feel the metal clasps at the back digging into me. I'd say the Small size bra top is about 34A/B and I need at least a 36A. The band is too tight to be comfy even on the largest setting. Anywho, I shipped this off to Sam aka Julia and we'll see if she likes it better than I! Hope so.
This product was provided at a discounted price in exchange for an unbiased review. This review is in compliance with the FTC guidelines.

Thank you for viewing
Polka dot babe
– bra and panty set review page!