Feminine, Flirty & Functional. Oh La La!
These are wonderfully feminine panties that manage to bridge the gap between sexy and practical. They're comfortable enough to be worn all day but make an equally sexy something to slip into when the mood arises. Wear them with the matching bra and you're almost guaranteed to make heads turn & jaws drop!
Published:
Pros:
Comfortable, Feminine, Good quality
Cons:
Expensive, Size runs small, Hand wash only
The Annabelle Panties from Oh La La Cheri (shouldn't that be 'Cherie'?) are a welcome addition to any lingerie collection. I'm one of those (seemingly rare) women who actually prefers bikini/tanga/fuller back panties over g-strings and thongs, so I was thrilled when EF added this sexy line from a relatively new but quality lingerie company.
Normally I'd never dream of spending $20 on a pair of panties, but when Eden offered me the opportunity to review what I'd consider a relatively expensive pair I jumped at the chance, especially since I was already buying the matching bra. These are definitely nicer than your average panties, are well-made and feel & look sexy. They're low-rise, which I don't usually go for but even though they sit low at the front they still give good coverage at the back.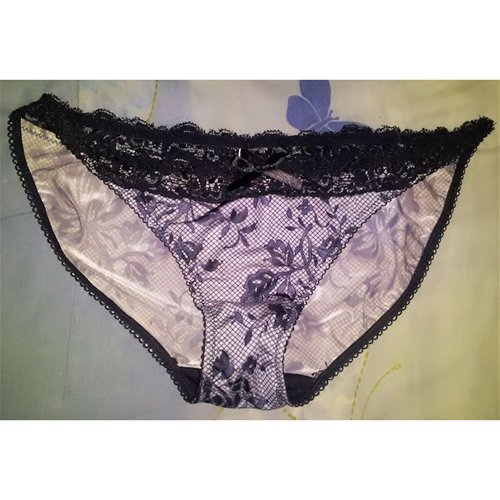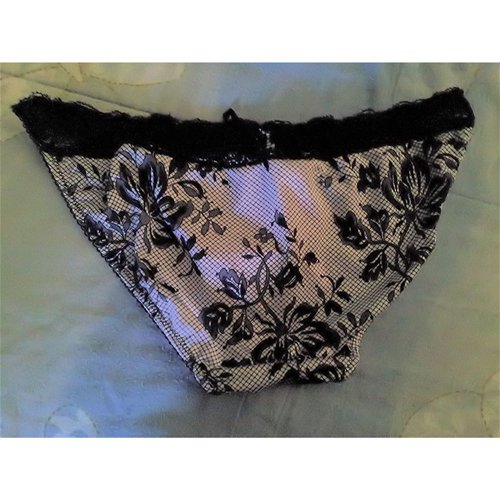 Hooray - full back panties! Buy 'em quick before EF changes their mind!
Made with Silver semi-opaque fabric (85% Nylon and 15% Spandex according to the thankfully delicate little label), these have a definite satin feel to them and are printed with a black floral pattern on both the front and back panels. That surprised me a little since I was expecting the pattern to have some sort of embossing. The waistband is trimmed with sheer black elasticated lace with no loose snags or badly stitched areas. The front of the lace features a cute little black satin bow for a final girly touch. Unlike some panties where a bow can often seem to be overdoing things, this one really sets off the overall look and isn't out of place at all. Note that the official line states that these are opaque - in fact they are but they're not. Confused? Well, what that means is that they're semi-opaque if you hold them up to the light but if you wear them you won't see through them (does that make sense?). Classy and elegant is the order of the day here--this underwear wouldn't be out of place in a Victoria's Secret store.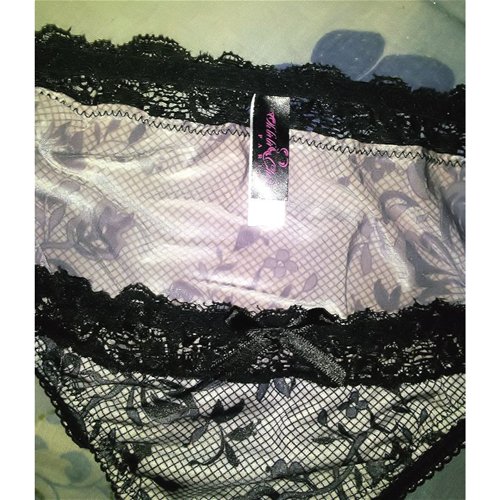 Little touches like a non-itchy tag are definitely appreciated!
The washing instructions are simple enough but you can't just toss these into the wash (and you're going to want to keep these a long way from your clothes dryer!).
Hand wash in cold water
Do not bleach
Hang dry only
I tend to let delicate underwear dry on a flat surface rather than hanging them up, but that's just personal preference. I can imagine that not following the care instructions would mean that these wouldn't last very long. Following the label instructions has worked out fine for me and three wears & washes later, these panties look & feel just the way the did when I first got them.
Since I'd had no experience of the company before seeing their lingerie here on EF, a quick search around led to me finding a little about them from their own website:
Established in 2006, Oh la la Cheri is an intimate apparel design company with obsessive attention to detail. The Parisian born designer and owner creates each piece with the goal of enhancing a woman's femininity and evoke sensuality. Oh la la Cheri uses the finest satins, laces and other fabrics and combines function and intricacy to meet today's woman's needs using European experience and French flair
I took the following Measurements. Hopefully they'll save some people from ordering the wrong size
:
Note that all measurements were taken while the panties were off.
12 1/2" edge to edge along waistband (relaxed)
There's a lot of stretch in the waistband and the 12 1/2" will stretch as far as 16" across at a push (or should that be pull?)
6 1/4" from the center of the bow on the front waistband down to the bottom of crotch
7 1/2" from the center of rear waistband to the bottom of crotch
4" x 2" (narrowest point); 4" x 3" (widest point) Black cotton crotch lining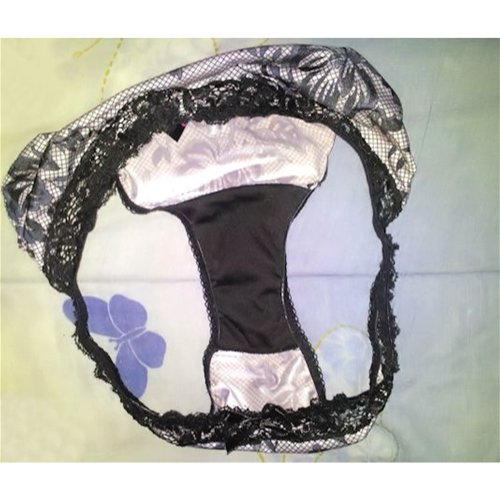 I'm not convinced this is what's meant by an 'Open Crotch Shot'
Experience
Here's where I should point out that I've got a pretty small frame (well, when it comes to panties anyway). I'm 5'2" and 118lb with a relatively small butt, and am generally about a Size 6 or Small/Medium in panties. For that reason, I originally sent for a Small in these but they were too small even for me, which is definitely a first. Even though I replaced them with Medium, they're still about as small as I'd choose to wear. That doesn't mean they're not comfortable--they really are, but you might want to bear my experience in mind and maybe consider ordering a size up.

I bought the matching bra at the same time as these, and even though that's a 38D, the set feels great and my hubby loves it on me. It really does make me feel very feminine and considering my size (which is big boobs and small hips) the bra and panties still go very well together.
Follow-up commentary
2 months after original review
These panties have seen moderate wear (perhaps once every ten days or so) over the last two months and have held up well. No snags, tears or fading at all and they're still just as comfortable as the day I bought them. Not only are they great for everyday wear, they're still my go-to panties for sensual nights in with hubby since they look great and feel better, whether it's wearing them or being caressed through the satin-like material.
This product was provided free of charge to the reviewer. This review is in compliance with the FTC guidelines.

Thank you for viewing
Annabelle Boutique lace bikini
– sexy panty review page!