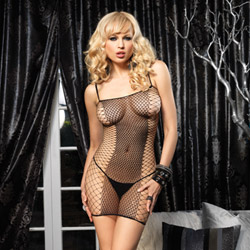 Fence net mini dress
Mini dress
by Leg Avenue
Fence Net Mini Dress: An Absolute Disaster
This piece is hot in theory, but so not hot in person. I really wanted to love it, but it's an absolute disaster. I can't imagine this working for anyone, and even if it does work for someone? I can't imagine anyone wanting to waste their money on such a cheap piece.

My recommendation? Stay away!
Published:
Pros:
Cute idea
Cons:
Thin material, Easily torn, Fraying right out of the box
I adore net dresses for the bedroom, and I'm always looking for something new to add to my collection. When I saw this, I fell in love with the contrast that existed between the types of netting used. I loved the tight, small netting being combined with looser netting. I had high hopes for this piece, but they were all shattered once it arrived. In short, this piece is a disaster!

Basics:
The fence net mini dress is made by Leg Avenue. Sometimes Leg Avenue pieces work great for me, and other times not so much. This is my absolute worst experience with Leg Avenue products...it seems they've really dropped the ball here.

Moving on, for $16.99, you get the mini dress. No matching thong is included.

Material & Care:
The mini dress is made out of 88% Nylon and 12% Spandex.

It's very stretchy, but it's also extremely cheap. If you stretch it too much, it WILL tear. Unfortunately there's no telling what is too much until it actually does tear. The fabric is so delicate, that you really need to handle this with extreme care. So much care, in fact, that this piece isn't really much fun at all. The saying "more trouble than it's worth" comes to mind.

As this is made completely of netting, it's see through. The netting does not itch at all, in fact it feels very comfortable. I feel weird not saying a lot about the fabric, but honestly, there's not much to this.

To care for this item, it's recommended that you hand wash it in warm water, and then allow it to line dry. I would stick to those care instructions as this is a very delicate piece. Mine broke before I got to the washing part, so I can't tell you how this holds up to washing.

Sizing:
Unfortunately Leg Avenue has only made this item available in one size fits most. It's a stretch one size fits most, but when I first took it out of the package I had to laugh. It was so small that I couldn't imagine this fitting any adult. Thankfully it stretched... until it broke.

Anyway, according to Leg Avenue's size chart, the one size should fit someone with the following measurements:
Cups: A-C
Band: 32-38"
Waist: 23-29"
Hips: 34-40"

I wear a small C/large D cup, have a 32" waist, and 40" hips. This piece does fit me, but I don't believe that it would fit anyone larger than me. Judging by the fact that it tore, I'm thinking it might've even been too small for me.

In general, I would say that this item is best suited for those who are on the lower end of the size chart. Sadly this does not include me.

Design:
There's not a lot to the design here - it's simply netting, after all.

The dress has thin shoulder straps. The shoulder straps are not adjustable, which is disappointing.

The dress consists of a tight mesh on the center of both the front and the back, and a looser mesh on the sides. The panels going down the center of the front and back are straight. The looser mesh provides a nice frame for the center panels.

The netting on the front is tight enough that my nipples don't poke through it, as can happen with some net mini dresses.

To those curious about bust support? There's absolutely none with this! No underwire, no padding, net dress = no padding. You could technically wear a bra under it, but I don't feel that it would look right.

Packaging:
This arrived packaged in a little cardboard case. The cardboard case lists basic information about the item on it, and features photographs of the model. As the model has her nipples photoshopped out of the photographs, it's not exactly obscene, but the packaging is still not discreet.

Quality:
In a word? Terrible! It was fraying right out of the package, and the material is so thin that it looks like it'll break if you even look at it wrong. In fact, it DID break. I simply slipped this item over my head when the seam at the arm tore. One might argue that this means I was "too big" for the "dress", but it fit everywhere comfortably so I don't believe that was the issue. I think the problem is this piece is just cheap.

I am giving this one star, but only because I'm not allowed to give it zero.
Follow-up commentary
1 month after original review
This ended up in the garbage shortly after I received it. It tore straight out of the box, and was just incredibly cheap. There was no saving it.
This product was provided at a discounted price in exchange for an unbiased review. This review is in compliance with the FTC guidelines.
Thank you for viewing
Fence net mini dress
review page!