Fit For a Spider
I got this set for a specific purpose, to wear with a specific shirt, and it is great for that. It's also a very affordable set for those looking to get something that can be worn under clothes, with other things, or just for something simple.
Published:
Pros:
$, Can be paired with other thing, Soft lace, Simple
Cons:
Small for OS, Bad for D+ cups, Halter strings are itchy and dig in
This set from Baci is simple and very classic with its lovely lace and is more fuller figure freindly by having larger bands instead of bikini strings. I got this set for a specific purpose. I've got at least half a dozen thongs that look exactly like the bottoms, but the top is what I wanted. I have a top that I bought a few years ago and still have not worn. It was expensive, $75 or so, and has a completely open back. I've contemplated just parting with it or reselling it since it still has the tags, but I've always wanted to wear it. A regular bra looks lame and going braless isn't an option for a top I'd wear to a club to dance in. This halter top is a really great solution for those who want to wear something for support, but can wear a regular bra. It barely holds my D breasts, though! It's much better for B and C cups. It's not the best OS item either. It fits me just fine, but will not fit those on the high end of the OS Baci range.
*Contents/overview:
Two piece set
*Halter top
*Thong
This set is from Baci. It comes with a lace halter top with a solid band of lace going around the back and tie for the neck. It has a matching g-string thong with unique thick lace for the sides. It does not come with the gloves shown in the photo. This set is also available in red and comes in one size fits most.
*Material:
Mixed, soft
These panties are made of 90% nylon and 10% spandex. The lace is thin, but it doesn't feel cheap. I associate cheap lace to be of a coarse nature. This is soft, flexible, and stretchy. It returns to its original shape with no problems either. The lace pattern has a typical flower thing going on. It's nothing special and looks all too familiar, but then again, look at the price. The lace of the pantie's crotch portion and the cups of the bra is different. It has swirls and different scalloping. It's also a little less soft and doesn't stretch quite as much.
It didn't have a smell when it came out of the box.
*Design/craftsmanship:
Decent
The top is a halter with bikini like cups. The cups are very close together and actually touch in the center. When laid flat the bottom band is 12 1/2" long. It's thin and will roll if it is stretched too far. That band is 2" thick and has a very slight scalloping. From the side of one cup to the other, they are only 10 1/4" wide. This makes it harder for women with larger breasts to wear this top. The cups are each 5" wide at the bottom and 6" tall along the middle seam that makes them pucker out a little bit if you don't have the adequate breast size to fill them. The top of the cups have a stretchy and long string for tying behind the neck.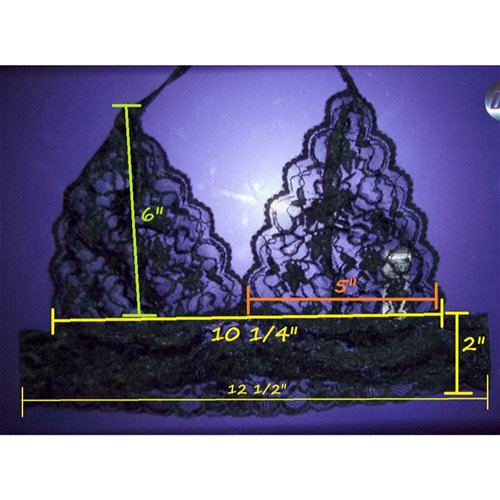 The panties are more typical. They are a g-string thong. The strong attach to the thick band in the back. Laid flat the band is 12 1/4" long and is 2" thick just like the band on the top. The crotch is only 4" wide across the top. This might not cover the vulva of fuller figured women. It's 5 1/2" long before it connects to the string in the back.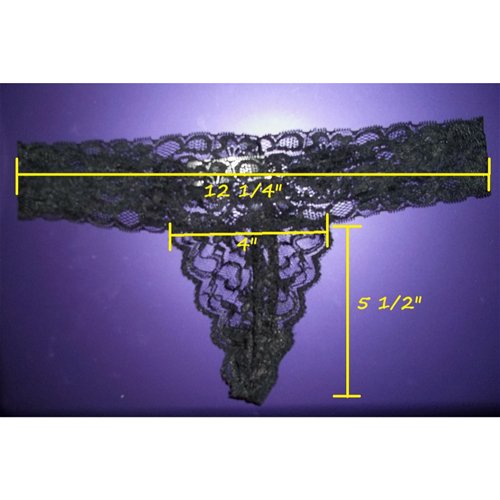 *Cleaning/packaging:
Machine wash, Box
I'm shocked that the tag says these can be machine washed in warm water! If you have a tumbler that often gets things wrapped around it, make sure to wash these in a lingerie mesh bag or in a tied pillow case to prevent snagging. Hang them to dry. I will be hand washing them to preserve the spandex.
The set comes in a plastic bag put inside a slender box with a picture of a model wearing the set on the front. The back has short instructions on care. The box has a hologram sticker proving the authenticity.
Experience
*Sizing:
Fits me for the most part, but won't fit the high end of their OS range
Considering the picture of the rail model and this being OS I was concerned that this would not fit my curves well. It actually does fit pretty well, but would be better on someone with a little bit smaller chest. A C is probably the best but this works for smaller chests too.
The one size says it should fit dress sizes 2-14, cups B-C, band 32-38, waist 24-32", 34-40" hips. and 90-160 lbs. At the time of this review I wore/wear a size 8 in most jeans and am about 144 pounds with a 34/36 D bra, and 38.5" hips. You really don't need to worry about the waist measurement for this.
Lets start at the top. The cups did hold me in unless I did a lot of moving around. They totally don't stay in during sex, I can tell you that much. The band for the top fits nicely and will fit up to 38" band comfortably. Any larger, it won't lay flat and might roll. My breasts do peak out the sides and the top has minimal support. The halter digs into my neck uncomfortably.
The thong fits well, but the area to cover the vulva is small and might not cover everyone in the upper end of the range. It's very comfortable on me, though. I like how it fits and will wear it by itself too.
*Re-done Sizing/BEST fit:
Dress size: 2-10
Cup: B-C (best)
Band: 32-38"
Hips: 34-39" 40"+ might cause band to roll
Application:
Like I said in my intro, I bought this in the hopes that it could offer a bit of support and also not look bad in the back of a shirt that is very open. WIN! Under a shirt, my breasts can't shift as much, and it totally looks better than a black bra in the back. I am pleased with this purchase because of that.
Accessories:
You can wear this as is or add a few things to make it fancier.
How about some
lace gloves
? Shame they are not included.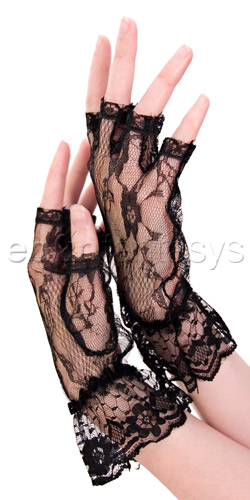 You could add a garter belt and
stockings
too. Or you could just wear the stockings without the garter belt.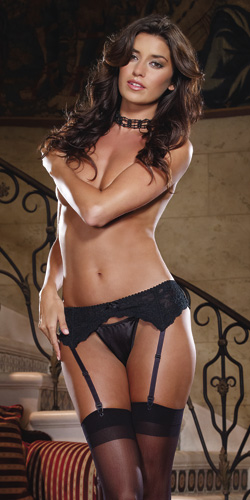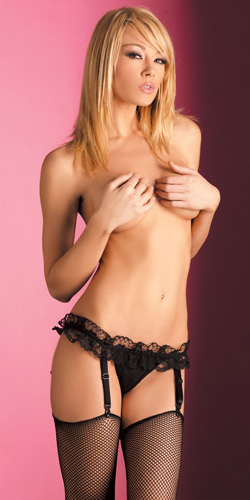 Katarina belt
or
Black ruffled
.
If you want to be more covered up, add a
robe
!
*Conclusion:
★★★★
So why did I say this was fit for a spider in my title? This set gets tangled and twisted while putting on or taking it off really easily! It's also small for an OS size, even though it fit me. It's more of a medium than anything else. It's comfortable, though and well priced. For the price, I expected what I got.
Follow-up commentary
2 months after original review
The Two-piece lingerie set has been great for the purpose I needed it for, but I don't use it for anything else as of yet. I've worn the undies with jeans and under dresses for a seamless look.
This content is the opinion of the submitting contributor and is not endorsed by EdenFantasys.com

Thank you for viewing
Two-piece lace set
– bra and panty set review page!