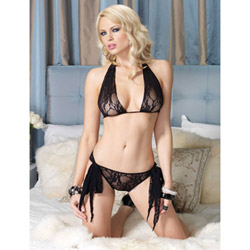 Lace halter bra top and panty
Bra and panty set by Leg Avenue
Fit to be tied (or not!)
This set is slightly different than described. The panties do not tie on the sides; rather they are normal bikini style panties, with two lengths of lace included that you can tie on the panties or anywhere else. The material isn't actually lace either, but it is stretchy and sheer. I was disappointed in this set overall because I was expecting something totally different than what I got, but it is still sexy on.
Published:
Pros:
Stretchy, Comfortable, Sexy, Sheer, Flatters smaller busts
Cons:
Panties do not really tie, No bust support, Bra tugs at neck, Delicate material catches easily
*What is this? How do I wear it?
This is a stretchy bra and panty set. The bra is a halter style bikini top. It ties in back and around the back of your neck. The panties are normal, full-coverage bikini style panties.
*How is it different than pictured?
The picture and description of this set both seem to indicate that the panties have a tie closure on both sides. This is not true. The panties are regular bikinis and come with two 40" long lengths of stretchy lace that you can choose to tie around the sides or not. The panties themselves do not tie.
I also noticed in the picture the side ties appear very wide, but in actuality they're skinny and roll up on themselves. I've tried unrolling them, but they go right back. When tied on the sides of the panties, they look less like pieces of lace and more like long ribbons.
*What kind of packaging does this set come in?
It comes in the Leg Avenue cardboard box. You definitely know what's inside the box.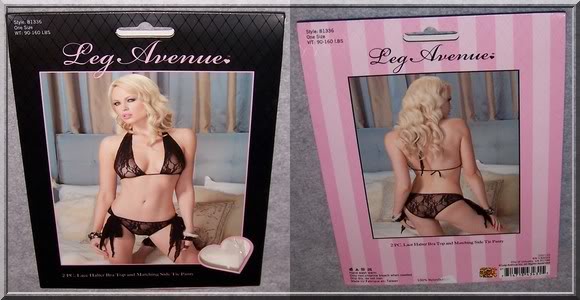 *What is the material like?
The material is 100% nylon, and the tag says "hand wash only, drip dry". I have washed this set in a lingerie bag in my machine and it came out just fine.
This set is very stretchy! It stretches in every direction. While the description says it is lace, I would actually describe it as very stretchy fishnet with flowers in it rather than truly being lacy. The fishnet design still gives the same sheerness of lace, but up close it definitely doesn't look like lace.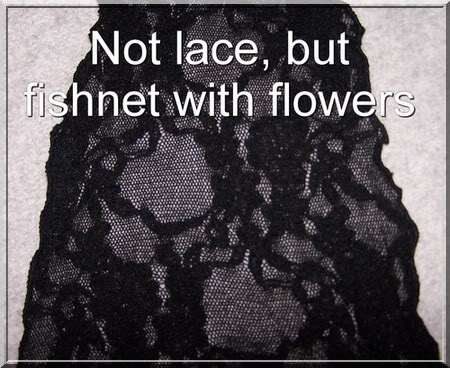 *Workmanship
The seams and elastic seems to be well sewn. The bare edges of the lace, however, on both the ties and the bra have a lot of weird little unfinished string-like things sticking out of them. You don't necessarily see them when wearing the set, but it does kind of make the set feel almost unfinished. The lacy fishnet material also catches on things very easily. As of yet, none of these catches have created a run or a rip though. But this is definitely a set to treat gingerly.
*Bra Details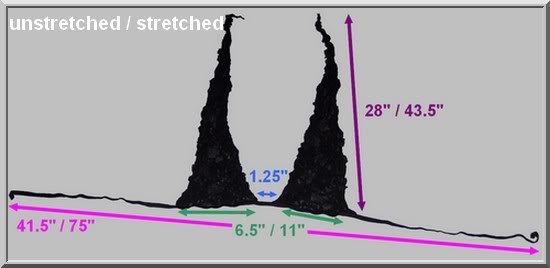 This bra does not have any underwires nor does it offer any kind of support or shaping. Those that will be happiest about how this bra looks on are those who already like the way their breasts look without a bra on. I would also recommend this set for women with smaller bust sizes, perhaps a B cup or under.
*Panty Details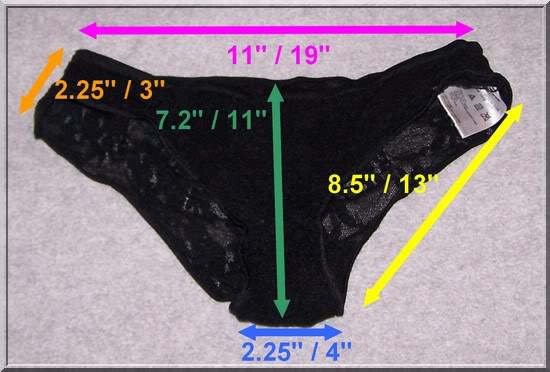 If you like full-coverage bikinis that don't leave you overly exposed, you'll like these panties. They have a basic bikini design, but do not tie on the sides. They are just basic, normal panties.
They do not have a cotton crotch liner, but Leg Avenue did add an extra panel of the nylon lacy fishnet to the crotch area. These panties really shouldn't be worn all day, since the crotch is nylon.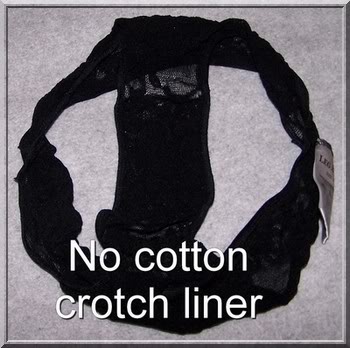 *Side Tie Details

These ties are completely separate pieces, so you can get pretty creative with them. You could choose to wear the panties as plain bikinis, and then use the ties for something else. They could be used to tie your partner's wrists or ankles up, worn as garters around your thigh, worn as wrist or arm adornment, wrapped around your hands and wrists like a glove, used as a ponytail holder, worn as a headband, or any number of other uses you can come up with.
*Fitting/Sizing Information
~General Sizing
This is a One Size set. The sizing chart for Leg Avenue's One Size garments is as follows, with my measurements in purple. I am 5'6", and weigh around 140lbs. I have a fit but curvy body type, or hourglass figure.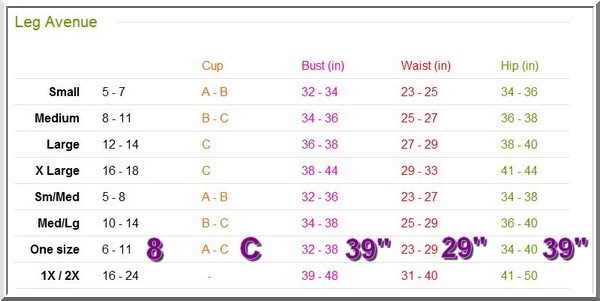 ~Bra Sizing
I have full C cup breasts. While my breasts looked fine in the bra, it really pulled a lot behind my neck. I am not used to wearing halter style bras, and definitely not bras that tie, and this one was painful on the back of my neck. Even with all that pulling on my neck, it really offers no support; breasts in this bra will stay in their natural position.
The cups have room for a larger bust, but I wouldn't suggest it unless you don't mind the tugging of a halter style top. Smaller bust sizes could wear this set, and would probably feel much less pulling and tugging.
Experience
~Panty Sizing
These panties fit me very well. They are really comfortable, and could fit someone a size or two up from me, so the sizing chart is spot on at sizes 6-11. If these panties had a cotton liner in the crotch I'd put them in my daily rotation, they're just that comfortable.



*Experience

~Hers
I was very disappointed in this set. I ordered it strictly because it looked like the panties tied on the sides, and I thought it would be loads of fun to untie them during a sexy strip tease. Sadly, the panties do not tie. Then, seeing the "lace" is actually fishnet with flowers in it also disappointed me.

The set ended up looking really sexy on, but I found the halter bra uncomfortable behind my neck. It even made red marks and grooves behind my neck. The sheerness of the material is nice when worn, because you can see through it somewhat but not completely. It gives a nice tease of what's to come.

I also found it difficult to tie the bra behind my back and behind my neck. If you have long hair, you'll have to pin it up before trying to tie this or your hair will get stuck in it. The bra can be worn during intercourse, but the panties are not stretchy enough to wear during intercourse.

Over all I am not impressed with this set at all. This was the first time I've been actually disappointed in the lingerie I ordered here because it is so different from what the picture looks like. While it does look sexy on, I'm taking stars off because it isn't real lace, the panties don't really tie on the side, and the halter bra hurt the back of my neck.

She gives this set: ★★★

~His
I was disappointed that the panties didn't tie on the sides, since that's what I was most looking forward to. For that misrepresentation, I take one star off my rating. After getting over that, and looking at the set for what it is, I still really like it. My favorite things about the set are that instead of having bra straps, it's the lacy material of the bra itself that ties behind the neck. I also love the deep, plunging neck line of the bra, and the sheer material it's made of is wonderful to look at (and see through). The panties may be full coverage in the back, but they're still sexy because they're so sheer.

So while this set isn't exactly as it was described, I still like it for what it is.

He gives this set: ★★★★
This product was provided free of charge to the reviewer. This review is in compliance with the FTC guidelines.

Thank you for viewing
Lace halter bra top and panty
– bra and panty set review page!