Fits Like a Potato Sack, Not Like a Glove! (OS)
This was such a let down and in a very unexpected way! I never expected this to be too big! The torso on this looks and fits nothing like the model and makes me look thicker not slimmer. Unless you have a tummy you want to hide (not slim out) and you like things being really flowy, this isn't a good pick. A camera adds ten pounds? This babydoll adds like 20. It would make an excellent maternity piece, though!
Published:
Pros:
Gorgeous bust, Soft lace trim, Will fit rounder figures - higher end of OS, Sequin band
Cons:
Fits like a potato sack! Not flattering on my frame, Adds to me instead of accentuates
Perfectly snug to the body and having just the right amount of dazzle, this sweet babydoll looked like the perfect pick. Sadly, it fits like a potato sack! This babydoll is incredibly unflattering for anyone who has a flat stomach. It will add to you and undefine your waist line. It's such a shame because the top portion is so pretty! The sequins band is actually more understated than the photoshopped picture. It might work for those who want to hide a little bit because it doesn't hug, but it won't flatter many figures. It would make an excellent maternity piece, though!
*Contents/overview:
Two piece set
*Babydoll
*Matching thong
The Lace Cup Babydoll and Thong comes in two sizes, OS and PS. It only come in one color combination and comes with a plain black thong. The sizing seems terribly off.
*Material:
Great, gorgeous detailing
This set is made of 100% polyester, exclusive of the trim. The trim is the gorgeously embroidered sequin band and satin ribbon. The mesh is very stretchy and flexible. It's not at all abrasive. As you can see from the pictures, this material is very see through, especially when it is form fitted. The lace is super baby butt soft. It's one of the softest lace materials I've ever felt, but this is only true for the bottom trim. The lace used for the bust is much scratchier and doesn't stretch as much. The band has silver string making up the embroidery and the sequins is a metallic dark grey. This band does not stretch.
*Design/craftsmanship:
Not flattering, No shape
The Lace Cup Babydoll and Thong has a different design in person than it does in picture. It's a babydoll that resembles a potato sack lacking much silhouette form at all. The babydoll has a bikini style top with lace cups that connect to the non-stretchy sequin band. But you don't have to worry too much about sizing there because it ties in the back with a long lace ribbon, allowing for a variety of sizes to wear it comfortably. There is a key hole opening where the ribbon ties.
The cups are 6 1/2" wide but only 4 1/2" tall when flat. They do have some shape to them and some rouching in the bottom where it attaches to the band. They look long on the model, probably because she is petite. The straps are very thin, only 1/4" across. They stretch and adjust like a bra.
When I say this fits like a potato sack, the measurements show its boxiness. It's about 18" across at the bottom right above the ruffles, and from the center of the chest where the cups touch to the bottom of the ruffles it is also about 18 1/2". The ruffles are 2" long.
The thong is traditional. It has string bikini sides. It is 4 3/4" across in the front, 2 3/4" across in the back, and it has a small, thick cotton liner. The back is a little wide for my taste, but it fits fine.
*Cleaning/storage:
Hand wash/box
This comes in a traditional Dream Girl box. It opens from the side and is sealed. If you're careful, it should be reusable. The box shows pictures of a model wearing the product. They are also sealed inside a plastic bag inside the box. Unfortunately, the box says to dry clean only. If I were keeping this, I'd be hand-washing it. Made in China.
*Sizing/fit:
Runs big, very loose
If I've ever had an issue with Dream Girl's OS sizes, it's been rare, and it has been because the item was a little too small. Not in this case. The only place it fits is the chest. The rest is way too big and thus unflattering. After the last OS size I tried was too small, mostly due to the strappy design, I was only a little worried about this being snug. The model must have clamps behind her keeping the dress to her.
The OS says it should fit sizes 2-14, cup B-C, 32-38" band, 24-32" waist, 34-40" hips, and 90-160 pounds.
I weigh ~145 pounds (size ~8); curvy but fit, with size D breasts. My waist is about 30" and hips 38.5". My band is about 34". I wear either a 34 or 36 band bra.
The bust of this is really nice. It provides support as long as the back is tied. It does have a tendency to ride up in the back because it can't be tied tight enough, another area where it is too big on me. This won't be as big of an issue on someone who has smaller breasts.
Experience
I'd say the ideal cup is a large B to C. However, my D chest was not unsupported. Any larger than D might have an issue in terms of coverage and cutting in. You don't have to worry about band, though. It'll fit well into the 40" range.
The top and bottom are the only parts that fit correctly. The lace trim at the bottom is gorgeous and soft. The thong is good too. If only I could crop out the middle of this and insert a better torso fit!
Does this look like the picture to you? There is bunching on this that isn't on the original.
Okay, here it doesn't look half bad. I got it to look like this by standing up straight holding the material to me, and pulling it down. This is what it looks like in reality...
POTATO SACK!
This "plus size" model is much closer to my frame, but a PS would be like a tent on me.
My Re-done chart: For the OS
Runs large, Certainly will fit a variety of sizes, but won't look flattering
If you are thinking of buying this and you are petite or even average, I'd skip it. This is better for those with fuller figures.
Dress: 10-16
Cup: B-C (C best, but will fit D just fine)
Band: 38-42" (underneath your breasts)
Waist: 32-40"
Hips: 40-44"
*Possible accessories:
You can totally go bare legged with this or wear stockings. I'd wear, solid stockings with a lace top, preferable one with beading or sequins if you can afford/find it. Here are some plain ones that could be worn with many other things too:
Lace thigh highs
.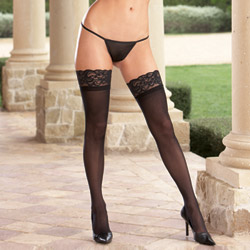 For heels, you can totally get away with wearing a lower strappy heel. This dress has a sort of innocence about it, so I wouldn't over do it with a heel that is too extravagant.
*Conclusion: 3 stars - ★★★
Considering the fact that this should have been small on me, if anything, and it doesn't look like the picture in the body, fits like a potato sack, and adds to my frame, it doesn't get anything higher than a 3. I'd give it a 2 1/2 star rating if I could. It will totally work for rounder bodies, but doesn't do justice to mine. It would make an excellent pregnancy piece. If I was planning on being pregnant any time soon, I'd keep it for that, but I'm not. -knock on wood-
I originally gave it 2, but the community pointed out that a babydoll shouldn't even look like the picture.
Follow-up commentary
2 months after original review
I tried to make this fit better by tying a black ribbon around my waist but it only increased the bunching. It is officially getting returned.
This content is the opinion of the submitting contributor and is not endorsed by EdenFantasys.com

Thank you for viewing
Lace cup babydoll and thong
– babydoll and panty set review page!