Fits Most, Flatters Some
One size may fit most in this particular case, but that doesn't mean it has to be super flattering. I loved the back of this but thought it clung the wrong way on my hips. The material is soft and comfortable but did start to fray a bit very quickly. My husband loved this while I thought it was okay at best.
Published:
Pros:
Soft net material
Will fit large range of sizes
Comfortable
Sexy back design
Cons:
Rides up
A little too clingy to be flattering on me
Confusing to put on
My husband and I both love all things fishnet so when I saw this I had to pick it up. I loved the detail on the back and figured the fishnet material would appeal to my husband.
This net mini dress comes packaged in pretty standard lingerie packaging. It's a little black package with a picture of the dress on the front and the back. It includes information on material and care but in case you lose the packaging there's also a huge tag on the dress that includes this information.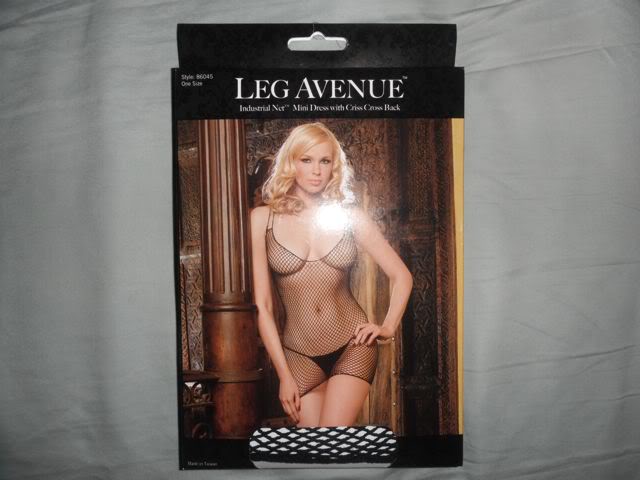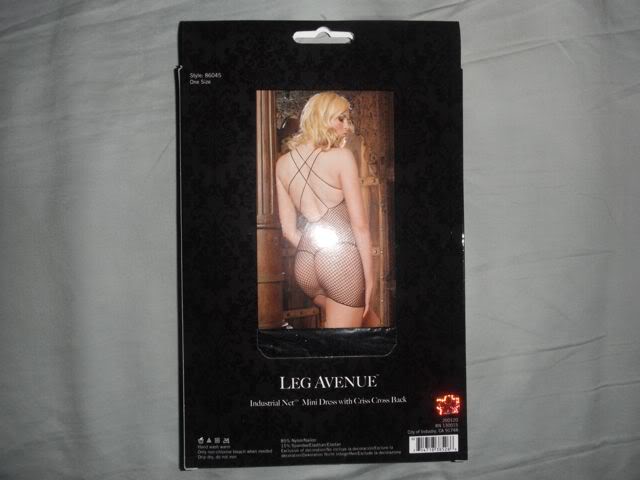 The material is thicker and softer than I thought it would be. Most net lingerie (but not all) that I have is thinner and more stocking-like than this piece is. That type of material gets uncomfortable after a while and can dig into skin a bit. This material still did cut into my skin a little but not nearly as much as my thinner nets do. It feels much more like a cloth than a traditional net. I could wear this for extended periods comfortably. It's made of 85% nylon and 15% spandex. It's not quite what I would call a plush material, perhaps just thick or full.
Compared to one of my other nets: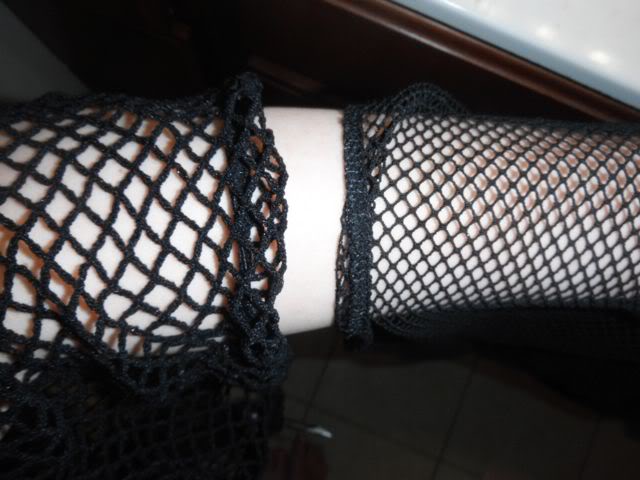 I did notice that after a few uses there were a few frays forming in the material. It's a nice feeling material but now I'm a little concerned about how long it will last if it's starting to fray so quickly. This picture was taken at the top of the piece where the netting meets the straps.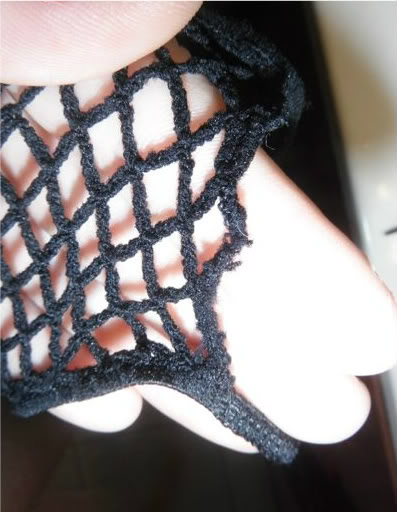 Make sure to hand wash this dress. I usually throw everything in my wash on delicate but considering it's fraying before I even got the chance to do more than a quick hand wash, this one will not be going in my washing machine. Hang this out to dry, no putting this in the dryer. This kind of goes without saying, but don't iron this either.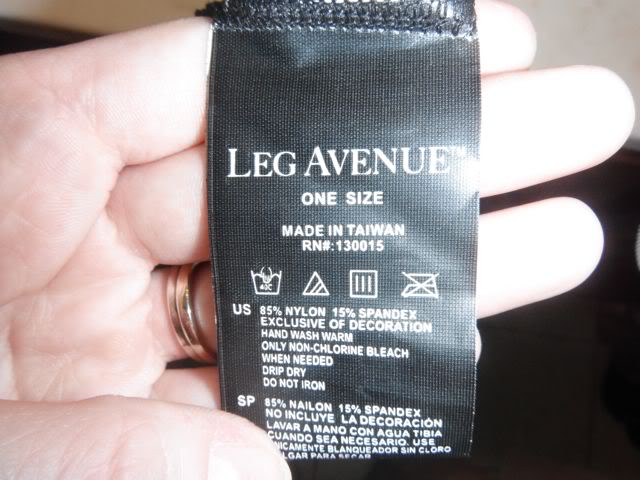 This is a one size fits all piece. I hate that term because there's no possible way to make one garment fit every person in the world. This one comes out of the box looking like it might fit a babydoll. Luckily, the spandex gives it a lot of stretch. When measured, non-stretched, the garment is 20.5 inches long and 5.75 inches wide. I got it to stretch out to around 22 inches wide. There is enough stretch to this to likely accommodate most body types. There's no support in the breast area whatsoever. There's not even that little line you get sometimes in a piece that you can wiggle your boobs in to push them up a little. As a bigger busted girl, I do wish this had some support worked in somehow. The seams have a lot of stretch to them, just like the material itself. It's about the same quality as the net material where I can see the starting of some frays here and there.
Experience
For the record, my measurements are:
34DD/36D depending
28 waist
39 hip
Size 4/6 dress
I generally fit most "one size fits all" outfits, however, while this did fit me I found that it accentuated the bits on my body that I'm not quite so fond of. It clings very tightly. I'm a bit hippy and I found that this made my hips stick out even more, or at least it made me feel that way. Since I prefer lingerie to hide the things I don't like on my body rather than bring it out, I felt not quite as sexy as I was hoping to in this outfit. I didn't hate it, but I didn't feel like a sex goddess in it either. I am in love with the back of this though. If I could take the back of this dress and put it on something a little more forgiving on my hips it would be perfect. The back makes a pretty criss-cross design that is to die for. On the other hand, my husband seems to think this is a very sexy little number. He went out of his way to tell me how hot I looked in this multiple times.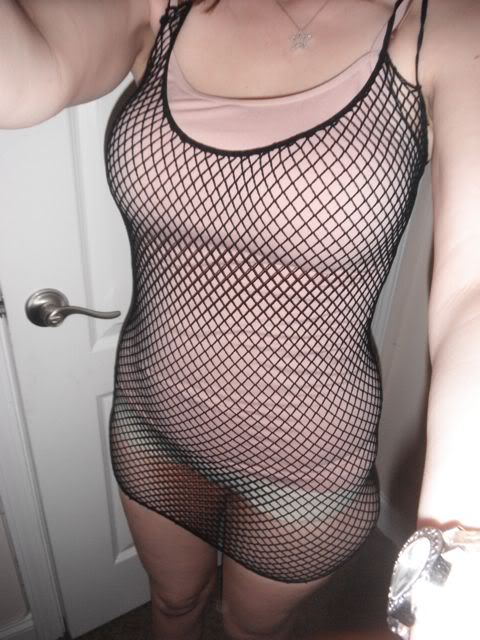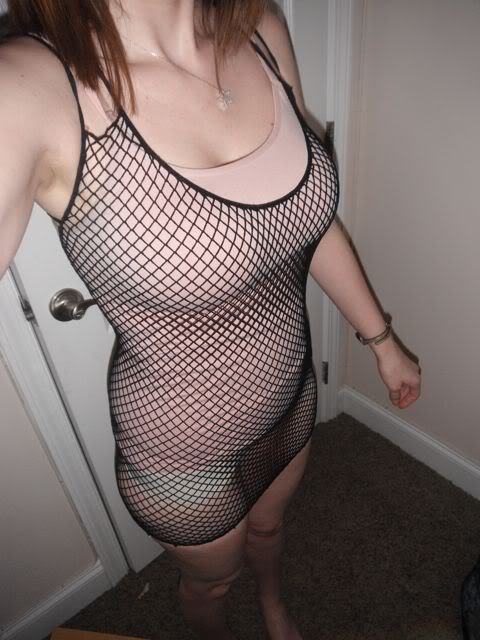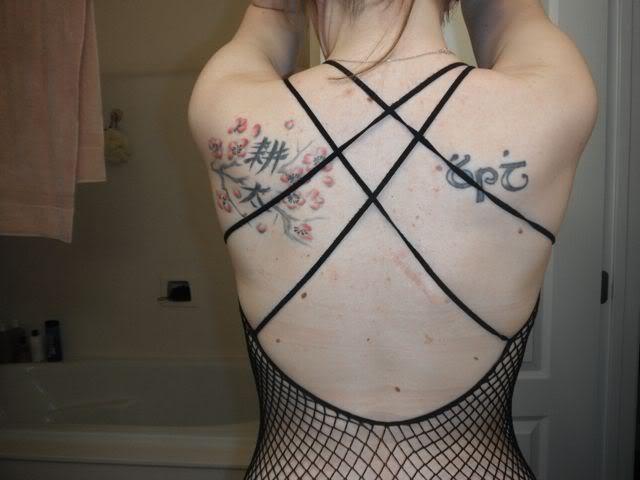 Another annoying thing, is that this rides up like crazy. All of the length is due to stretch and it naturally wants to jump back up. I was tugging at this not only during sex but also just walking around in this. This happens when sitting down, standing up, pretty much any position you can imagine. If you're really crafty you might be able to attach a garter clips to the seam, however it would likely be difficult as the seam at the bottom is only 5mm. I couldn't do it, that's for sure. I'm not sure if this would totally solve the issue either as the sides would still want to ride up.
The netting does allow for jewelry to easily get trapped in it. I have my belly pierced (barbell only, no dangles on the ring I currently have in) and when I put this on it would catch on and pull up. Just a side note, as it's something to watch out for.
It also took me ten to fifteen minutes each time to get this little dress on. Because of the criss-cross on the back there's lots of little string all over the place and I ended up so confused that two times I ended up with the bottom on the top. Now, I'm super dingy so you may have better luck than me, but there's nothing I hate more than lingerie that takes me more than two minutes to get on.
In the end, I'm giving this three stars. My husband would probably say five, but I'm knocking his down based on the fact that if I feel self-conscious in something I can't very well give it five stars. I'm also knocking it down for fraying so fast, riding up, and being confusing.
This content is the opinion of the submitting contributor and is not endorsed by EdenFantasys.com

Thank you for viewing
Industrial net mini dress
review page!