Flattering Neon Pink Chemise -- Hole in Side Free of Charge
The neon-ish pink color of this, and the fact that with a little work, I turned this into a very stylish, fun top for public wear is about the only reason I love this. It is so flattering as a top with a black camisole underneath & is comfortable. However, Dream Girl is severely lacking in quality when it comes to this piece. The hole in the fall-apart-material plum pissed me off & the sleeves are ugly & uncomfortable. However, I actually love how it looks on me, after the minor fixes.
Published:
Pros:
So pretty.
Flattering.
Great fit.
Cons:
Had a hole.
Sleeves are a pain!
Quality is lacking.
This is a beautiful, neon-ish pink chemise & useless, horrid G-string. These are not the pastel pink that the product photo shows. It's made entirety of a mesh-like material that feels like it has tiny fibers of elastic blended it, if that makes any since. The name "Daisy Lace Chemise" gives the impression that it's a lacy top, but it's not. The only lace on the top is the 2" wide trim that makes the V-cut at the neck and the trim running under the bust to back, and the trim around the sleeves. The lace strip under the bust and the long-ish waist creates the look of empire waist and is extremely flattering. This material is actual lace, not a lace look alike, and is pink with a floral pattern in the lace. Honestly, the chemise would've been more durable if entire top was made of this elasticy lace instead of the mesh-like material.
This is simple piece that doesn't quite look like lingerie, but not quite an actual top. But when you throw a little Kendra into the mix, you end up with both! You've probably already guessed, but yes, I ended up wearing it as a top by layering it on top of a solid black camisole, and it looks wonderful! This makes a stylish, bold top, but also works as its intended purpose -- a lingerie chemise. For me though, it just wasn't my idea of lingerie as I like something more on the sexy lingerie side like a corset or something less simple.
I've taken several photos of the front & back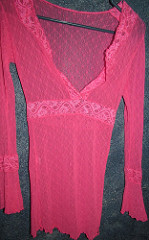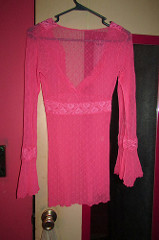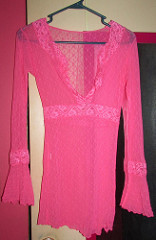 The entire garment (aside from real lace detail) is made of this pink, transparent material that looks like lace. The pattern of the "lace" looks like flowers & little polka dots to me. It is a long-sleeved top, and about 4" above the wrist, the sleeves are capped with the 2" lace trim I talked about, and then the portion that dangles over your wrist in a baggy, 70's style design is the mesh material. The sleeves measure: 17 1/2" long, 6" of that being the lace strip that hits a few inches above wrist and then flows out with mesh fabric.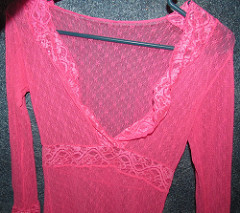 The lacy trimmed V-neck tends to sag a little rather than lie flat against my chest like it should, and when worn as lingerie, with nothing underneath, it just hangs off & doesn't look very fitting. You can see it gaping in the photo of it on the hanger above. This is how it basically does on me.
Material & Care
100% Nylon.
Handwash separately, drip dry, do not bleach.
The material is very delicate, but soft & not itchy. It feels cheap and is easily snagged or damaged, which you'll see proof of in a moment. It's similar to the fabric of body stockings, only not as stretchy and definitely not as durable. When you first get a body stocking it's very tiny, but stretches to fit exactly to your body. This isn't quite like that. When it's not on you, it's a regular size, not tiny and while it does have stretch, it'll rip if stretched too far. This is one item that won't accommodate over a size extra large since the mesh would rip, but it'll fit several sizes fine.
About that proof of damage. This is extremely upsetting for me because I love this chemise, but when it arrived, there was a hole in the left side. It looks like a rat chewed it up, but the only reasoning I could come up with -- since this arrives in a closed box -- was that it's been sitting around for some time & perhaps the very delicate material began to degrade and come apart. Or it was ripped all to hell during manufacturing and went unnoticed. It's noticeable while I'm wearing it, but I love it so much that I bunch the fabric up where the hole is to make it less noticeable. I could've sent it back and demanded a new one, but I worried it'd go out of stock in my size or be discontinued & I'd just be stuck without one at all. Also, there's the issue with me cutting the nudity images off the box and rendering it useless, and the fact that it's hell to track down a UPS man to send something back (my area does not have a UPS office and the post office charges me to re-send anything back.) I took 2 photos of the hole -- one with me wearing it, so you could see how it looks and one without it on me.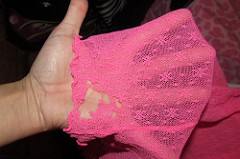 Made in Taiwan.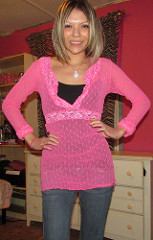 Experience
Chemise's Measurements
Size: One size fits most.
Length from top of neck to hem: 24".
Bust 12" across.
Underbust, where lace trim runs around: 11" across.
Waist & hip measure 11" across.
My Measurements
Bust: Right: between a B and C cup. Left: 34B
Jean/shorts/size: Zero
Weight: 93lbs
Height: 5 2"
Waist: 26" Lower waist. Where I'm a bit wider, the love handle area: 29"
I have a decent amount of room left in this. It doesn't fit tightly, and will easily accommodate several sizes without stretching. I
think
it'd fit a size large, but would be clingy. It's very flattering on a size small to medium though.
The g-string is crap. It's made of the same material as the top and has the typical elastic strips to make the waist & the butt-crack string. I actually did like that this wasn't super long causing it to sag in the crotch like most lingerie g-string, but the craftsmanship is horrid. It looks like a child tried sewing the elastic together in the back, where the "T" forms. If you look at the photos, you can see how crooked and badly sewn it is. It has no crotch liner and provides minimal coverage. It barely covers my entire crotch.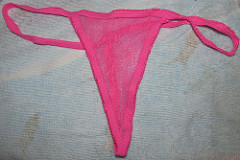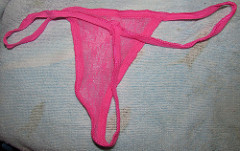 Let's talk about the sleeves. I hated the look and as I said, they were very uncomfortable.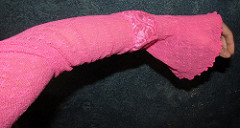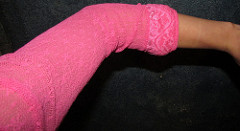 I rolled the sleeves up and made it look like quarter length sleeves, as my before & after photos show. I liked this better both looks-wise & comfort-wise. I ended up rolling them up because the lace trim that runs around the sleeve lands about 4 inches above my wrist, so it kept bothering me because it felt like a long sleeved shirt that was too short or riding up or it gave me that feeling that my elastic hair band was riding up on my arm, and was very uncomfortable. Also, the flowy portion of the sleeves kept wallowing all over my hands and getting in the way. I had the urge to constantly pull my sleeves down.
Packaging
As usual, this came packaged in a trashy, little paper box with photos on front & back of a person wearing it. Not suitable for gifting. It's folded inside over a piece of thick paper, so you could DIY your own gifting package.
Follow-up commentary
1 day after original review
Experience

I love the fun, flattering chemise for wearing out with a cami underneath. It doesn't do as much for me as lingerie, though. The bright color is fun & kinda puts me in a nice mood. I feel lovely and flattered in this, very much. It's comfortable and I love how it fits on my body without clinging. On the other hand though, it's cheaply made, the material isn't durable & it snags easily and looks like it won't hold up very long since it arrived with holes already in it. Due to all these things, I feel it's overpriced. You can get better quality lace tops for so much cheaper, but they aren't easy to find in this shade. It's something I'd really love to wear more than just once or twice, but I'm not sure the quality will hold up for this to be added to my regular every-day wardrobe.

The only reason I'm giving this a good review with 3 stars is because I love how it looks on me, I'm able to wear it out & the comfort. Otherwise, it's not that special. I worry about it falling apart from a simple handwashing! I also hate those sleeves. The look of them really takes away from this stylish top, unless they're rolled up. The few stars I gave this are mostly because it's flattering and comfortable. Dream Girl's quality though, isn't deserving of much more than one or two stars when it comes to this piece. I can give them credit for the gorgeous color, comfort, great fit & the placement of elastic lace strips.

This content is the opinion of the submitting contributor and is not endorsed by EdenFantasys.com

Thank you for viewing
Daisy lace v-neck chemise
review page!