Flattering New Bodystocking!
This bodystocking was great! Despite a few issues, this fit pretty darn well and was comfortable enough to wear for extended periods. On top of that, it really looks great from every angle. I can't see anyone being displeased with this, so if you're looking for a new bodystocking or more simple lingerie, look no further!
Published:
Pros:
Fits Smaller Women Well
Nice Print Design
Comfortable
Cons:
Slightly Loose Fit
Buying lingerie can always be tricky business, especially when it's only offered in 'one size fits most.' In fact this bodystocking, made by DreamGirl doesn't even have a size range, just a weight range of 90-160 lbs. Since my girlfriend is on the small side, usually the one size leaves a little to be desired. Measurements are roughly:
100 Lbs.
Height - 5"
Waist - 25-26"
Bust - 36"
Yet, to our surprise, this fit fairly well! Here are the issues we had with the bodystocking/things you should keep in mind:
1. The neckline was far too large. The picture shows it simply as a plunging neckline, yet it was so wide that it was almost impossible to keep on her shoulders. This wasn't the end of the world though, it looks more or less just as good as an off-the-shoulder design. Someone who's not quite so small might not even have this problem.
2. The opening for the crotch was much smaller than we've come to expect from other similar products. Usually there's a few inches in each direction to make sure there's no chance at all the stocking can get in the way. This isn't true here, it's pretty much just enough to allow you access. This isn't a major complaint, because it never truly got in the way during sex, just something to keep in mind.
3. The sleeves were longer than 3/4 length. But someone who isn't so short won't have this problem, and it definitely doesn't take away from the stocking anyway.
Other than these little issues, everything else fit like a glove. Now, since over all it was a fairly snug fit for my rather small girlfriend, if you're towards the higher end of the 90-160 Lbs range, or large chested, I would recommend to go for the plus size, if for no other reason than to make sure that you're comfortable.
Material:
This stocking is made out of 95% Nylon and 5% Spandex. I can report that it's perfectly comfortable to wear! In fact, if you would like to, you can even wear this all day under your usual clothes in anticipation of your evening. While it's fine for the wearer, because the mesh holes are so wide, it is a bit rough to the touch from the outside. Not a major turn off though.
As far as I could tell, there were no loose or fraying threads. This is well made and it shows.
Design:
The leopard print actually is a nice touch. Usually I'm not a fan of animal prints, being a bit too loud/in your face, but being the same color as the rest of the stockings, they were toned down and acted as a good accent. The print looks exactly like the stock photos as far as I could tell.
Care:
The packaging says to hand wash cold only and line dry. Being a bit lazy, we put this through a cold delicate cycle in our washing machine with her other stockings and it came out no worse for wear. Granted, if you have the time, you should wash it by hand, but if not don't sweat it too much.
Packaging:
The packaging was fairly nice. It was a printed cardboard sleeve over the actual stocking. I've included a picture for reference, since there's nothing in the stock photos. Personally I'd say this would be perfectly fine to give as a gift.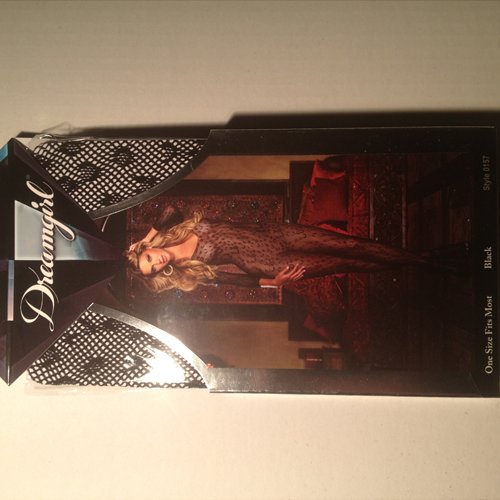 This product was provided free of charge to the reviewer. This review is in compliance with the FTC guidelines.

Thank you for viewing
Zimbabwe
– crotchless bodystocking review page!