Float like a butterfly... feel like a Queen!
A bit different from its product pictures, this chemise set is still feminine, sexy and comfortable. Easy to put on and take off, this chemise can either be worn under clothing, or by itself for a special night in. While it doesn't conceal any minor figure flaws, it is still quite flattering to curvy, hourglass figures. I'd buy this set again in a heartbeat!
Published:
Pros:
Underwire cups, Strappy back positions itself, Not itchy, Stretchy, Comfortable, Hugs curves
Cons:
Only 2 sizes, Hugs curves, Won't hide slight figure flaws, Boring g-string included
What is this, how do you wear it?
A chemise (pronounced \shǝ-meez\ or \shǝ-mees\) is basically a fancy slip. You can put it on over your head or step into it, and it hugs every curve.
The Butterfly Chemise Set by Leg Avenue has: adjustable shoulder straps, sheer and lace panels, underwire cups, a strappy back and a sheer g-string. It can be worn in the bedroom, or worn under a dress or skirt.
I got the M/L size, so keep that in mind as you read my review.
How is it different from the product pictures?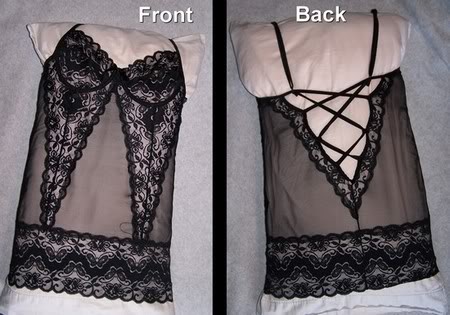 The front panel looks opaque with a sheer side and back in the product pictures. In reality, the front panel is completely sheer also. You can see your bellybutton and the g-string in the front quite easily.
Packaging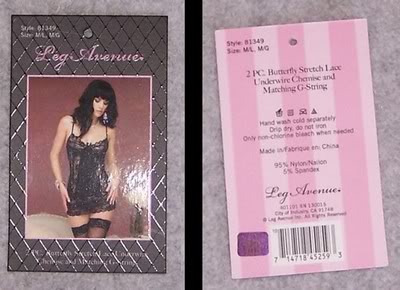 The two piece set came in a thin plastic bag with no hanger.
Material & Care
Both pieces are made in China of 95% nylon and 5% spandex. Washing instructions are: hand wash cold separately, drip dry, do not iron, only non-chlorine bleach when needed.
Workmanship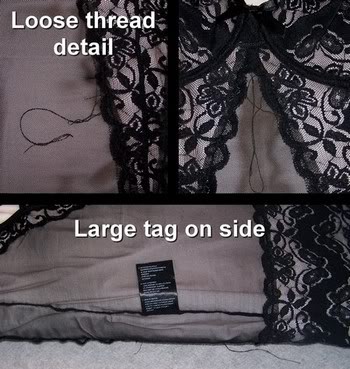 Overall, I do feel like this is a very well made piece. The material itself does not feel fragile or overly delicate and it is not easily caught or pulled on sharp edges. The seams are also well sewn. I did find some long, loose threads in 2 places on the bodice, but they were easily and safely removed, and did not damage the garment.
There is also a rather large care tag in the side of the chemise that is easily seen. You'll probably want to carefully remove it.
Measurements
~Chemise~
The shoulder straps have plastic slide adjusters, like bra straps. They adjust from 9" up to 17" and stretch up to 22". The underwire cups measure 5" across, are unlined, and have one horizontal seam through the middle. The lace at the top of the cups is scalloped. There is a small bow between the two cups. It's non-functional and can be removed.
Coming down from the cups are two panels of lace, with a panel of sheer mesh between them. The lace in the bodice is not stretchy, but the sheer mesh is stretchy. The waist of the bodice measures about 13" across unstretched, and 16" across fully stretched.
At the bottom there is a "skirt" of stretchy lace that is 5.5" long. The top and bottom of this lace panel are scalloped. The chemise measures 18" long from under the cups to the bottom of the skirt.
The back of the chemise is mostly made of sheer, stretchy mesh. There is a 9" deep V cutout in the middle of the back. This cutout is framed with 1" wide lace and has crisscross straps.
~G-string~

This simple g-string is made of the same sheer mesh that the chemise sports. The waist band measures 12" across unstretched and stretches up to 18.5". The front triangle measures 7.5" from waist band to crotch, and has a 3" long cotton crotch liner. The g-string measures 4" from crotch to waist band, and stretches up to 8".
Fit & Sizing
I got the M/L set, basing my decision on the sizing chart. The sizing is pretty much spot on. Below you will see the Leg Avenue sizing chart, with my personal measurements in red.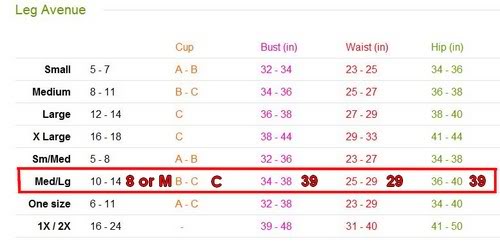 The M/L will quite likely fit up to a size 12. The cups can accommodate a larger or smaller bust.
I am 5'6" and around 140lbs. I have a fit but curvy (or hourglass) body type, and most of my height comes from my legs. From my shoulder to my bellybutton I am about 17". This chemise was just a bit longer on me than it is on the model in the picture. I had to pull the skirt up just a little so that it let the bottom of my cheeks hang out a bit.
I can actually step into this chemise or put it on over my head, which is nice because I find it much easier to step into. I often have trouble doing that because many pieces of lingerie won't come over my hips. This one allows for that with no trouble, and still fits me like a glove.
The Butterfly Chemise hugs every curve, which is both a blessing and a curse. It can certainly enhance any curves you do have, but the downside is that it may highlight slight figure flaws like tummies or love handles.
Experience
~Hers~
★★★★

I love this chemise! It's extremely comfortable, and the underwire gives some nice bust support. I wouldn't want to sleep in this, only because I am not used to sleeping in an underwire and I find it uncomfortable.

Since this was a bit longer on my torso than I expected, I just pulled it up a bit. The ruching this caused in the bodice was a big bonus for me, because I was able to gather it up around my tummy so I had zero self-consciousness about my tummy area. The ruching made it much more forgiving.

I was also surprised how easily the crisscross straps in back sorted themselves out automatically. I didn't have to do anything to place them or spread them out, as soon as I slipped the chemise on and positioned it the straps worked themselves out perfectly and stayed in place.

The material is nice and soft and not itchy in the slightest. The sheer material is super sexy and still manages to leave just a little to the imagination.

The chemise can easily be worn during sex. The skirt can be pushed up, and the straps are easy to slip out of so you can get to all the important areas.

The g-string was as comfortable as your average g-string, but was so plain I actually wore some other lace panties I had instead. The g-string could easily be worn under pants, or with any other lingerie set that needs a simple, black g-string.

I felt like a comfy, confidant sex-kitten in this chemise! I loved how it accentuated the curve of my butt too. A great piece overall, I give it 4 stars! The only things that keep it from being 5 stars for me are the loose threads I found, the boring g-string and the fact that it didn't come with a hanger.


~His~
★★★★★

I've always felt that lingerie should tease rather than advertise, and this chemise does that wonderfully well. The garment balances the sheer mesh with the less-sheer lace perfectly. It hugs curves in all the right places, playing to the strengths of an hourglass figure. The skirt is a good length for anyone who enjoys their partner's derriere and the strappy back is quite alluring.

While not my favorite set, I can't find any reason to give it less than 5 stars. I will agree, though, that the included g-string is pretty boring.
Follow-up commentary
12 months after original review
This chemise has been pretty durable! I have found that with repeated washing I often need to pick off, or cut off, loose threads after a wash. I have washed it repeatedly in a lingerie bag in the washing machine, and it's done fine (other than the loose threads).

The back straps are still in great shape, and so are the underwires. My Butterfly Chemise has proven to be both beautiful and sturdy - what a nice surprise!
This product was provided free of charge to the reviewer. This review is in compliance with the FTC guidelines.

Thank you for viewing
Butterfly chemise set
review page!