Flowy, flattering and feminine... as long as the ties are long enough.
The sparkly sequins, ruffle trim and pink ribbons are what makes this dress. Unfortunately, the ribbons will be too short for a lot of girls, rendering this dress useless for them. Besides that and the fact that this isn't really high quality, it's pretty and feminine and flowy. It flatters my body as long as I'm not wearing anything underneath, and I think with some adjustments, it'll be beautiful on many ladies.
Published:
Pros:
Sparkly sequin trim.
Ruffles.
Pretty ribbons.
Looks & fits lovely!
Cons:
Ribbons aren't long at all.
Oh, my love for cheap, tacky little things. I never can resist. This innocent lacey dress with a smidgen of feminine ruffle, hot pink ribbons and a bite of sparkly trim -- that's exactly how some people would describe my style. Despite this being cheapish, it looks lovely and stylish on.
Some will be happy to know that this comes with a sidekick -- a g-string of the same material. As lovely as the little things are, they're ugly and useless when on.
The product page lied to you when they said this was 30" long. I don't know what they were measuring, but it dang sure wasn't this dress. At 22 1/2" long from bust to hem (including all trim), this is far from 30", but still long enough to barely cover my bee-hiney.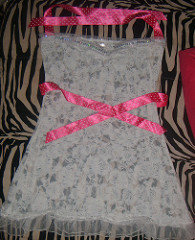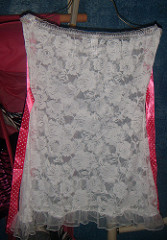 The simple white rose-patterned lace becomes stylish with hot pink and white polka-dotted ribbon ties. The sheer white, shimmery, ruched tulle with sparkly sequins running through it -- that measures slightly less than 1" wide -- lines the bust and back, while the hem is lined with 2" sheer white tulle to add ruffle. And oh how I love ruffles, bows and sparkles. As I often say, "the tackier the better!" Only joking, this isn't tacky.
The garment is simply made and it shows. Looking at it almost looks homemade. Not that it's bad, but the way it's put together is really amateur-looking, to be honest. I could easily sew this dress myself with little trouble, and I'm pretty beginner level.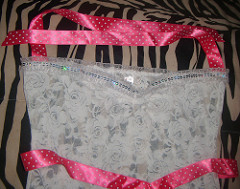 The 14" wide bust features a subtle V-neck and ruching between cups, neither are drastic.
The rose patterned lace is both very transparent and soft. It isn't as transparent as some mesh lingerie, but you can see skin. The somewhat large rose pattern seems to do some concealing. Without looking closely, you wouldn't be able to make out the exact size of my nipples or other small detail.
This mini dress has four hot pink ribbons. One on either side of the chest and one on either side under the bust. The chest ties are halter ties, meant to be tied behind the neck to hold the dress up. The others meet in the middle of the upper waist and tie in a bow all pretty like. Bad thing is, they're short! I don't have much room to tie them, but they work. I feel in order for this to comfortably fit anyone other than a XS or S, they should've been made longer.
Everything about this dress and g-string is soft and totally comfortable, and while I don't actually feel any discomfort on my skin, the pink ribbons with white polka dots are cheapy and stiff. Pretty though, but I have the exact same ribbon that I bought from a craft store only it's thinner and it's not near as stiff. I don't think they'll fray or damage easily, but they did strike me as cheap and stiff.
Thankfully, Music Legs only skimped on the ribbon length and not the dress. The entire dress is semi-flowy, not baggy at all on my small size, but very roomy and plenty comfortable.
The dress sort of flares out as you near the hem line. I like this since my figure is hour-glassy and I don't like for things to overly-highlight my love handles. This dress clings showing my every curve when I wear a cami underneath (as shown in photos). Without the cami, just wearing my naked self underneath feels much better and it doesn't cling to my every curve at all. The upper waist measures 12" wide leaving more than enough room for comfort.
The mid section flares out to 14" wide, adding some gathering to the "bodice" part (especially when I'm wearing no cami underneath). Near the bottom flares out even more, measuring 18" wide. With no cami added, I love the way this rides over my body and doesn't hug my love handles.
The hem, where tulle ruffle trim appears measures 22 1/2" wide leaving plenty of room for hips, or if you're like me, it'll just be flowier.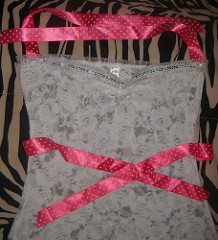 This dress has no real support. There isn't underwire. You only have a transparent lace material that's held up by the halter ribbons. The lace is sturdy, soft and will stretch a bit, but any larger than a medium will find this clingy. This may even cling to a medium, but won't do so uncomfortably. Wearing a cami underneath like I did will create some cling.
MY MEASUREMENTS:
Bust: Right: between a B and C cup. Left: 34B
Jean/shorts/size: Zero
Weight: 93lbs
Height: 5 2"
Waist: 26" Lower waist. Where I'm a bit wider, the love handle area: 29"
Experience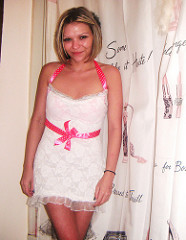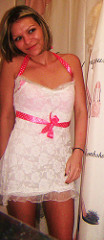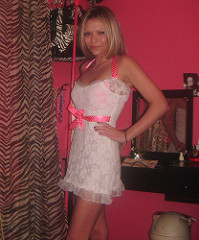 MATERIAL: 90% Polyamide, 10% Elastane.
As for cleaning, the tag says "wash deep colors separately," and that's all! I hand wash it. With a lingerie bag and using delicate cycle, I feel it'd do fine, but do so at your own risk.
The tag also has in bold red text "KEEP AWAY FROM FIRE." I'm assuming this baby is flammable, so unless you want your pretty lace to turn into a pile of black ash, do keep it away from flames.
As for that ol' g-string, I doubt many will care for it. The side had a crappy seam, as you can barely see in the photo. I didn't mind much since it looks awful on anyways. It's totally soft white lace, just like the dress. It's your typical, high rise, ill-fitting g-string with the lacey triangle in the back. It does have a cotton crotch liner.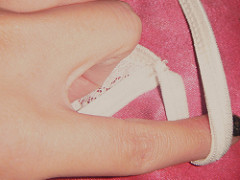 Made in china.
When I seen this first arrive on EF, I loved it, but wasn't expecting much since every Music Legs piece of lingerie I've had was just horribly cheap and ill-fitting. When it finally came back in stock though, I couldn't resist. I love the unique bit of detail with the everyday white lace material. This is certainly a step up for Music Legs, but it's still not even close to high quality or classy. Now a Coquette version of this would so be fab!
And I'll admit, I did hope that I'd be able to find a way to wear this out. I can't help myself, OK? Just like in my photos, I had hoped to wear a white cami underneath and add my pink spandex shorts underneath. Since I feel this is slightly too clingy on my love handles when paired with the white cami, I don't think I'll wear it but once or twice. It just looks so much pretty without anything underneath.
The length of this is fine for someone who's around 5 2" like me. On me, the front hits well below my crotch, but the back barely covers my hiney. You can see in my photos though, that the long cami underneath did almost make this a real dress. Honestly though, it's best use will be lingerie or as a top.
I'm happy with the way it fits and looks, especially since I love the pink ribbons, sparkly sequins and ruffle trim. Those details are what makes this anything but a plain ol' piece of lace. I wish the ribbon ties were longer because being as short as they are, a lot of girls won't be able to tie them, making this useless. That's a huge bummer, but if you love it so much, you could always easily take those ribbons off and add your own! Like I said, I already owned the exact same ribbon only it was thinner and softer. A trip to the craft store and no more than $3 max and you'll have your own customized beautiful and sexy lace dress! You could even go for elegant and choose satin black ribbon.
This content is the opinion of the submitting contributor and is not endorsed by EdenFantasys.com

Thank you for viewing
Floral lace mini dress with bow
– gown review page!