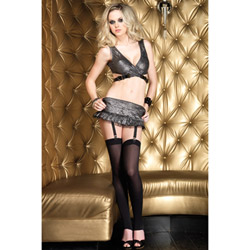 Foil wrap top & ruffle garter skirt
Bra and panty set by Leg Avenue
Foil Wrap Top & Ruffle Garter Skirt (Large) Review
This gorgeous two piece set is a must-have in my lingerie drawer. I feel sexy every time I put it on, and I frequently find myself modeling. It's not a very high quality piece, but at 40%, this was a great buy. If you can pick this up on sale, I'd highly recommend doing so.
Published:
Pros:
Sexy!, Stretchy, Makes me feel gorgeous, Provides some bust support, Metal garters
Cons:
Belt is a little cheap, Can be itchy, Not high quality, Attached garters, Garters aren't adjustable
When I saw it on a clearance sale at 40% off, I knew I'd regret not buying this. At $23.99 (40% off), this was a great buy. At $39.99? I would've been a bit disappointed. My advice is to snatch this up on the clearance sale while you can! It's definitely worth it.

The Basics:
Leg Avenue brings us this sexy little set. This item was made in Taiwan, and is available in three different sizes. It is only available in silver.

This is, essentially, a two piece set. That being said, the little black belt does detach completely from top (but the top will not stay closed without the belt).

The set consists of the wrap top, which closes with the detachable black "belt", and the "foil" garter mini-skirt.

The Material:
This set is made out of 80% Nylon and 20% Spandex, exclusive of the decoration. The belt is made out of a cheap, shiny, plastic-y material, but it doesn't say exactly what it is.

The outside portion of the material is very shimmery, and shiny; hence the "foil" name. I was expecting the shimmer to come off of the fabric, but it doesn't "shed" or come off at all. The inside portion is just your basic black fabric.

The fabric is very thin and breathable, though it is not sheer. When I wear this, my breasts are not able to be seen through the fabric, but if my nipples are hard? The thin material won't hide them. I don't think that that's a bad thing though, as my partner thinks it's sexy.

My one complain about the material is that it can feel a little itchy after awhile. It doesn't irritate me so much that I want to rip it off, but it's not the most comfortable.

The skirt has a little ruffle trim. The ruffle trim is made out of tulle. The tulle is a little rough, but it doesn't irritate my skin too much.

You should also know that the fabric is very stretchy, so it should stretch to fit even larger than the size chart. The belt, however, is not stretchy at all.

The Care:
To care for this set, you're going to want to hand wash it in warm water. You're then going to want to allow it to drip dry. You should only non-chlorine bleach when needed, and you should not iron this set.

The Sizing:
Leg Avenue has made this set available in 3 sizes: small, medium, and large. I decided to purchase this in large.

According to the size chart, a large should fit someone with the following measurements:
Cup Size: C
Bust: 36-38"
Waist: 27-29" (irrelevant for this set).
Hips: 38-40"

I wear a large C/small D cup, and have a 32" waist. My hips are 40". This set does fit me well, but I believe that it could stretch to fit larger individuals, as well.

I took the following measurements with the pieces laying flat:

Skirt, laying flat, across the waistband, unstretched: 13"
Skirt, laying flat, across the waistband, stretched: 21.5"
Skirt, laying flat, length (from top hem, to bottom): 8"
Belt length: 24.5" (don't panic! the belt attaches to the top)

The top is a bit hard to get measurements of, due to the way that it wraps. I would say that it could fit up to a DD, though.

The Design:
I just adore the design of this set.

The skirt is a mini-skirt, and it's definitely not suitable to be worn out of the house. On the stock photo, the skirt covers the models behind. On me, it does not cover my behind, my partner LOVES that it doesn't.

I love that the little ruffle at the bottom of the skirt sort of makes it flare outward. I think that this makes for a very sexy, and playful look.

Now, I do have a complaint about the skirt: the garters! The garters are NOT removable. They are also not adjustable, which means that they might be too short (or too long) for some people. For me, they're a good length, measuring about 8", but I do wish they were adjustable.

The good thing about the garters is that the closures are metal, so they're very sturdy.
Experience
Design (cont.):
The top is designed to wrap around you. There are two little bits of Velcro on the top (where the belt buckles appear); this s where the black "belt" attaches. The belt goes around your back, holding the top in place. At first I was a little irritated to see that the belt buckles were just for show; I would've liked it if they were real. Now, I kind of like it. The Velcro makes it easy to get in and out of this set, and my partner absolutely loves that he can just "tear" the belt off to reveal my breasts.

I was surprised that the top actually provided me with a little bust support. There's no underwire, and the material is very thin, but somehow I still felt like my breasts were supported.

The Packaging:
This set came packaged in a cardboard case. The cardboard case has photographs of the model on both the front and back, but you cannot see any of her private bits. The packaging provides minimal information, but really, it provides enough.

The Quality:
Quality wise, this set is okay. I did not notice many loose threads, but the material is not the best. I feel like the belt will probably get ruined very quickly.

All in all? For $23.99, the quality was good, but I wouldn't have paid more than that.

I'm giving this a 3, due to the cheap belt, and the fact that the material can be a bit itchy.

Final Thoughts:
I LOVE this piece. It's not high quality, but I feel absolutely sexy whenever I wear it. Even with the itchiness, I wish that I could wear this everyday. I am happy that I decided to take the chance on it.
Follow-up commentary
2 months after original review
I still love this set. The skirt is great, because it can be worn with other lingerie items. It's also held up well to washing over time.
This content is the opinion of the submitting contributor and is not endorsed by EdenFantasys.com

Thank you for viewing
Foil wrap top & ruffle garter skirt
– bra and panty set review page!