For Model's Boob Pop... Order Your Size
I say stick with your size. I ordered up based on a review and the model boob pop picture, but I wish I'd not! It was frumpy. Since this tank top is VERY short, you probably won't wear it out of the house, so you might as well order your size, not a size up, so you can at least get a sexy tight look in the bedroom!
Published:
Pros:
Wet Look
Sexy
Cons:
Length - short
Thin - boob outline
The shiny, "wet look" is my new favorite fabric look. I've found it to be comfortable and sexy. It does a good job of hiding flaws. So far all of the "wet look" items have been in my favor... except this one...
Which may or may not be my fault. Read on...
Packaging:
The Wet Look Tank Top from Coquette was packaged in a plastic bag with hanger. It came hung up, and I am going to keep it hung up for storage. The plastic bag is helpful for keeping this item clean, for when not in use. There was a tag pinned on it with a small saftey pin. Made in China.
Contents: Wet Look Tank Top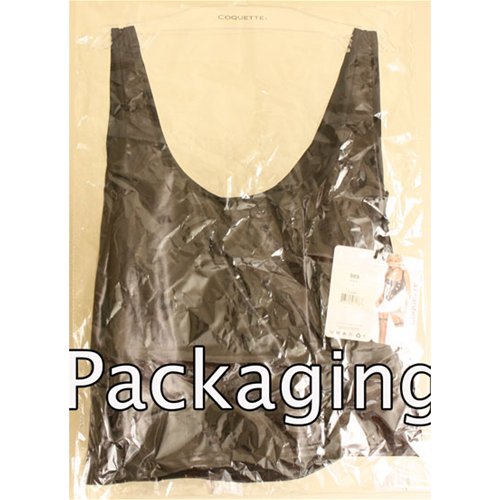 Care/ Maintenance:
The care tag states to hand wash only and hang to dry.
Design/Shape/Size:
The color option is black. It is available in the sizes: S, M, and L. I am typically a size small-medium, but have some substantial boob-age, so sometimes it is hard to order tops/shirts/bra-like items. I have a 34D bust. I like to read reviews and take suggestions.
After reading a review on this tank top, I was encouraged to buy a large. I also thought I should order up because of the model in the picture. Her boobs were popping out of this baby!
BUT... I think that was where I went wrong. After receiving this item and trying it on, I realized I should have ordered a medium, not the large. (Normally I include pictures but this tank top is frumpy town)and doesn't do it any justice. Which might not be fair, it isn't the tank tops fault.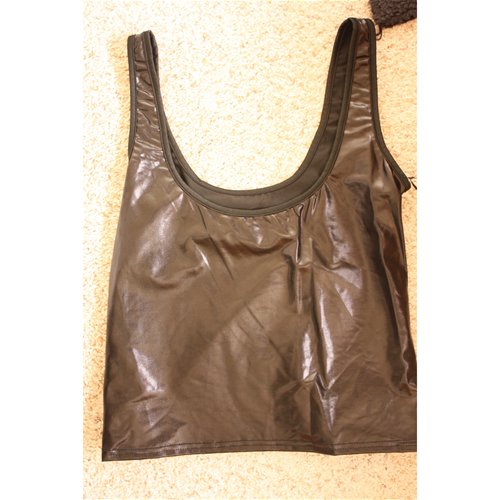 I had hoped to go with the large because of my bust and maybe for potential of wearing it out of the house, but it is not flattering, plus it is still VERY short, even in the larger size. It fits right at my belly button. I would have loved this to be a little longer.
It fit me like a box. It is not adjustable in anyway. It is just like a standard tank top. It comes with no built in bra or support. The shape of the front and back are nearly identical, but back is just slightly shorter. (Maybe an inch. The scoop neck goes about half way down the back and front.
This tank top has no buttons, zippers or anything for fit. Truthfully, it is a bit bland. You just slip it over your head just like a tank top. The straps are about one inch thick. There are just two seems on the sides of this tank top. There is a thicker outline on the top edges of the tank top, this gives the tank top, a finished look.
If I was to get a tighter size, I imagine I could pull my boobs up and have some cleavage, relying on the tightness of the tank holding my boobs up. But with the larger size, I had no cleavage at all, just straight sag. You can only hope to get some cleavage if you get a tight size, since there is no boob support or underwire.
This tank top would go great with many wet look items, including the Wet Look Thigh Highs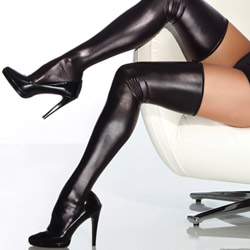 Material/Texture:
Material: 80% nylon 20% spandex
The nylon is comfortable and soft. The spandex allows for stretch and good fitting (this is why there should be no worry when ordering your size). It is very smooth on the ouside when I run my hand against the fabric, it also makes a little squeaky sound when I rub it with the back of my hand.
The material has good "give" and feels sturdy, yet light in weight. It is very thin material, if you wear without a bra, your nipples show!
Experience
Personal Experience :
I wish I would have stuck with my normal size when ordering. This shirt would be a lot cuter if it was tighter and could hold my boobs up. I was scared of my size after reading another review. Her case, was not the case for me. I have no cleavage at all and it is loose on the sides!

My advice, it is a VERY short shirt, you probably won't be wearing it out of the house anyway, so order your correct size! For a tight and hot look in the bedroom, order your size, since wearing this tank top out of the house is - out of the question! (unless you like your belly to show)

Conclusion: ★★★★
Follow-up commentary
5 months after original review
This tank top is still much too big for me, which is my own fault. I am not holding that against it so much as I am holding the length against it. Even if I were to get a smaller size, the length would be even shorter. This shirt is just not practical outside of the bedroom, which is fine.

So I still recommend getting YOUR size, not ordering a size up. It will be short, but there is nothing you can do about that, even if you order up.

You can pair this shirt with a lot of pant/skirt/short options, it is versatile if you like to show your belly.
This content is the opinion of the submitting contributor and is not endorsed by EdenFantasys.com

Thank you for viewing
Wet look tank top
– camisole review page!